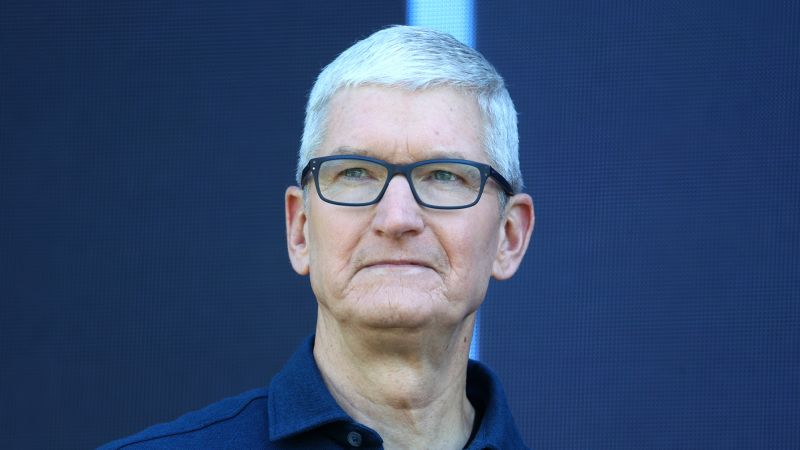 Justin Sullivan/Getty Images
Apple CEO Tim Cook delivers a keynote speech during WWDC22 at Apple Park on June 06, 2022 in Cupertino, California.


CNN
—

Since 2017, Apple has turned down numerous opportunities to chip away at Google's search engine dominance, according to newly unsealed court transcripts, including the chance to buy Bing from Microsoft and make privacy-focused DuckDuckGo the default for users of Safari's private browsing mode. .
Previously secret records, revealed this week by the judge presiding over the US government's antitrust lawsuit against Google, illustrate the challenges Google's search rivals have faced as they try to dislodge the tech giant from its top position as Apple's default search provider. On millions of iPhone and Mac devices. It's a privilege for which Google pays Apple at least $10 billion a year.
Closed-door testimony by DuckDuckGo CEO Gabriel Weinberg and a senior Apple executive, John Giannandrea, offers a glimpse into the kind of failed deals and behind-the-scenes negotiations that helped Google maintain its lead as the world's No. 1 search engine.
But it also shows how Apple grappled with the rise of Google and how some at Apple longed for "optionalism." Apple did not immediately respond to a request for comment.
Jeff Chiu/AP
Laura Jones, senior product marketing manager at Microsoft, gives a demo of Bing's new intelligent search features at a Microsoft event in San Francisco, Wednesday, December 13, 2017.
Gianandrea testified last month, Apple began seriously considering a deal with Bing in 2018, after a conversation between Apple CEO Tim Cook and Microsoft CEO Satya Nadella, launched a series of additional discussions between the two companies. (Last week, Nadella testified that he spent every year of his tenure as CEO trying to convince Apple to adopt Bing.)
Apple insiders ultimately came up with four options for Cook: buy Bing outright; Invest in Bing and get an ownership stake in the search engine; Collaborating with Microsoft on a shared search index that both companies can use; Or do nothing and continue the Google partnership.
Meanwhile, Apple was actively working with DuckDuckGo on a proposal that would have made it the default search in Safari's private mode, while keeping Google as the default search in regular mode, which logs user activity, Weinberg testified.
Jakub Purzycki/NurPhoto/Shutterstock
The DuckDuckGo logo is displayed on the phone screen and the DuckDuckGo website is displayed on the laptop screen in October 2021.
"Our impression was that they were really serious [it]Weinberg told the court last month, referring to nearly 20 meetings and phone calls DuckDuckGo had with Apple officials, including some senior executives, from late 2017 to late 2019 regarding the matter. The two companies deliberated over everything from product mockups to contractual language; Apple even went so far as to send DuckDuckGo a draft contract outlining specific proposed revenue quotas.
"If we default in [Safari] "Private browsing mode, our market share, according to our calculations at the time, would increase several times," Weinberg said, according to the transcript. "We'll get exposure for our brand every time someone opens private browsing mode."
But ultimately, Apple backed out of both potential deals.
Weinberg blamed the contract between Apple and Google for sinking the initiative, calling it "the elephant in the room" during several of his team's meetings with Apple. Similar negotiations with other browser and device makers, including Mozilla, Opera, and Samsung, failed over the Google contract as well, Weinberg claimed, prompting DuckDuckGo to abandon its efforts to gain better browser positioning.
In his testimony, Giannandrea acknowledged the perception that the relationship between Apple and Google could be undermined by such plans. When discussing a 2018 slide presentation prepared for Cook and submitted to the court, Giannandrea said the slides suggested that even a joint venture with Bing "would likely put us in direct competition with Google" which would "most likely" eventually lead to Google Search has a perfect contract with Apple.
He said Giannandrea was opposed to moving forward with the Bing deal, largely because Apple's tests showed Bing to be inferior to Google in most respects, and replacing Bing as the default option would not best serve Apple's customers. He made a similar argument internally about DuckDuckGo, saying in an email that moving forward with that partnership "was probably a bad idea." (DuckDuckGo licenses search results from Bing.)
However, Giannandrea testified, some inside Apple believed that engaging with Bing in some way could bring benefits to Apple. In one 2018 email, Adrian Perica, who leads Apple's strategic investment and merger efforts, argued that collaborating with Microsoft on search technology would help "build it out, and create additional negotiating leverage to maintain the acquisition rate." From Google and enhancing our site. Option to replace Google in the future.
Giannandrea believed the proposal "wasn't a very feasible idea" and in his testimony dismissed Perica's thinking as a businessman's spit.
Gianandrea testified that Apple today has enormous resources to build a real competitor to Google. But, as he wrote in a 2018 email, "this is probably not the best way to differentiate our products" — a belief he said he still holds today.
"Certified food guru. Internet maven. Bacon junkie. Tv enthusiast. Avid writer. Gamer. Beeraholic."