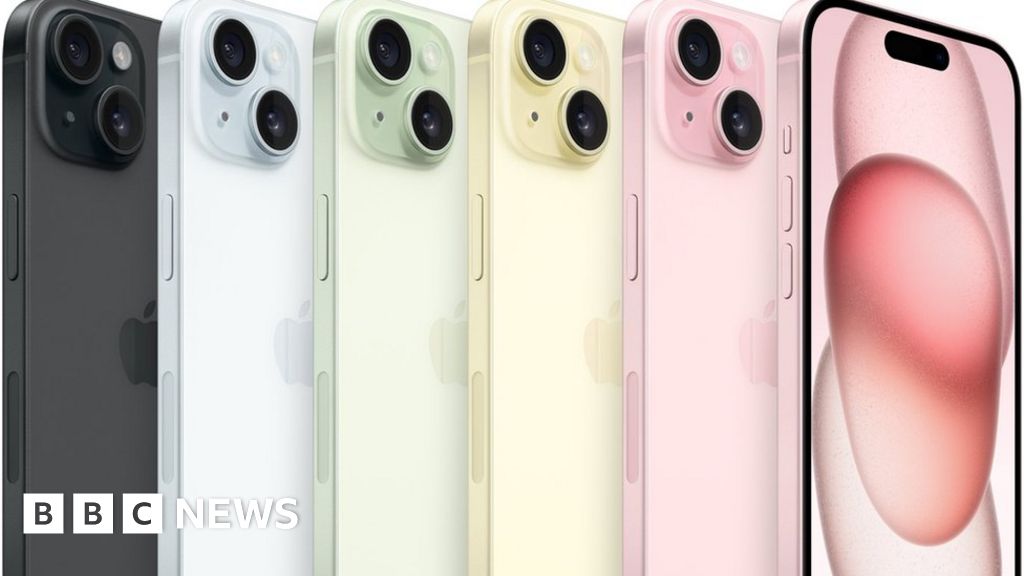 Written by Daniel Thomas
Business correspondent, BBC News
Apple has confirmed that its new iPhone will not include its Lightning charging port, after the European Union forced the change.
The tech giant said the iPhone 15, which was unveiled at its annual event on Tuesday, will use a USB-C cable as the "globally accepted standard."
A new Apple Watch series equipped with a more advanced chip was also unveiled.
But one analyst said the lack of "headline-grabbing" updates from Apple this year will disappoint some.
"It's not a surprise given the maturity of the iPhone and Watch," said Ben Wood of CCS Insight.
"It reflects how finicky the iPhone and Watch are and how hard it is to deliver amazing updates every year."
The new iPhone, which goes on sale next week, is the first since 2012 to feature an alternative charging port.
The USB-C cable — which already works with many Apple laptops and iPads — will also work on new versions of the AirPods Pro earbuds and wired EarPods, the company said.
The European Union had asked the tech giant to get rid of its charging ports to make life easier for consumers, save their money, and help reduce electronic waste by encouraging the reuse of chargers.
However, some warn that the move will lead to a rise in the number of discarded cables in the coming years.
Perhaps in response, Apple used its launch event on Tuesday to make a series of environmental pledges around its new devices, including making the new Apple Watch lineup carbon neutral for the first time.
It will also increase the amount of recycled materials used in the batteries and other parts of the new watch and iPhone.
The company also confirmed that it will no longer use leather in any of its accessories and has pledged to become carbon neutral as a business by 2030.
Apple CEO Tim Cook said the new iPhone 15 lineup includes "the best, most capable iPhones we've ever made."
The iPhone 15 and 15 Plus are equipped with brighter displays and improved camera systems, while the high-end iPhone 15 Pro and Pro Max now come with a titanium frame, intended to improve its strength.
The Pro and Max also have an "action button" instead of a mute switch that can be assigned to a variety of functions.
The new Apple Watch will feature gesture control, where double-tapping two fingers together on the same hand the device is worn allows the wearer to answer or end a call.
But some experts wondered whether consumers would be willing to pay the high prices for the devices, given that they are not much different from their predecessors.
The iPhone 15 Pro starts at £999 in the UK.
"Convincing users to give up these new devices will not be easy during a cost-of-living crisis," said Paolo Pescatore, analyst and founder of PP Foresight. "Some will see the new features as incremental; [although] "Collectively, they enhance the overall invaluable experience among Apple's core user base."
Apple shares fell slightly on Tuesday, failing to reverse a sharp decline seen last week on reports that the Chinese government has banned officials from using iPhones.
Huawei's launch of a new smartphone series in China has raised investors' concerns.
The global smartphone market fell from 294.5 million total phones shipped to 268 million in the second quarter of 2023.
But Apple's shipments fell the least of any major smartphone maker, falling from 46.5 million phones to 45.3 million, according to analysts Counterpoint Research.
"Certified food guru. Internet maven. Bacon junkie. Tv enthusiast. Avid writer. Gamer. Beeraholic."