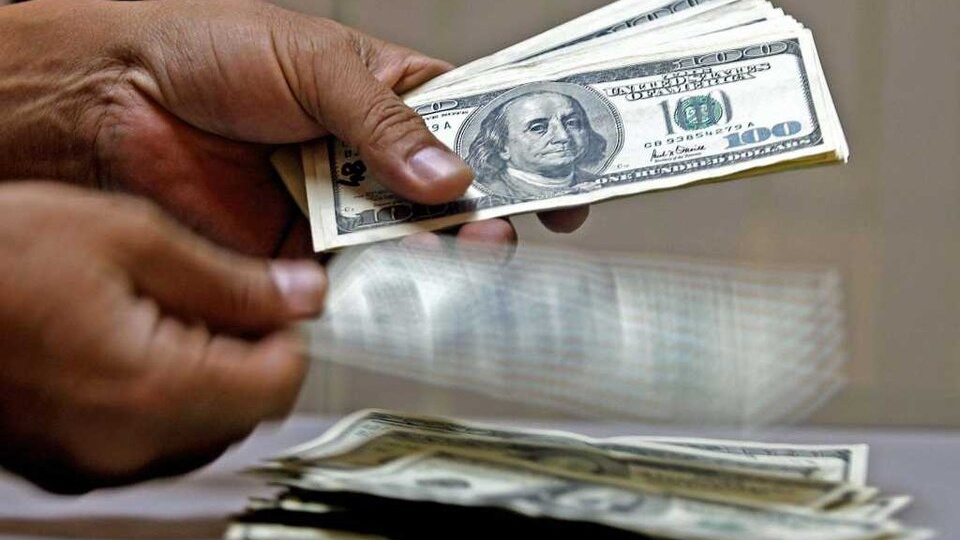 The central bank bought 4 million US dollars
The central bank ended today with purchases worth $4 million, ending with a positive balance in three of the last four rounds.
Thus, during the week, on Monday the Monetary Authority added 33 million USD, on Tuesday it bought 20 million USD, and yesterday it lost 40 million USD.
Cost of Liquidity (CCL) and Dollar MEP
In the stock market, Dollar Settlement ( CCL ) rose 0.6% to trade at $371.02. For its part, the MEP or stock market dollar advanced 0.8% to trade at $362.53.
Meanwhile, Argentina's country risk rose 0.20% to 2,041 basis points, according to an index produced by JP Morgan.
Inflation in the eurozone fell for the fourth month in a row, albeit at a slower pace
January inflation in the eurozone marked its fourth consecutive decline and stood at 8.5% year-on-year, but, at the same time, the downward trend slowed by a tenth compared to January, according to preliminary data released today. By Eurostat, the European Statistical Institute.
A post-pandemic demand rebound, problems with supply chains and the ensuing war between Russia and Ukraine pushed inflation to 10.6% last October, the all-time high since the single currency's inception.
Since then, it has gradually started to decline, but this month's figure was only one-tenth lower than January's 8.6%, a sign of the region's growing difficulties in keeping prices down.
The blue dollar rose by one peso
On the parallel market, the dollar is trading at $376, one peso higher than yesterday's rate.
At Banco Nación, the official dollar is trading at $204.50.
The Buenos Aires stock market is performing with a fall of 0.11%
The Buenos Aires stock market opened today with a 0.11% decline in its key benchmark S&P Merval to 249,299.45 points.
Meanwhile, the traded volume in the stock exceeded $14.2 million
The blue dollar is at $375
The dollar counterpart was steady at $375 for selling and $371 for buying.
Meanwhile, at Banco Nación, The official dollar Also works stable in On sale for $204 And $196 to purchase.
The economy initiates investment loans for drought-hit agro-industrial sectors
The Ministry of Economy announced today a $4.5 billion credit line to assist small and medium enterprises in the agribusiness sector, with a rate bonus from the National Agro-Industrial Trust Fund (Fondagro), implemented by the Argentine Development Bank (BICE).
The financing was announced after the signing of an agreement between Industry Secretaries Jose Ignacio de Mendigueren and Juan Jose Paillo of Agriculture and Mariano de Miguel, President of BICE.
In a statement, the industry said the line of credit would "achieve productive investment projects and procure capital goods from MSMEs across the country".
Brazil's economy grew in 2022, but shows signs of slowing down
Argentina's main trading partner Brazil's economy grew by 2.9% in 2022, supported mainly by the service sector and household consumption, according to the Brazilian Institute of Geography and Statistics (IBGE).
Data on gross domestic product (GDP) performance for the last year of President Jair Bolsonaro's administration was released with the end of the fourth quarter of 2022, showing a slowdown in the economy with a 0.2% drop. Five quarters are positive.
In 2021, Brazil's GDP rose 4.6% in the post-pandemic recovery year. According to the central bank's Focus Bulletin, the financial market expects GDP growth to be 0.8% in 2023.
The dollar is trading unchanged
He The dollar is blue This Jupiter stays $375 to sell and $371 to buy.
Meanwhile, at Banco Nación, The official dollar Follow along On sale for $204 And $196 to purchase.
Agribusiness projected to export US$100,000 million annually
The Argentine Agro-Industrial Council (CAA) presented a plan for the sustainable development of the agro-industry, which proposes to create US$ 100,000 million and 878,000 new jobs in agro-industry, forestry and fishery exports over 10 years through 40 projects.
The CAA program promised to "create the value of two unicorns per year for 10 years," and "one of the goals is to adopt carbon neutrality by 2050, adopt good environmental practices, increase the number of agricultural producers. Double the industrialization of agriculture, improve security and national food supply, and contribute to the growth of the national economy." Promoting higher productivity and social integration with federalism and inclusiveness.
Sunflower production declined in north-central Santa Fe
Sunflower production in central and northern Santa Fe County is down 30% this season from last year, with final numbers for the oilseed cycle reaching 183,000 tons.
A weekly report produced by the province's Ministry of Production and the Santa Fe Stock Exchange indicated that a total of 121,700 hectares were planted, of which 121,450 hectares could be harvested.
With an average yield of 15.1 quintals per hectare, producers reported a harvest of 183,375 tonnes, 23,188 tonnes less than the previous season, or 30.2% less.
The dollar is trading at $204 at Banco Nación
The dollar opened today at $196 for buying and $204 for selling on the Banco Nación blackboard, the same closing values ​​as yesterday.
A blue dollar sells for 375 cents.
Meanwhile, Argentina's country risk was unchanged at 2,036 basis points, according to an index produced by JP Morgan.
Tax collections reached $2.1 trillion in February and were up 82.3% year-over-year
Tax collections in February were 2.1 trillion pesos, representing an 82.3% increase compared to the same month last year, driven by taxes related to the domestic market and employment, the Federal Administration of Public Revenues (AFIP) said. .
The most taxes that presented year-on-year variations above the average were: VAT (106.1%), Social Security System (103.2%), Accounts Payable and Credits. Cte. (101.1%), PAIS tax (95.1%), personal assets (94.5%) and profits (91.4%).
Meanwhile, below this average were import duties and statistical ratio (47.9%), fuels (37.5%) and export duties (-55.9%).
The chiaroscuro of economics in Alberto Fernández's text
By Alfredo Zayad
Speech by President Alberto Fernandez A long tour preceded the opening of the ordinary sessions of the National Congress The mandate is three years of economic existence. Most macroeconomic variables, public sector management and state-owned enterprises balance are positive during this period. The decision was backed up with statistics and objective assessments of the economy's progress, dynamism in the labor market, many manufacturing and service sectors surpassing pre-pandemic levels and many more than the 2017 peak of Mauricio Macri's government.
Read the full note
Agricultural export record
According to data from the Ministry of Agriculture, agricultural exports grew by 8.5% in 2022 compared to 2021, totaling 49,581 million US dollars.
A growth of 20.7% was achieved by meat and dairy products when they were sold at USD 5,508 million. Wheat, 35.4%; By adding USD 4,723 million; Cumulative volumes of sunflower, barley and sorghum grew by 41.4% overall, closing sales of US$ 3,557 million.
Europe's stock markets are running with a negative sign
Europe's major stock markets were in losses, according to data from Bloomberg agency.
United Kingdom. FTSE: -0.34%
France. ACC: -0.51%
Germany. DAX: -0.56%
Spain. IBEX: -0.26%
Italy. FMIB: -0.37%
Oil stations in New York and London were profitable
Crude oil barrels were trading higher on international markets in New York and London.
Raw West Texas Intermediate (WTI)Action on the New York Futures Market (Nymex) traded up 0.77% this morning $78.29 A barrel in contracts with delivery in April.
Similarly, oil North Sea BrentThe London Electronic Market ( ICE ) gained 0.70% and contracted a barrel. $84.90 But in deals for May, Bloomberg reported.
Meanwhile, the Organization of Petroleum Exporting Countries (OPEC) closed its basket of crude oil yesterday $82.57 A barrel, compared to US$ 81.91 last Tuesday, is a rise of 0.81%.
Stock markets in the Asia-Pacific region ended mostly with losses
Major stock markets in the Asia-Pacific region closed mostly negative today, according to data from Bloomberg agency.
Japan. Nikkei: -0.06%
China. Shanghai: -0.05%
China. Shenzhen: -0.54%
Hong Kong. Hong Kong: -0.92%
Korea. Kospi: +0.62%
In the first semester the light will rise by 60%
The National Electricity Regulatory Agency (ENRE) formalized the new tariff schedule of electricity distributors Edesur and Edenor, which will be applied in two phases with an average increase of 60 percent, first in April and then in June.
The regulatory body clarified that the adjustment will mean an average bill increase of 348 pesos in the first installment and 421 pesos in the second extension for 70 percent of residential users, about 3.8 million people included in categories R1 and R2. Within this universe, there are 700,000 beneficiaries of the social rate. Distributors will have to present an investment plan for 2023.
Read the full note
"Introvert. Thinker. Problem solver. Evil beer specialist. Prone to fits of apathy. Social media expert. Award-winning food fanatic."