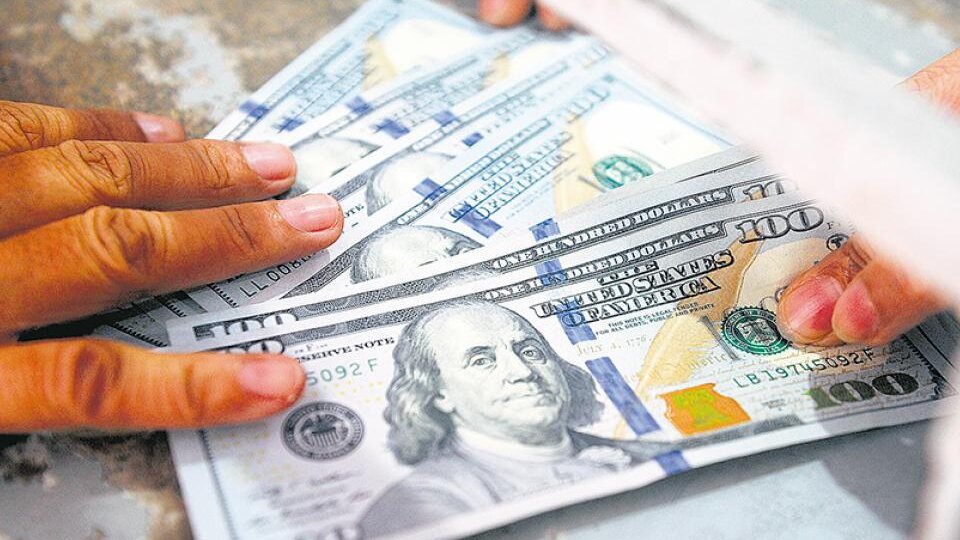 How much is MEP dollar and cash with alcohol
In the stock market, Dollar Settlement ( CCL ) rose 0.3% to trade at $496.42.
For its part, the MEP or equity market dollar fell 0.7% to trade at $462.60.
Argentina's country risk stands at 2,593 basis points, according to an index produced by JP Morgan.
The Buenos Aires stock market is initially bearish
The Buenos Aires Stock Exchange was initially operational A decrease of 0.66% Its main index, the S&P Merval, was at 338,507.07 points.
Meanwhile, the traded volume in the stock exceeded $108 million.
New York markets are trading lower
New York markets traded in losses and its main index, the The Dow Jones Industrial Average fell 0.67% to 32,833.40..
For their part, select S&P 500 and Nasdaq technical indexes fell 0.65% and 0.87%, respectively, according to Bloomberg.
The dollar rose 50 cents at Banco Nación
Banco Nación raised the dollar.
Actions have now been taken $244.50 for selling and $234.50 for buying.
The Bovespa index runs with losses at the start of the Sao Paulo stock market.
The Sao Paulo Stock Exchange operated with a A decline of 0.63% At the beginning of the day, the Bovespa index was at 109,237.24 points.
The blue dollar rose $1
The blue dollar posted its first high of the day: $1
Current price $493 to sell and $488 to buy.
Dollarization vs Export Increase
By Sebastian Negri
With less than three months to go before the open primaries that select presidential candidates, it becomes appropriate to discuss plans and proposals for Argentina's future. One of those first debates revolved around the idea of ​​dollarization, which focused on central bank reserve deficits, money affairs, and inflation.
Read the full note
What is the country's risk?
Argentina's country risk rose 0.60% to 2,593 basis points, according to an index produced by JP Morgan.
The US dollar opened today at $234 for buying and $244 for selling at Banco Nación, the same closing values ​​as yesterday.
The dollar is traded unchanged when the wheel opens
The dollar opened unchanged from yesterday's close.
At Banco Nacion, The official dollar is $244 to sell and $234 to buy.
The blue dollar is traded $492 for selling and $487 for buying.
IMF, internal and solidarity maneuvers
By Leandro Reno
Beyond the fact that he only tries to show administrative actions in a very complex environment, Economy Minister Sergio Massa increasingly combines his work with the co-ownership of elections and candidacies – Kirchnerism and other disciplines. Strategy of the Frente de Todos. As they believe from their environment Page I12, today the official has two pieces of information in his head, one economic political connection and the other clearly electoral: First, before June 20 he plans to conclude negotiations with the Monetary Fund (IMF) to improve monetary transfers. , which will be a confirmation gesture before PASO; Second, after different meetings with Vice President Cristina Fernández, the idea is maturing that there is a unity candidate for the presidency, at least from that surrogate.
Read the full note
They control speculative maneuvers with stock dollars
He The government on Tuesday applied new regulations related to operations with financial dollars Avoid speculative maneuvers. National Securities Commission noted Dollars received from the purchase and sale of AL30 or GD30 bonds shall not be used for 15 days. Buy other dollar assets like Cedears, Negotiable Obligations and other sovereign titles.
Read the full note
Oil stations in New York and London were profitable
Crude oil barrels were trading higher on international markets in New York and London.
Raw West Texas Intermediate (WTI)Action on the New York Futures Market (Nymex) advanced 1.91% this morning and traded $74.30 A barrel in contracts with delivery in July.
Similarly, oil North Sea BrentThe London Electronic Market ( ICE ) gained 1.76% and contracted a barrel. $78.19 Also in contracts for July, according to a report by Bloomberg Agency.
Meanwhile, the Organization of Petroleum Exporting Countries (OPEC) closed its basket of crude oil yesterday $75.96 It increased by 0.95% compared to US$ 75.24 a barrel the previous day.
Europe's stock markets are running with a negative sign
Europe's major stock markets were in losses, according to data from the Bloomberg agency.
United Kingdom. FTSE: -1.59%
France. ACC: -1.66%
Germany. DAX: -1.51%
Spain. IBEX: -1.29%
Italy. FMIB: -2.31%
Equity markets in the Asia Pacific region ended lower
Major stock markets in the Asia-Pacific region ended on a negative note today, according to data from Bloomberg agency.
Japan. Nikkei: -0.89%
China. Shanghai: -1.28%
China. Shenzhen: -0.46%
Hong Kong. Hong Kong: -1.62%
Korea. Kospi: -0.01%
Taiwan Tax: -0.18%
Another day with buying from the central bank
He The Fed closed this Tuesday with $14 million worth of purchases., energy import payments of $50 million were finalized in one day. According to market analysts, earnings per dollar for soybeans are $66 million.
Read the full note
"Introvert. Thinker. Problem solver. Evil beer specialist. Prone to fits of apathy. Social media expert. Award-winning food fanatic."