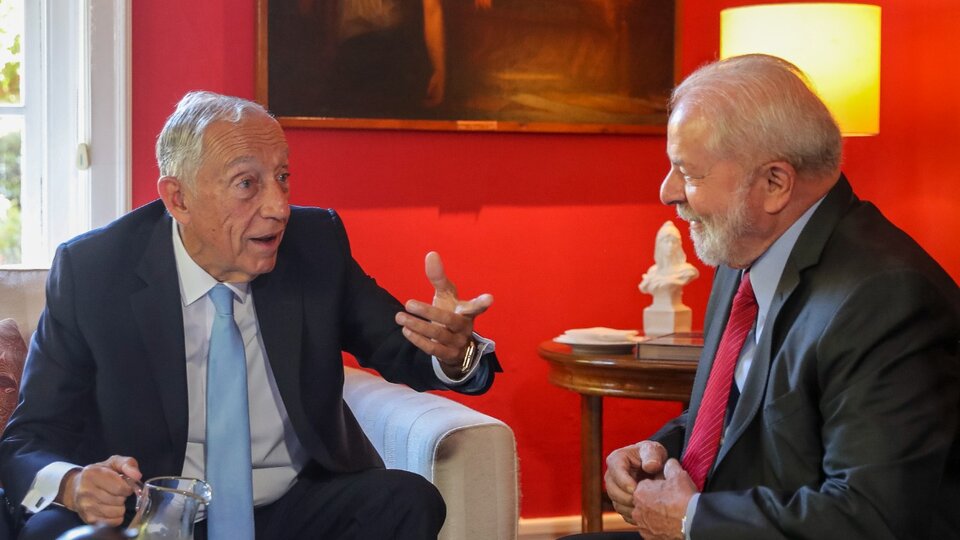 Portuguese President Marcelo Rebelo de Sousa met former Brazilian President Luiz Inacio Lula da Silva in Sao Paulo on Sunday. Ignoring The announcement of the meeting infuriated ruler Jair Bolsonaro. Interview with LulaWanted to win next October's elections in Brazil against Bolsonaro, This led to the cancellation of the official hearing of the far-right leader, which was due to take place this Monday With Rebelo de Souza in Brasilia, an unusual reaction among heads of state.
Nevertheless, the Portuguese leader kept his agenda and welcomed Lula at the Portuguese embassy in Sao Paulo. The former president of Brazil attended with his former foreign minister, Celso Amorim, was one of those responsible for drafting the foreign relations chapter of the government plan he presented to the electorate. This conversation lasted for about an hour and a half They talked about the political situation in Latin America, Europe and the war in UkraineAccording to former President Lula's press team.
After his meeting with Lula, Rebelo de Souza planned a return visit to the Bicentennial of the Sao Paulo Book.Whose inauguration he took part in on Saturday night and this year was dedicated to Portugal. The bicentenary of Brazil's independence from that country will be celebrated on September 7. Later he scheduled a meeting with the former president of Brazil Michael Temer He will also attend a reception at the Portuguese Consulate for members of the Portuguese community living in São Paulo.
Cancel "Nobody's Dead"
The Portuguese president arrived in Brazil on Saturday and made his first stop in Rio de Janeiro, where he participated in the centenary of the first air crossing of the Atlantic, carried out in 1922 by two Portuguese pilots. Rebelo de Sousa took advantage of the drowning of Copacabana Beach, where he took a walk before starting his official agenda.
There he spoke to some journalists and downplayed Bolsonaro's decision to cancel Monday's planned meeting, guaranteeing that this fact would not affect him. Relations between the two countriesBecause this Go beyond governments themselves and actually belong to "the people"..
According to Portugal's president, "no one will die" from the canceled meeting and anyone can "keep or withdraw the invitation." The truth is It is unusual for an event between heads of state to be canceled during an official visit to a country. According to official ethical guidelines, this only happens in cases of health or coercion, but never for political reasons, as Bolsonaro has denied.
The Brazilian president said he canceled the agenda he had planned to share with his Portuguese counterpart after learning he would meet Lula on Friday. "I decided to cancel my lunch with me and all the programming"Bolsonaro told CNN that he wants to renew his mandate in October elections against Lula, his main political rival and leader in the polls. Asked about the reason for his decision, Bolsonaro accused Rebelo de Sousa of "having a meeting with Lula".
Although Portugal maintains important economic, social and cultural ties with Brazil, Relations between the two leaders have been distant during the Bolsonaro administration. For example, the Brazilian president, with the exception of Itamar Franco, has not yet visited Portugal during his mandate, unlike all presidents since re-democratization.
"Introvert. Thinker. Problem solver. Evil beer specialist. Prone to fits of apathy. Social media expert. Award-winning food fanatic."