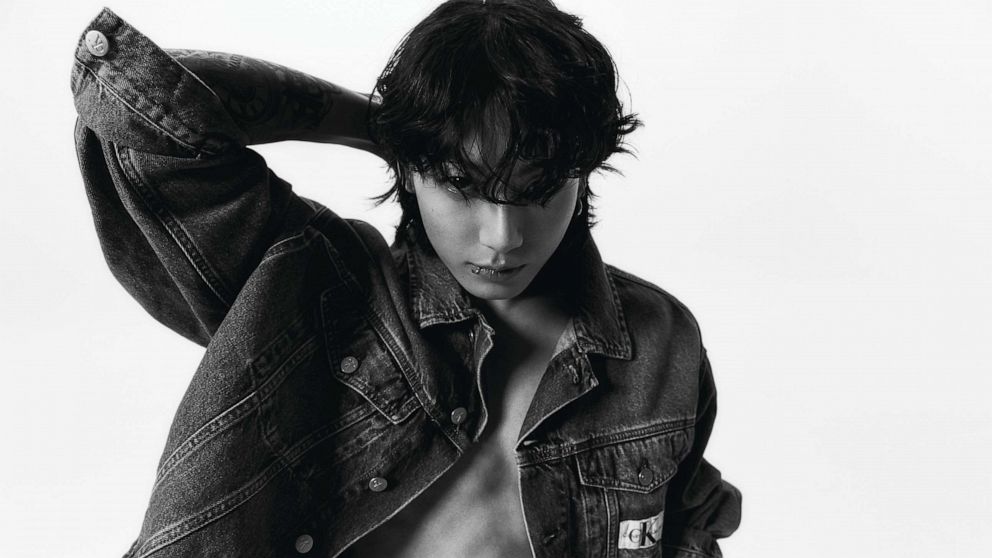 Jungkook has a new party, and fans love him for it.
The BTS member is Calvin Klein's latest global ambassador, and was recently photographed for the brand in a collection of Calvin Klein pieces.
On Monday, the fashion retailer put out a teaser video Everyone gave a glimpse of the new campaign starring Jungkook, and on Tuesday, official news dropped that the South Korean singer will be the face of the Calvin Klein Jeans brand and Calvin Klein Underwear lines.
Photographed by Park Jung Ha, Jungkook was seen sporting a look from the Spring 2023 collections by Calvin Klein. One shot shows the singer shirtless, wearing an oversized denim jacket.
Other photos show him wearing straight '90s jeans and body pants, a Relaxed Fit Denim T-shirt, and a Relaxed Fit Standard Logo Crewneck T-shirt.
"I have been a fan of Calvin Klein for a long time, and I am thrilled to be their newest global ambassador," Jungkook said in a statement. "This partnership is very special, as Calvin Klein's heritage and brand values ​​resonate with me."
He continued, "My music is the way I connect with my fans around the world, and I see this partnership as an opportunity to connect with them in a new way. I'm really excited for people to see a new side of me in this first campaign for the label."
MORE: BTS' Suga Is Valentino's Newest Brand Ambassador: Here's What We Know
Jonathan Bottomley, CMO of Calvin Klein also expressed his thoughts on the new partnership saying, "We pride ourselves on identifying globally relevant talent whose cultural influence and values ​​align with ours. A rare ability to connect with international audiences through his music and style. We are fortunate. And excited to have him join the Calvin Klein team."
Jungkook isn't the only member of BTS who's taken the fashion world by storm. Suga from the popular Bangtan Boys was announced as one of Valentino's Di.VAs brand ambassadors in January. Shortly before that, Dior appointed BTS member Jimin as one of its global ambassadors.
In 2021, all BTS members are signed with luxury brand Louis Vuitton.
"Freelance entrepreneur. Communicator. Gamer. Explorer. Pop culture practitioner."