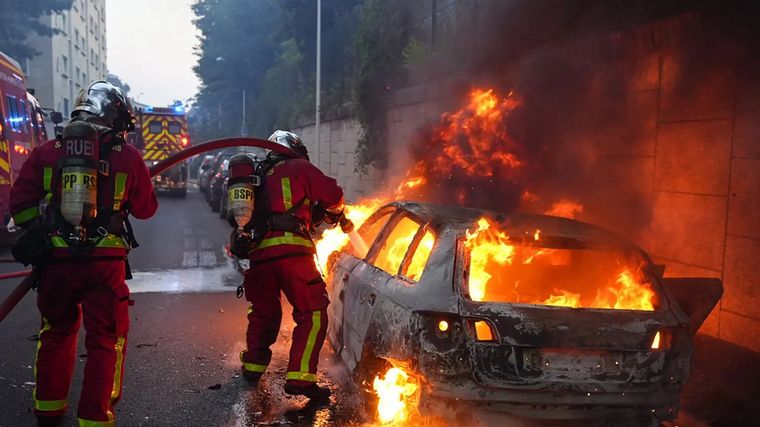 As the level of violence escalated, an armory was raided in Marseille this Friday night, where several hunting rifles were stolen, but without ammunition, according to police sources, during the wave of protests France has recorded since one person died on Tuesday. Teenagers in the city of Nanterre for shooting a policeman during a control.
The owner of the shop described seeing "about 30 young men with clear intentions" and denounced his rules as "no longer safe", reported French newspaper "Le Parisien".
Start embedded code/
#France | A man sits down and eats a sandwich while the police and protesters face each other.#TNJNews #France #Paris #RiotsFrance #emotes #Nahel #Nanterre #Macron #Lyons pic.twitter.com/plGQse1F94

—Topnotch Journal (@topnotchjournal) June 30, 2023
Embedded code result/
At the same time, PSG player and French star, Kylian Mbappé called on the news of the French team's players to keep calm through his Twitter account.
"Since this tragic event, we have seen an outpouring of public anger, whose meaning we understand, but whose form we cannot recognize. Violence solves nothing, except that it inevitably and relentlessly turns against those who express it, their families, loved ones and neighbors," he wrote.
"We cannot remain silent, our civic conscience urges us to call for peace, conscience and responsibility," he continued.
"There are other peaceful and constructive ways to express yourself: the time for violence must end to make way for grief, dialogue and reconstruction," he wrote.
Start embedded code/
???? pic.twitter.com/GcjB6goO5v

— Kylian Mbappé (@KMbappé) June 30, 2023
Embedded code result/
Police in the Bouches-dy Rhone department said on their Twitter account that 90 people had been arrested so far tonight, as their mayor requested reinforcements: "In Marseille, scenes of looting and violence are unacceptable. I strongly condemn these acts of vandalism and call on the government to send additional police forces immediately. .
At the national level, 270 arrests have already been reached, according to the Minister of the Interior, Gérard Darmanin, and through different local sources, 38 are known to be in Lyon and 19 in Toulouse.
Start embedded code/
Embedded code result/
In addition to the protests, a group of Sudanese hackers, under the name Anonymous, signed their telegram saying that they are carrying out attacks on the services of French companies, and on Friday afternoon they attacked two hospitals in Lyon and Marseille. They collapsed.
"Introvert. Thinker. Problem solver. Evil beer specialist. Prone to fits of apathy. Social media expert. Award-winning food fanatic."