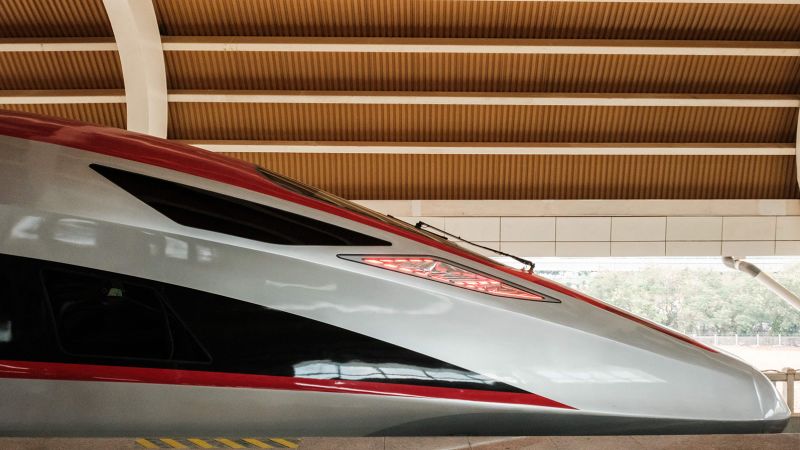 Yasuyoshi Chiba/AFP/Getty Images
The first car of the Jakarta-Bandung high-speed train appears on the platform during a week-long public trial phase at Halim Station in Jakarta on September 17, 2023.


CNN
—

Indonesia is launching Southeast Asia's first high-speed train on Sunday, a high-speed rail service line that will connect two of the country's largest cities.
Part of China Belt and Road The $7.3 billion project opened to the public on Sunday, after a series of delays and setbacks.
The train will travel between the capital, Jakarta, and Bandung in West Java, the second largest city in Indonesia and a major center for arts and culture.
The 86-mile (138-kilometer) high-speed rail line, officially known as WHOOSH — which stands for "Time Saving, Optimal Operation, Reliable System" in Indonesian — is powered by electricity with no direct carbon emissions and travels at about 217 km. miles per hour – reducing travel time between Jakarta and Bandung from three hours to less than an hour.
Overseen by the joint government venture PT Kereta Cepat Indonesia China (PT KCIC), the train travels between Halim Railway Station in East Jakarta and Badalarang Railway Station in West Bandung, and is well connected to local public transport systems.
Officials added that the trains, which have been modified to suit Indonesia's tropical climate, are equipped with a safety system that can respond to earthquakes, floods and other emergency conditions.
There are talks to extend the high-speed line to Surabaya – a major port and capital of East Java province, PT KCIC director Doyana Salama Riyadi told Chinese state media at a ceremony earlier in September.
Doyana said stops in other major cities such as Semarang and Yogyakarta, the gateway to Borobudur – the largest Buddhist temple in the world, are also being planned.
According to information released by PT KCIC, the railway has eight carriages – all equipped with Wi-Fi and USB charging points – and has a capacity of 601 passengers.
There will be three categories of seats – first, second and VIP.
Yasuyoshi Chiba/AFP/Getty Images
Passengers sit at Halim station in Jakarta.
Indonesia, the fourth largest country in the world and the largest economy in Southeast Asia, is actively and openly seeking to attract investment from China, its largest trade and investment partner.
A high-level meeting in July between Indonesian and Chinese leaders Joko Widodo and Xi Jinping unveiled a series of projects, including plans to build a multi-billion-dollar Chinese glass factory in the region. Rembang Island In Indonesia's Riau Islands archipelago as part of a new "eco-city", sparking weeks of… Fierce protests Indigenous islanders opposed to the demolition of their villages.
Akbar Nugroho Jumay/AFP
Outgoing Indonesian President Joko Widodo rides high-speed rail during a test ride in Jakarta.
Widodo and Chinese Premier Li Qiang were photographed taking test rides on the new high-speed railway throughout September.
The train deal was first signed in 2015 as part of China's Belt and Road Initiative and construction began later that year.
It was initially expected to be completed in 2019, but has faced multiple operational delays as a result of the COVID-19 pandemic as well as land acquisitions and cost inflation.
PT KCIC Director Doyana praised the Jakarta-Bandung high-speed rail line as "an outstanding example of bilateral cooperation between Indonesia and China." He added that the project will not only improve Indonesia's infrastructure, but will "promote the development of Indonesia's railways and manufacturing industries."
"Travel specialist. Typical social media scholar. Friend of animals everywhere. Freelance zombie ninja. Twitter buff."