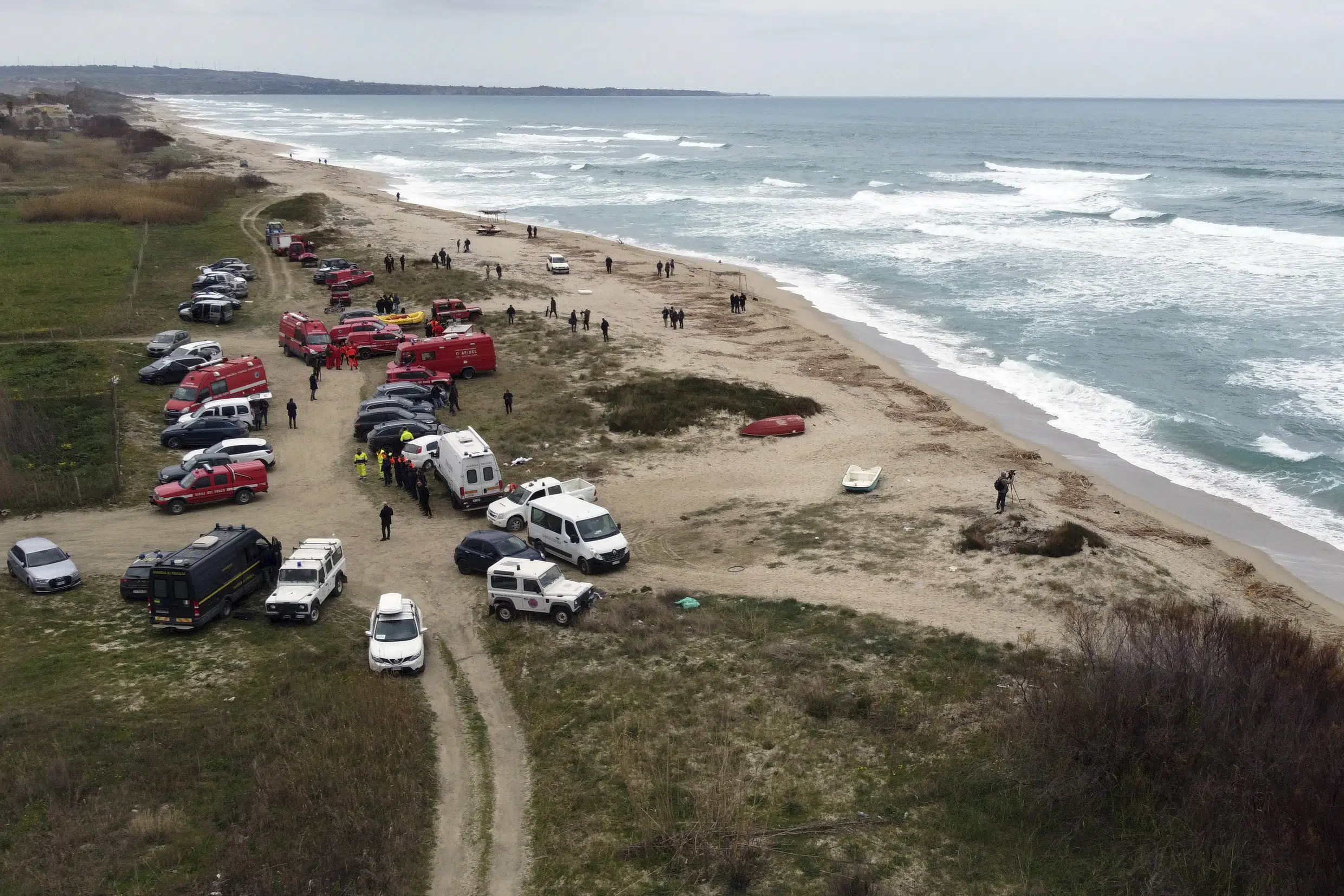 CROTONE, Italy (AP) — Rescue teams pulled more bodies from the sea on Tuesday, bringing the death toll from Italy's latest immigration tragedy to 65, as prosecutors identify suspected smugglers who allegedly paid €8,000 (nearly $8,500) ) for every person who made the "death journey" from Turkey to Italy.
Authorities have postponed the viewing of the coffins to allow more time to identify the bodies, as desperate relatives and friends arrived in the Calabrian city of Crotone hoping to find their loved ones, some from Afghanistan.
"I am looking for my aunt and her three children," Alaeddin Mohebzadeh said, adding that he had driven 25 hours from Germany to reach the makeshift morgue set up in a sports stadium. He said he confirmed that his aunt and two of his children were dead, but a 5-year-old boy survived and was being housed in a center for minors.
"We are looking into the possibility of sending (the bodies) to Afghanistan, the bodies that are here," he told the Associated Press outside the morgue. But he complained of a lack of information as the authorities scrambled to deal with the disaster. "We are powerless here. We don't know what to do."
At least 65 people, including 14 minors, were killed when their overcrowded wooden boat crashed into shallow waters 100 meters off Koto Beach and broke up early Sunday in rough seas. Eighty people survived, but many more are feared dead because survivors indicated that the boat was carrying about 170 people when it set off last week from Izmir, Turkey.
Aid groups at the scene said many of the passengers came from Afghanistan, including entire families, as well as from Pakistan, Syria and Iraq. Police said rescue teams pulled two bodies from the sea on Tuesday, bringing the death toll to 65.
Prime Minister Giorgia Meloni has sent a message to European leaders demanding swift action on the continent's long-running migration problem, and insisting migrants must be prevented from risking their lives in dangerous sea crossings.
"The point is, the more people set off, the higher the risk of death," she told state broadcaster RAI late Monday.
Meloni's right-wing government, which swept elections last year partly on promises to crack down on migration, has focused on complicating humanitarian boat efforts to conduct multiple rescues in the central Mediterranean by designating ports of disembarkation along Italy's northern coasts. This means that ships need more time to return to sea after migrants have been brought on board and safely ashore.
But rescue ships from aid groups are not usually operating in the area of ​​Sunday's shipwreck, which occurred off the coast of Calabria in the Ionian Sea. Instead, aid groups generally operate in the central Mediterranean, rescuing migrants who set off from Libya or Tunisia – not Turkey in the eastern Mediterranean.
Crotone Prosecutor Giuseppe Capoccia confirmed that investigators had identified three suspected smugglers, a Turkish and two Pakistanis. Another Turk is believed to have survived or died in the wreck.
Italian border police said in a statement that the crossing's organizers had paid 8,000 euros (about $8,500) each for the "death trip".
Interior Minister Matteo Bentedosi has responded to suggestions that the rescue operation has been delayed or influenced by government policy discouraging aid groups from staying at sea to rescue migrants.
The European border agency Frontex said its aircraft had spotted the boat off Crotone at 10:26 p.m. on Saturday and had notified Italian authorities. Italy sent two patrol ships, but they had to turn back due to bad weather.
Biantidossi told a parliamentary committee that the ship ran aground and was wrecked at around 5 a.m. on Sunday.
"There was no delay," Piantedosi told Corriere della Sera. "Everything possible was done in very difficult sea conditions."
The Italian Coast Guard issued a statement on Tuesday saying that Frontex had indicated that the migrant boat was "navigating normally" and that only one person could be seen above deck.
It added that an Italian border police ship "already operating at sea" had set out to intercept the migrant boat.
"At approximately 4:30 a.m., some indications were received by phone from people on the ground, relating to a boat in danger a few meters from the coast, to the Coast Guard," the statement said.
At that point, the Carabinieri police boat that had been informed by the Border Police reported the shipwreck incident to the Coast Guard.
The statement noted that unlike similar cases of migrant ships in distress, "no telephone indication came from the migrant on board" to the Coast Guard.
It is not uncommon for migrants on a ship in distress to reach out to an alarm phone, a humanitarian support hotline that relays indications of boats in trouble in the Mediterranean to maritime authorities.
Briefing the lawmakers, the interior minister cited figures backing up Italy's long-standing frustration that sister EU countries are not honoring their pledges to accept a portion of the migrant asylum seekers who arrive in Italy.
While those pledges covered about 8,000 migrant transfers from June last year through this month, only 387 people have been transferred to other EU countries, and most of them have been taken in by Germany, Piantidossi said.
___
Follow AP coverage of immigration issues at https://apnews.com/hub/migration
"Travel specialist. Typical social media scholar. Friend of animals everywhere. Freelance zombie ninja. Twitter buff."