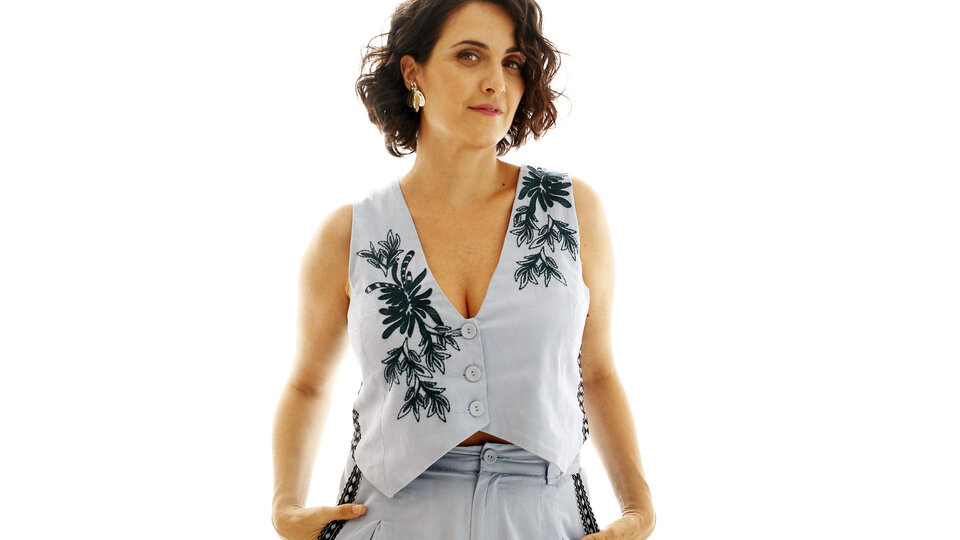 All that glitters is not gold, which is perfectly true for the marriage of Nacho (Leonardo Sparaglia) and Lucia (Julietta Díaz). Nine out of ten people who see them may unconsciously think they're an advertising couple: handsome, nice house, he's a series producer, he owns a restaurant, nice. Carr, daughter. Protagonist to be covered. His and his young partner's (Marco Antonio Caponi and Zoe Hochbaum) sailing with a friend on a very charming yacht should work as a parenthesis to the routine, but it marks a break with unimaginable consequences. What are the consequences? To find out, you'll have to head to theaters from Thursday when it hits commercial billboards wheezing.
Luciano Podkaminski's film was shot entirely on a yacht. The calmness of the sea contrasts with the tension and discomfort between Nacho and Lucia, which is accelerated by the possibility of mirroring the friendship couple's relationship. "I loved the idea of ​​putting a very packaged and expensive couple on a boat, but facing a very important crisis that isn't addressed on the surface, and a somewhat dramatic thing where the four characters are locked in." He says. Juliet Diaz In view Page 12Defines Lucia as "a very loving, half-French and elegant woman who tries to maintain balance through meditation and so on". Another thing that supported her while taking on the role, she says, "was the adventure of shooting on a boat, and then it was tough."
– Because?
– I feel very dizzy, so I took a lot of pills. We shot for twelve hours every day and there were some divine things, but nothing else. It was a lasting experience with a very strong production, very attentive and with a lot of presence. In that sense, it was good. Also, since all the night scenes were shot in studios, the boat, movement, rain… was a big challenge for both of them.
– You said last year that you realized you couldn't face the world without taking a break. Sparaglia's character doesn't realize that yet, does he?
– Yes, in my case I need more breaks. It must have something to do with age, with the fact that half the world burned and the pandemic slowed us all down. But it seems Leo's character didn't get the email (laughs) and this is what happens to Lucia trying to connect. Later, when he finds that it is not possible, he does it to his advantage.
– Is this desire to "do your thing" the engine of Lucia's decisions for the future?
-She wants to unlock the game. Although he is afraid, Nacho gives him the conditions to be on his own: he is so narcissistic that he doesn't listen to her. There's something about the couple that shows they've bonded at some point and know how to keep calm. She is nothing less than very comfortable in her comfort zone. On a note I liked what Leo said, it's not unusual for an Argentinian film to stop telling a story with characters like this.
-As such, middle-aged couples' crises are usually a frequent topic in cinema, be it comedy or drama. What is it about that stage of life that is so fascinating to fiction?
– I think this is a moment in which a person already knows who he is and what he wants. I haven't been in a relationship in twenty years, my daughter was an adult, and I broke up when I was three. Today I am 45 years old, she is 8 years old and I am not with my father, so I am in a different position from the couples movement. But I realize that as we reach mid-life, a kind of general rethinking begins to develop. "Okay, now what?" The question inevitably arises. I was talking to a journalist recently about this, and we wonder what's going on with the couples issue, why we all always, for one reason or another, return to that bond and obsess over it. And I don't think it's just for women, because men also think a lot about the space a partner occupies. Revisited from the mirror of the other, from the imagination of the better half. Personally, I'm a bit obsessed with links in general.
-In what sense?
-In that I want them to be as fair and healthy as possible, but sometimes I become a baller and so complicate them. I'm usually very demanding and sometimes I get kind of neurotic. This happens to me in all my relationships: with my daughter, her father, with my parents, he is an only child. Friends are great connections, except sometimes when emotional relationships develop. One shares, has family media and so on, but if one is in freedom and demand, the other makes his life, and when you find yourself, you find yourself.
– Maybe it's something that doesn't happen with a couple or parents, a bond where the other person's opinion is small.
– Yes, absolutely. What parents and couples have is that they are unique relationships because one can have many friends, but not a parent and a partner. Then, if you are polyamorous and have other problems, ask yourself the same questions multiplied by three or four (laughs)
-Next year marks the strip's 25th anniversary Champions of life, work that gave you important insight. What do you think of everything that has happened since that moment in the present?
-It was my first job with a sequel, my first regular role as part of the cast. I have been doing characters called Bowling from time to time. The program was good, so I started working on Pol-Ka and never stopped. Many years. The truth is, I am very grateful for everything that has happened. I learned a lot and I really like how it came together. As long as there are stories, it will be happy.
"Introvert. Thinker. Problem solver. Evil beer specialist. Prone to fits of apathy. Social media expert. Award-winning food fanatic."