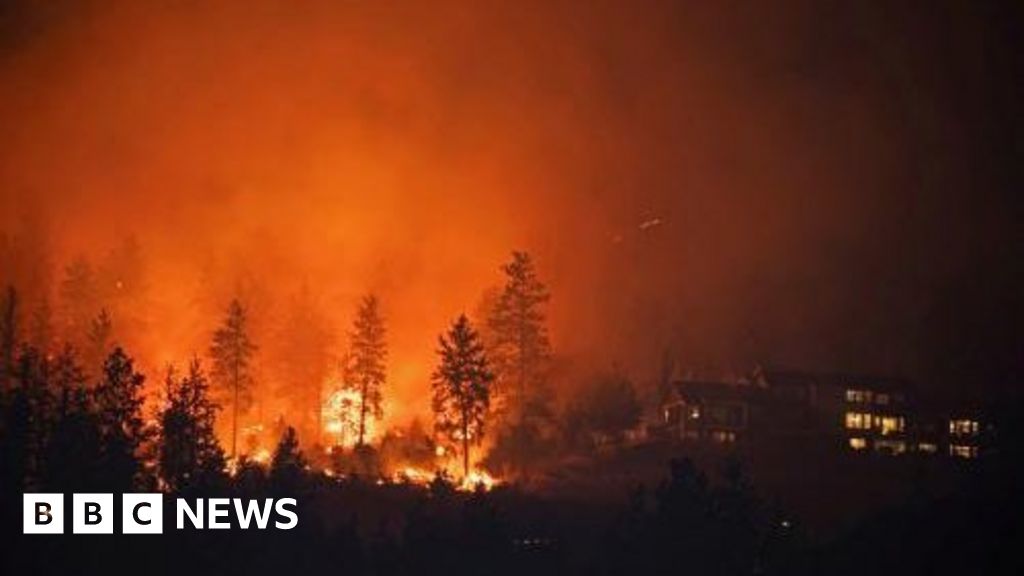 By Nadine Youssef in Toronto and Max Matza in Seattle
BBC News
The wildfires raging across British Columbia, Canada, are showing some signs of abating, but fires from hundreds of others have displaced more than 30,000 people from their homes.
Officials said firefighters had made some progress thanks to the cooler weather, but "the battle is far from over".
The government is deploying military forces to assist with evacuations in the province.
Smoke blanketing southern British Columbia and Washington state in the United States has raised air quality warnings.
No deaths have yet been reported in Canada, but officials say some firefighters continue to work even after discovering they have lost their homes to the fires.
West Kelowna Fire Chief Jason Prolund said Monday that firefighters have now entered the Upper Bear Creek Road neighborhood, an area where wildfires have been burning the most.
"What they found is that a hurricane ran right through it," he told reporters. "The trees were uprooted and the force required to do that is incredible."
"Our biggest challenge was the air quality," he added. "She's suffocating."
Officials said that the lack of visibility due to the smoke made it difficult to assess the damage.
He said about 50 buildings had burned down in West Kelowna, but the worst-hit areas had yet to be surveyed.
Kelowna Fire Chief Travis Whiting said his team of 500 or so firefighters have made great progress over the past four days, aided by cooler and calmer weather.
"Make no mistake, there will be tough days ahead," Whiting warned on Sunday.
As of noon Sunday, the flames have covered an area of ​​410 square kilometers (101,300 acres).
British Columbia remains under a state of emergency, and Prime Minister Justin Trudeau said Sunday that the military will be deployed to the province to assist with evacuations.
Officials also restricted non-essential travel to Kelowna and surrounding areas — a popular destination for tourists in the summer. Officials praised the tourists who left and vacated hotel rooms for displaced locals.
While it is not yet known how many homes and structures have been lost, officials said the damage is "significant," with both the Scotch Creek and Celesta communities near Shuswap Lake being devastated by wildfires.
Among the buildings destroyed was the Scotch Creek Fire Department.
Homes and properties were also burned in West Kelowna, including the historic Okanagan Lake Resort.
Officials said a 50-person urban search and rescue team, called Canadian Task Force 1, has been deployed to Kelowna to help assess damage. The team includes firefighters, rescuers, police officers, engineers and doctors.
"Canadians from coast to coast to coast are watching in horror the images of horrific destruction and fires raging in communities so many of us know and many of us have friends in," Trudeau said on Monday.
honey williams aug he told CBC She lost her two cats, along with her home and garden near Little Shuswap Lake.
"It would be hard to go back and see black earth instead of green," said Auguste.
The smoke blanketing much of southern British Columbia has prompted air quality warnings, with areas such as the eastern Fraser Valley and central Okanagan rated "extremely hazardous" Monday morning by Environment Canada.
Wildfires are still raging across Canada, with 1,037 burning as of Monday, according to the Canadian Interagency Forest Fire Center (CIFFC). About 650 of these are considered out of control.
Fires burning further south in the US state of Washington have caused an emergency and blanketed the area in smoke. Officials said more than 185 buildings were burned and two people were killed. No details were provided about the people who died.
Fires also raged in the Northwest Territories and thousands remain displaced, although a wildfire threatening Yellowknife, the territory's largest city, stalled 15 kilometers (9 miles) from the city limits over the weekend.
Officials fear that hot weather in the forecast could increase the risk as the weekend approaches.
Last week, a small village of Enterprise in the Northwest Territories was set on fire.
Although no deaths were reported in the recent Canadian fires, at least four firefighters lost their lives during this wildfire season.
Experts say climate change is increasing the risk of hot, dry weather that has the potential to fuel wildfires.
The intense, prolonged heat draws more and more moisture from the ground – which can provide fuel for fires that can spread incredibly quickly, especially if the winds are strong.
"Travel specialist. Typical social media scholar. Friend of animals everywhere. Freelance zombie ninja. Twitter buff."