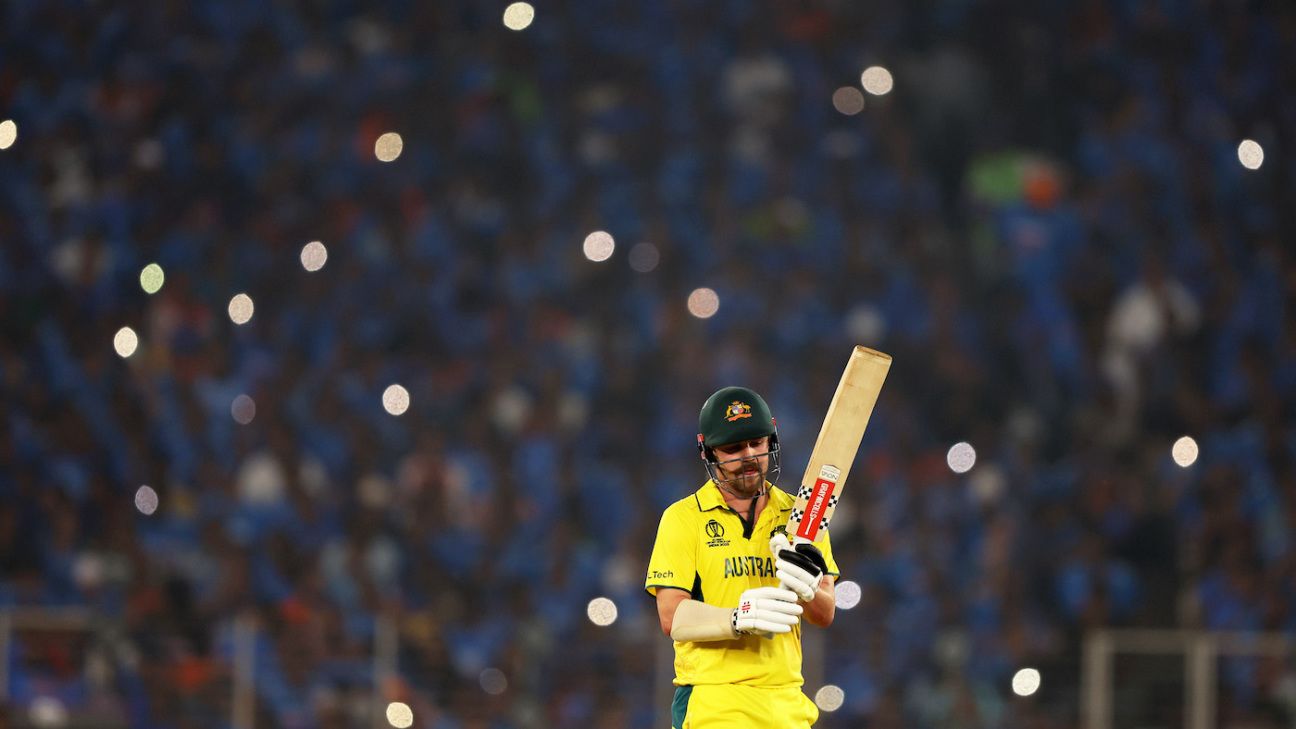 Australia 241 for 4 (Head 137, Labuschagne 58*, Bumrah 2-43) won India 240 (Rahul 66, Kohli 54, Starc 3-55, Cummins 2-34, Hazlewood 2-60) with six wickets.
India may be where the heart of the game is now, but it turns out once again that the coolest president in cricket is an Australian. It was Travis Head, to be precise, who secured his side's sixth World Cup victory, extending his record, by scoring 137 goals from 120 balls in Ahmedabad, but arguably his most important contribution came about six-and-a-half hours earlier, with a solitary goal. One of the most exciting catches of the match in ODI history.
What might have happened to these two teams if Head had not stuck a steep, sprawling catch, running back towards the covers to beat India's captain, Rohit Sharma, at his best? Australia's final target of 241 was undoubtedly much higher, and judging by the ferocity with which India's new bowlers battered their opponents in the powerplay – with Jaspiet Bumrah and Mohammed Shami inevitably coming to the fore – there would have been more chances to chase them down the ropes. Tight.
Instead, Head stuck around and, in doing so, applied a handbrake to a wild innings that would never be fully released. Under Rohit's reign, India had hit 10 fours and three sixes in a brilliance to 80 for 2 in the first Powerplay, the joint-highest total ever by a first-time batsman in a World Cup final. Once he was gone, India mustered just four more runs, and 160 more, over the next 40 overs. This meant they could not post a large enough total to mitigate the inevitable dew coming in – the main reason why Pat Cummins took the risk of letting Rohit and Co. set the agenda in the first place.
And so Australia's victory came at a trot in the end, with six wickets and a huge 42 balls unused – a margin that might have been greater had Head not been dismissed on the penultimate ball of the chase. Glenn Maxwell did not hesitate to pull his first ball for two to lead his side to a victory goal which – as fate would have it – was exactly the total that England and New Zealand had not been able to split by conventional means four years earlier.
But that ease in the end did not indicate anything about the danger that preceded it. At 47 for 3 after seven overs, with Steven Smith inexplicably failing to review the lbw from Bumrah who turned out to have hit his pad outside off, Australia were in the midst of a do-or-die struggle against two standout performers from India's previously unparalleled campaign.
David Warner, in his final ODI innings, had contested Shami's first legitimate delivery to Virat Kohli at slip for 7, having fenced the first ball of the innings (off Bumrah) past the shoe of the same player for four, and with Mitchell Marsh attempting to hit the ball. Quickly from her lengths and finishing with a loose cut to the keeper, the crowd found their full voice for the first time in the match.
But Marnus Labuschagne, who was retained in Australia's starting line-up despite the feeling, midway through the tournament, that he and Head were in contention for a solitary berth, demonstrated the value of his Test superiority with an indomitable sidekick role of 58 not out from 110 balls. Over over, and run after run, he and Head extended their decisive stand for the fourth wicket of 192, overcoming pace and spin alike until, at an indefinable moment around the 20th over of the chase, the sting was at a two-wicket wicket. . They were replaced by the long-promised dew-sprinkled slip.
"Devoted travel trailblazer. Freelance beer scholar. Passionate analyst. Hardcore twitter fanatic."