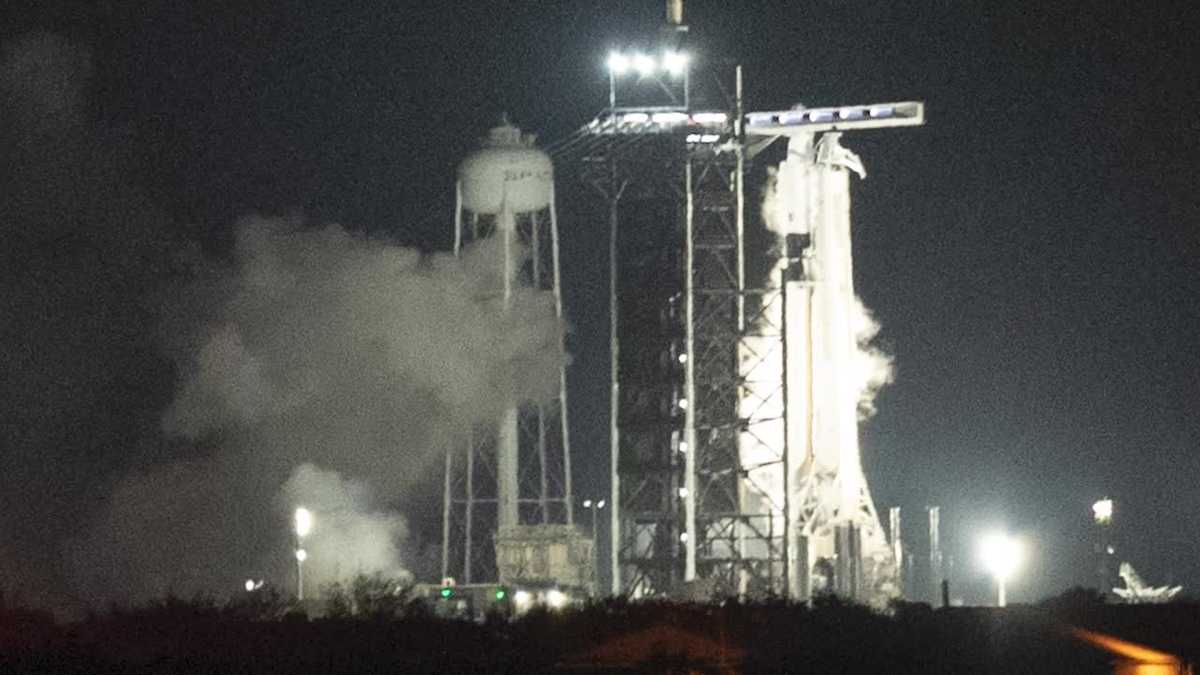 NASA's SpaceX Crew-6 mission is scheduled to launch Monday morning and will serve as the sixth crewed mission of SpaceX's Crew Dragon spacecraft. The mission includes four crew members and is scheduled to launch to the International Space Station (ISS). The team will fly aboard the SpaceX Dragon Endeavor spacecraft, which has previously flown the crew of NASA-1, Inspiration 4, and Axiom Mission-1. Earlier this week, the rocket and spacecraft were transported to Launch Pad 39A at Kennedy Space Center. A critical pre-launch check was completed Friday when the main engines of the Falcon 9 rocket that will carry the NASA Space Crew-6 in their Crew Dragon vehicle successfully fired for seven seconds. Before launch Here are some key points you need to know about the upcoming mission: Crew Members: The Crew-6 mission will have four astronauts on board, including NASA astronauts Stephen Bowen and Warren "Woody" Hoburg, Emirati astronaut Sultan Al Neyadi and Astronaut At the Russian space agency "Roskosmos" Andrei Fedyaev. The mission will be Bowen's fourth trip to space, while Hoburgh, Elneadi and Fedyaev will make their first trips to space. Crew 6 astronauts arrive at Kennedy Space Center prior to launch LAUNCH DATE: The launch date of the Crew-6 mission is scheduled for Monday, February 27, 2023, at 1:45 a.m. EST from Kennedy Space Center's Launch Complex 39. Duration: Crew members will conduct science and technology demonstrations and maintenance activities at the Microgravity Laboratory during their six-month stay on the International Space Station. Objectives: The mission will focus on scientific research, technology development, and testing, as well as maintenance and updates to the International Space Station. The crew will perform more than 200 experiments and technical demonstrations, including studies of the behavior of materials in microgravity and the collection of microbial samples from outside the space station. The Crew-6 mission will use the same Crew Dragon spacecraft as the Crew-2 mission. The spacecraft will be launched atop a Falcon 9 rocket from NASA's Kennedy Space Center. Launch Forecast: There is a 95% chance of a successful launch based on current weather conditions. Wind shear is expected to be low, which shouldn't affect it too much at all. However, the consolidated recovery is expected to be subdued due to some adverse weather patterns. Crew abort weather is expected to be low to moderate, indicating a relatively low risk of needing to abort the mission due to weather conditions. If you can't get to the launch site, you can still watch the launch online via live stream at WESH.com – Other headlines: Horrifying video shows Central Florida teacher attack on Nintendo Switch Police: Seminole County crash kills two 2-year-olds Ages 2, 5, man critically injured, car struck in orange county gunshot wound, officials. He says
Brevard County, Florida –
NASA's SpaceX Crew-6 mission is scheduled to launch Monday morning and will serve as the sixth crewed mission of SpaceX's Crew Dragon spacecraft.
The mission includes four crew members and is scheduled to launch to the International Space Station (ISS). The team will fly aboard the SpaceX Dragon Endeavor spacecraft, which has previously flown the crew of NASA-1, Inspiration 4 and Axiom Mission-1.
Earlier this week, the rocket and spacecraft were transported to the launch pad 39A at Kennedy Space Center. A critical pre-launch check was completed Friday when the main engines of the Falcon 9 rocket that will carry the NASA Space Crew-6 crew in their Crew Dragon vehicle fired for seven seconds successfully.
Related: The NASA/SpaceX Crew-6 mission is in the final stages before launch
Here are some key points you need to know about the upcoming mission:
Crew members: The Crew-6 mission will have four astronauts on board, including NASA astronauts Stephen Bowen and Warren "Woody" Hoburgh, Emirati astronaut Sultan Al Neyadi, and Roscosmos astronaut Andrey Fedyaev.
The mission will be Bowen's fourth trip to space, while Hoburgh, Elneadi and Fedyaev will make their first trips to space.
Related: Crew 6 astronauts arrive at Kennedy Space Center prior to launch
Lunch date: The Crew-6 mission is scheduled to launch for Monday, February 27, 2023, at 1:45 a.m. EST from Kennedy Space Center's Launch Complex 39A.
Mission Duration: Crew members will conduct science and technology demonstrations and maintenance activities at the Microgravity Laboratory during their six-month stay on the International Space Station.
Goals: The mission will focus on scientific research, technology development and testing, as well as maintenance and upgrades to the International Space Station. The crew will conduct more than 200 experiments and technical demonstrations, including studies of the behavior of materials in microgravity and the collection of microbial samples from outside the space station.
Related: The best places to watch the SpaceX Crew-6 launch
Dragon Crew Spacecraft: The Crew-6 mission will use the same Crew Dragon spacecraft as the Crew-2 mission. The spacecraft will be launched atop a Falcon 9 rocket from NASA's Kennedy Space Center.
Launch predictions: There is a 95% chance of a successful launch based on the current weather conditions. Wind shear is expected to be low, which shouldn't affect it too much at all. However, the consolidated recovery is expected to be subdued due to some adverse weather patterns. Crew aborted weather is expected to be low to moderate, indicating a relatively low risk of needing to abort the mission due to weather conditions.
If you can't get to the launch site, you can still watch the launch online via the live stream at WESH.com.
Other major headlines:
Terrifying video shows a teacher being attacked in central Florida on a Nintendo Switch
Police: Seminole County crash kills two children, ages 2 and 5, and seriously injures a man
Officials said a pedestrian was hit by a car in Orange County and was found with a gunshot wound
"Web maven. Infuriatingly humble beer geek. Bacon fanatic. Typical creator. Music expert."