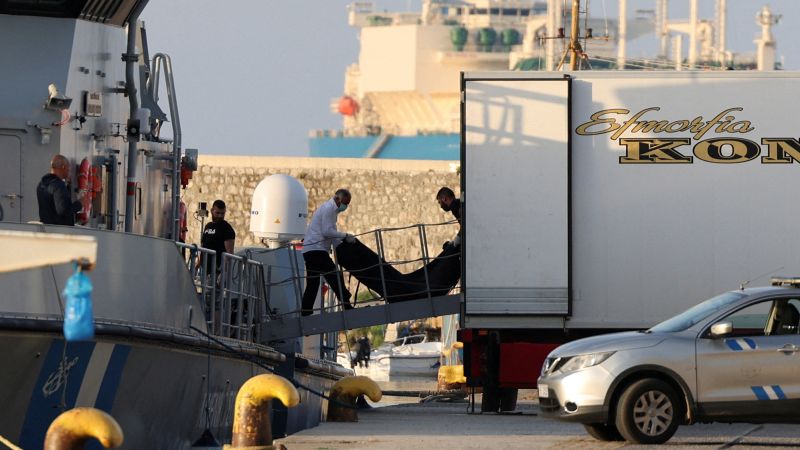 Kalamata, Greece
CNN
–

Nine crew members have been arrested for people smuggling after an overcrowded ship sank in the Mediterranean Sea on Wednesday, killing dozens, as human rights activists accused Greek authorities of neglecting those on board.
The Greek Coast Guard said that nine Egyptians between the ages of 20 and 40 were also arrested on suspicion of establishing a criminal organization, negligent homicide, endangerment and causing a shipwreck.
The boat was traveling from the port city of Tobruk in Libya to Italy when it capsized off the coast of Greece. At least 78 people died and some reports stated that as many as 750 were on board.
Coast guard officials told CNN the arrests were made after two days of questioning in the southern Greek port city of Kalamata, where 104 shipwreck survivors were temporarily housed. Of those survivors, 71 arrived at a registration facility outside Athens on Friday.
Authorities said they reviewed testimonies of survivors to determine the exact role of the nine arrests. They are expected to appear before a local judge on Monday.
Scenes of relatives descending on Kalamata in their desperate search for loved ones have inflamed heated debate over Europe's migrant crisis, a political crisis that NGOs say has been exacerbated by the lack of safe and legal routes available for refugees.
Alarm Phone, an NGO, has denounced the Greek response to the tragedy, claiming that the authorities did not acknowledge any prior alert that the ship was in danger. It described the "appalling and systematic push-back practices" carried out by the Greek authorities, accusing them of "violent deterrence of people on the move".
Pushbacks are government actions aimed at forcing refugees and migrants out of their lands, while impeding access to legal and procedural frameworks, according to the Berlin-based institute. European Center for Constitutional and Human Rights (ECCHR).
A CNN investigation in 2020 exposed allegations of an illegal pushback campaign waged by Athens against migrants and asylum seekers who reached Greek shores. The Greek Ministry of Immigration denied the allegations.
Alarm Phone released emails showing that it contacted Greek authorities in the late afternoon local time regarding the boat in distress.
The email appears to have been sent directly to Greek authorities, including the Greek Coast Guard, Greek Police Headquarters and Greece's Ministry of Civil Protection.
The email also appears to have been sent to the United Nations High Commissioner for Refugees (UNHCR), NATO, the Greek Ombudsman's office and the European border patrol agency Frontex, as well as UNHCR country offices in both Greece and Turkey.
A spokesperson for the commission confirmed to CNN that it had received the email from Alarm Phone on Tuesday night, and said the agency had asked Greek authorities to take action.
A separate email, which Alarm Phone shared with CNN, appears to show Frontex's confirmation of receipt of the Alarm Phone SOS mail on Tuesday afternoon.
The Greek coast guard said in a press release that it repeatedly asked the boat if it needed help and the agency was told it did not.
The Greek authorities also said that they could not intervene with the boat without asking for help, as the boat was in international waters.
The massive search and rescue operation continued on Friday, but no survivors have been found since its first phase early Wednesday.
Greek coast guard spokesman Nikos Alexiou told CNN that the chances of recovering the sunken ship are "almost non-existent" because the area of ​​international waters where the accident occurred is one of the deepest in the Mediterranean.
Among the people rescued were Egyptians, Syrians, Pakistanis and Palestinians. Eight of them are minors.
None of the survivors were women, but witness accounts indicate that there were many women and children on board, traveling in the ship's hold.
Questions are now being raised about whether the tragic incident could have been avoided, with several international bodies saying the international community should cooperate on "safer pathways" for the migrants.
The Mediterranean region near Greece is a major route for migrants and refugees trying to escape political strife in the Middle East, Asia and Africa.
The number of undocumented people showing up on European shores has risen dramatically this year due to conflict, global inequality and the climate crisis.
The Central Mediterranean remains the main migration route into the European Union, with the highest number of irregular border crossings recorded since 2017, according to to the latest numbers From Frontex.
Irregular restrictions refer to the act of traveling across borders without adhering to the necessary requirements for legal entry, according to the European Commission.
Frontex said that in the first five months of this year, detections of irregular border crossings along the route more than doubled compared to the same period in 2022. More than 50,300 detections were reported by national authorities from January to May, which represents Almost half of all irregular entries into the EU in 2023.
The International Organization for Migration and the UN refugee agency stressed that search and rescue at sea was a "legal and humanitarian imperative" and welcomed an investigation ordered in Greece into what happened.
Both agencies described Wednesday's boat disaster as "the worst in several years."
UNHCR Greece: "We need more safe pathways for people forced to flee" chirp Wednesday. "They should not be left with impossible, life-threatening choices."
On Thursday evening, groups pledging solidarity with migrants held a rally outside the port of Kalamata and in Greece's two main cities, Athens and Thessaloniki.
The country's caretaker government called for three days of national mourning and political leaders temporarily suspended campaigning ahead of new elections on June 25. The national elections in May were inconclusive.
Greece's former center-right government faced international criticism for its tough stance on immigration. In a May interview with CNN's Christiane Amanpour, former Prime Minister Kyriakos Mitsotakis described his immigration policy as "tough but fair."
Mitsotakis' party scored a resounding victory in the May elections with 40% of the vote, but did not secure a large enough majority to govern alone.
His main opponent, Alexis Tsipras, whose centre-left Syriza party is trailing heavily in opinion polls, visited Kalamata on Thursday, criticizing the previous government and the European Union's migration policy. "It is a policy that has turned the Mediterranean into a watery grave," he said.
"Travel specialist. Typical social media scholar. Friend of animals everywhere. Freelance zombie ninja. Twitter buff."