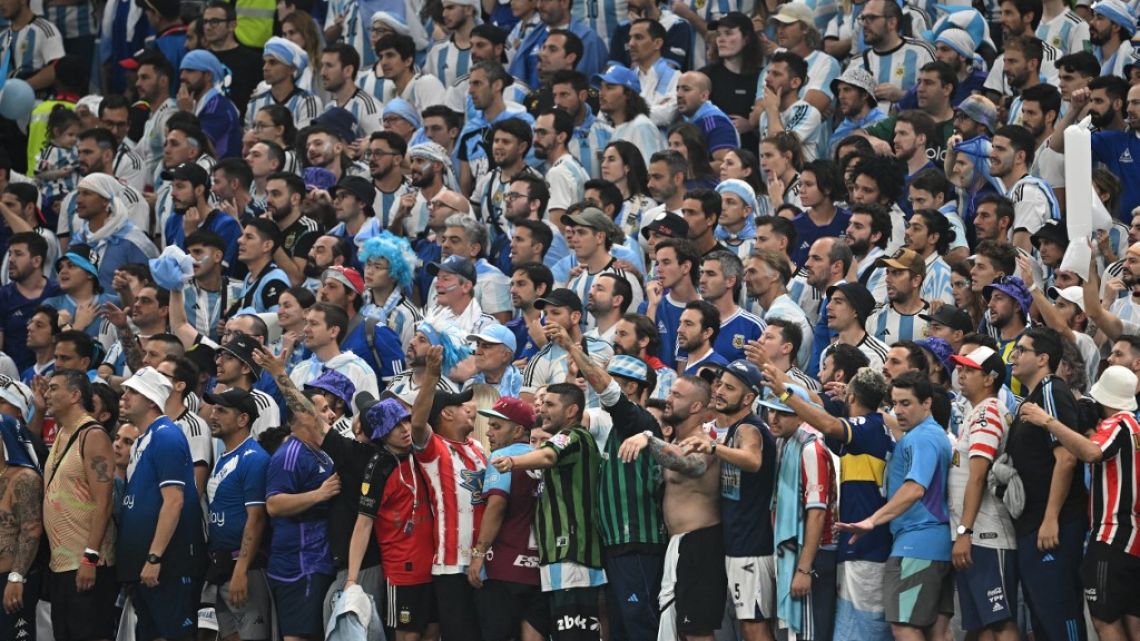 Thousands of Argentines had the opportunity to travel Qatar To see the Argentine team commit itself World ChampionAnd over the next few hours They will return home. In this regard, the Ministry of National Health has issued a series Recommendations Travel should be taken into account.
Recommendations for returnees from Qatar
Those who have traveled to Qatar, or other countries in the Middle East and within the following three weeks Fever and rash or fever and cough or shortness of breathThey should take the following steps:
Put on a chinstrap
Consult a doctor or healthcare provider immediately and check travel history.
Strictly follow the instructions of the health board.
When you experience symptoms, do not go to work, educational activities or public places and follow medical instructions.
Outbreak of deadly 'camel virus' in Qatar warns epidemiologists
"In the presence of symptoms, it is important to carry out an initial consultation so that health workers can assess the clinical picture and the epidemiological risk of diseases such as measles, poliomyelitis or Middle East respiratory syndrome," the health details say. To reduce the risk of introducing these diseases into the country, it is necessary to implement relevant diagnostic, treatment and epidemic control measures.
Diseases that the Ministry of Health warns against when returning from Qatar
Measles
Qatar belongs to the World Health Organization (WHO) Eastern Mediterranean Region, which reported a total of 23,840 confirmed cases in 2021. MeaslesThe Ministry of Health described it as double the number of the previous year.
Eighteen of the 21 countries in the region currently have measles, including Qatar. Countries from other regions participating in the World Cup, An outbreak of measles has also been reported. A similar situation occurs with rubella virus.
"Argentina certified Eliminating local circulation of measles And since 2000, no cases of autoimmunity have been reported. However, given the high circulation of the virus in other regions, imported cases have been reported, as happened after the World Cup in South Africa in 2010," Salut warns.
Poliomyelitis
"Low vaccination coverage in the region of the Americas and the large number of travelers in the context of a large event noted create a high risk of measles, rubella and reintroduction. Polio In the country and region", refers to official information.
Middle East Respiratory Syndrome (MERS-CoV or "camel virus")
Qatar is one of the countries affected by the disease. It is a serious zoonotic condition caused by Middle East respiratory syndrome coronavirus (MERS-CoV). "Camel Virus".
Typical MERS symptoms range from mild cases to severe acute respiratory illness. Very characteristic symptoms Fever, cough and respiratory distress. Also, pneumonia is a common presentation.
Hugo Pizzi: "Camel virus has a mortality rate of 20 to 30 percent"
This "Camel Virus" Spread from animals to humanss and camels and has been linked to human infections in several Member States in the Middle East, Africa and South Asia. however, Person-to-person transmission is possible This has occurred primarily in direct communications and health care settings.
The largest outbreaks occurred in health facilities in Saudi Arabia, the United Arab Emirates and the Republic of Korea. Outside of health care settings, sustained person-to-person transmission has not been documented anywhere in the world.
According to the Pan American Health Organization report, to date WHO reported no confirmed human cases of MERS in Qatar, in fact they warn about the existence of various false rumours. Additionally, based on the global situation and current recommendations, it considers, There are no specific instructions For travelers returning from Qatar under international health regulations.
The most recent report of MERS worldwide has been reported Four confirmed human cases in Saudi Arabia Between December 2021 and October 2022.
"Introvert. Thinker. Problem solver. Evil beer specialist. Prone to fits of apathy. Social media expert. Award-winning food fanatic."