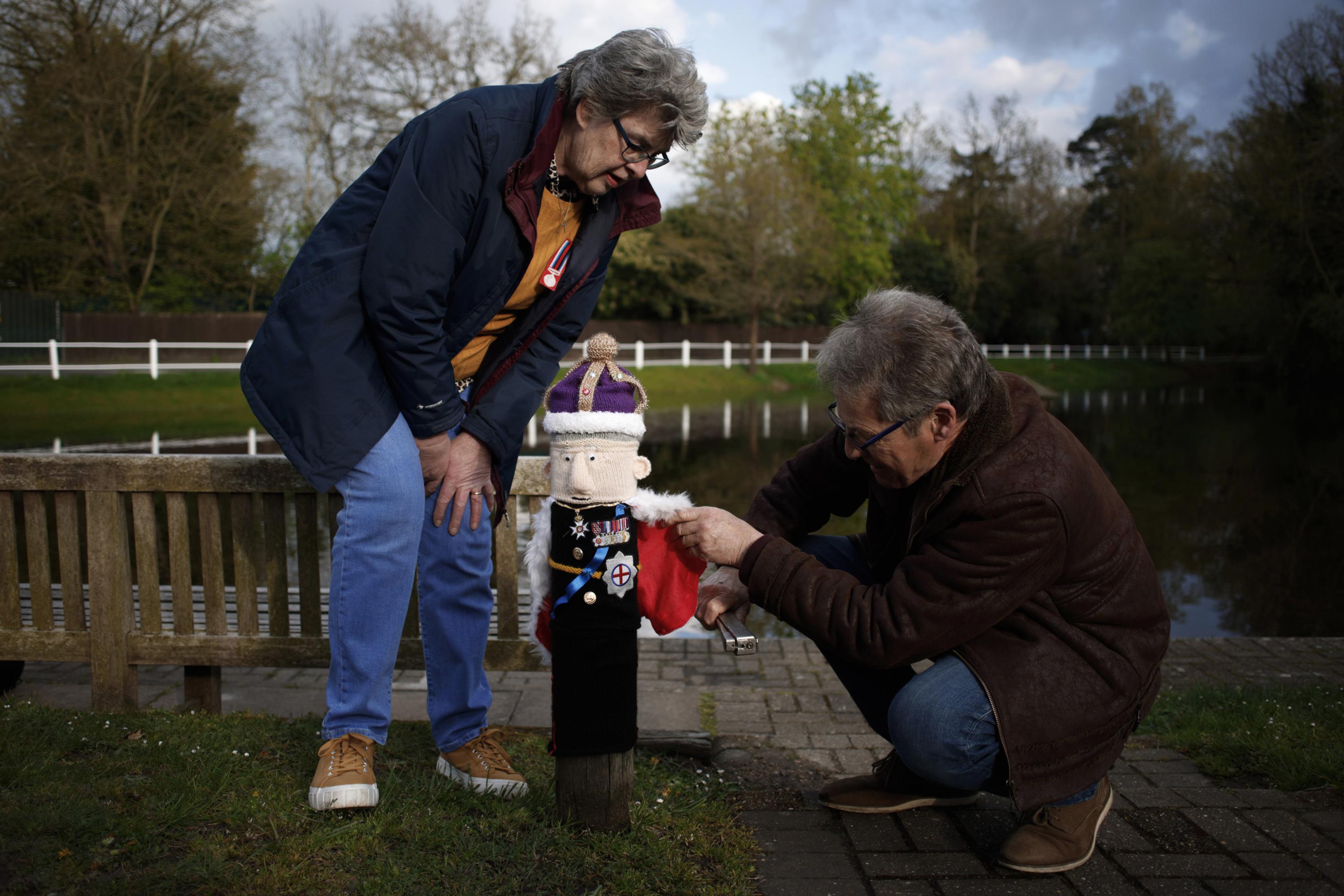 LONDON (AP) – Heather Howarth tugged at King Charles III's ears and teased him with relief.
The other ladies who gathered in her little English village thought the ears should be bigger. But when creating a crochet figure for the new king, she was determined not to cause offense.
"He may not like this," said she, reaching out to give the King a pat. "But he'll love his archers!"
Howarth and her friends in the village of Hurst, a stone's throw from Reading, west London, have designed a mystical coronation procession to rival the pomp and circumstance that will occur when Charles is crowned on May 6 at Westminster Abbey. Enveloping the 29 community pool flyers with their knit and crochet creations, the women recreate the cast of characters set for the big event.
There is the King, of course, the Queen consort and the Archbishop of Canterbury. And a lot of bomb guards. They even threw in a Paddington Bear – a sort of honorary member of the royal family after he shared tea with the late Queen Elizabeth II in a film celebrating 70 years on the throne.
The Hurst Hookers are part of a phenomenon that has spread across Britain in recent years, as guerrilla enthusiasts and crochet enthusiasts celebrate royal holidays and occasions by decorating the country's famous red mailboxes and other public spaces with their handicrafts. There is no money in it, and creations are sometimes stolen. But they do it anyway because they enjoy lighting up their communities, even if no one asks them to.
Spinners all over the country have been working hard for months, creating everything from golden buses to castles with castles and bejeweled crowns that will add mystical bits of color to coronation festivities.
But how do we explain Hearst Hookers?
This is a group that started during the coronavirus pandemic, and meets fortnightly at the local cricket club when intermittent lockdowns in Britain allow. He brings you your gin and tonic, but there is tea for everyone who wants one. When the 18 women aren't getting together for their knitting and community, they keep in touch via WhatsApp. The sounds are so continuous that at least one member has to turn off their alerts.
They began planning and creating their coronation scene in early September, shortly after the Queen had died and Charles had become king. By April, it's time to install it.
The "guerrilla" action began just after 5:30 pm on a recent Friday evening as the sun was setting, bathing the newly cleaned pond in muted light.
The women arrived in jackets and sweaters on a cool spring night, with their creations inside huge shopping bags emblazoned with supermarket logos, then pounced on the poles surrounding the pond.
There was a little bit of stealth, but a lot of determination.
First they pulled off crochet likenesses of Charles, wearing a tiara and cape from an old Christmas stocking, and Camilla, with flashes of unruly blonde hair. Then came the archbishop, whose spectacles rested on a swollen mystical nose. And finally, the informed guards in red.
As fast as it will, the figures were pulled down over the columns and pinned firmly in place, with finely embroidered medallions, mustaches, sergeant's stripes and other ornaments getting an extra element or three.
"King Charles wants our support, right?" Howarth said. "Otherwise, how can I show that I support him?"
Valerie Thorne, who did the embroidery, carefully researched all the embellishments, so that each medal was from a different campaign the Rangers had participated in. The insignia on Charles' chest is so accurate that from a few feet away you might mistake it for the real thing. The archbishop's bride is identifiable, similar to the one he wore in his own fitting.
So far, the character of the fat sergeant seems to be a favorite in the village.
A Daily Mail columnist described such craftsmen as "unhinged…mystical perverts". Rather than be offended, the ladies of Hearst Hookers embraced the pandemonium.
"I'm going to embroider that on a T-shirt," Thorne, 76, said proudly. "If I'm deranged, what's wrong with that?
And when the installation was almost complete, there was a moment to put the icing on the dessert.
Babe Etheridge pulled out a gorgeous replica of St Edward's Crown – the one that will be placed on Charles' head next weekend – and handed it to Janet Forster because she didn't want to be in the pictures.
In a procession of their own, the group proceeded to the village store to obtain the resistive piece, fitting a crown over the mailbox in front.
While chatting about the mailbox, the group debated whether their handicrafts were more about the coronation or about themselves. They laughed and talked about posting the pictures on social media and wondered what the neighbors might say. And they kept laughing.
"If I swapped that for the real one," Etherge asked, pointing to her crown, "do you think he would notice?"
"Travel specialist. Typical social media scholar. Friend of animals everywhere. Freelance zombie ninja. Twitter buff."