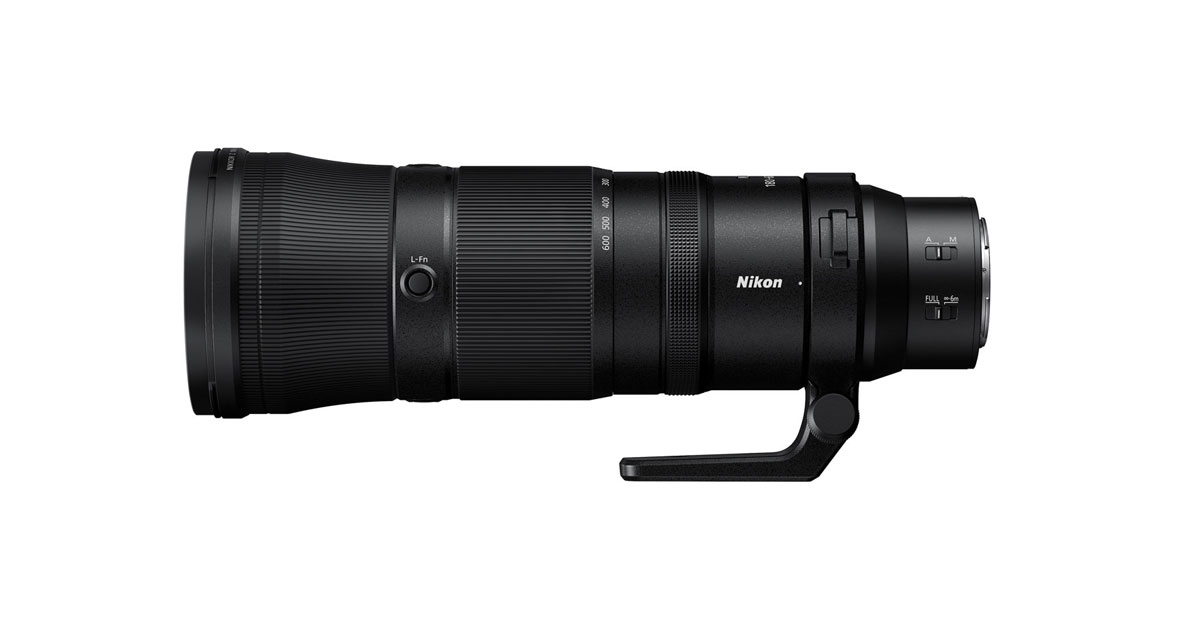 Supports capturing various subjects with a wide range of focal lengths
TOKYO – Nikon Corporation (Nikon) is pleased to announce the release of the NIKKOR Z 180-600mm f/5.6-6.3 VR, a super-telephoto zoom lens compatible with the full-frame/FX-format mirrorless cameras used by Nikon Z mount approved.
The NIKKOR Z 180-600mm f/5.6-6.3 VR is a superior telephoto zoom lens that offers superior agility and operability. It supports taking powerful, close-up shots of subjects from a distance, such as birds, wildlife, and aircraft. With a minimum focus distance of 1.3m in the wide-angle position, and a minimum focus distance of 2.4m in the telephoto position, the lens is also ideal for taking close-up shots of flowers and insects at the user's feet in between for shots of birds, for example. The wide range of focal lengths allows users to enjoy shooting a wide variety of scenes and subjects, all with this single lens. In addition, the NIKKOR Z 180-600mm f/5.6-6.3 VR provides excellent user support with its lightweight design and 5.5-stop* effect Vibration Reduction (VR) allowing for superior agility, while adopting an internal zoom mechanism that greatly increases operability.
Nikon will continue to pursue a new dimension in optical performance while meeting the needs of users, and contribute to the development of imaging culture, hoping to expand the possibilities of pictorial expression.
*

Based on the CIPA standard. This value is achieved when attached to a full frame/FX-format sensor camera, with the camera's Vibration Reduction function set to Normal, and when zoom is set to the maximum telephoto position.
Basic features
Supports coverage for focal lengths from 180mm to 600mm while weighing only 1955g*1.

A short focusing distance of as little as 1.3m at the maximum wide-angle position enables close-ups of flowers and insects at the user's feet.

Vibration Reduction (VR) performance equivalent to a shutter speed increase of 5.5 stops effectively reduces blur in dimly lit surroundings and/or handheld shooting.

Adoption of a stepping motor (STM) ensures fast and quiet autofocus.

The adoption of the internal zooming mechanism increases the zooming stability and dustproof performance.

Four lens Fn buttons, to which a variety of functions can be assigned, at the front end of the lens cylindrical barrel support easy operation during handheld shooting.

Use of a lockable lens hood, with a lens hood lock release button, keeps the lens hood securely attached.

Plus, designed with dust and drip resistance in mind*2An anti-fouling fluorine coating has been adopted on the front lens to facilitate the removal of dust and dirt.

Perfect for video recording with a clickless control ring that supports smooth playback and reduces playback noise, as well as adopting a design that considers preventing focus breathing.

Maintains superior sharpness when using the Z TELECONVERTER TC-1.4x or Z TELECONVERTER TC-2.0x to extend the maximum focal length to 840mm or 1200mm respectively. *3

The adoption of six ED glass elements effectively compensates for chromatic aberration.
*1

Except for the tripod collar ring.

*2

Overall resistance to dust and water drops cannot be guaranteed in all situations and under all conditions.

* 3

Depending on the subject, ambient light conditions, and the focus point selected, the camera may not be able to focus using autofocus or the electronic rangefinder focus indicator may flash while the teleconverter is attached.
Involved
"Certified food guru. Internet maven. Bacon junkie. Tv enthusiast. Avid writer. Gamer. Beeraholic."