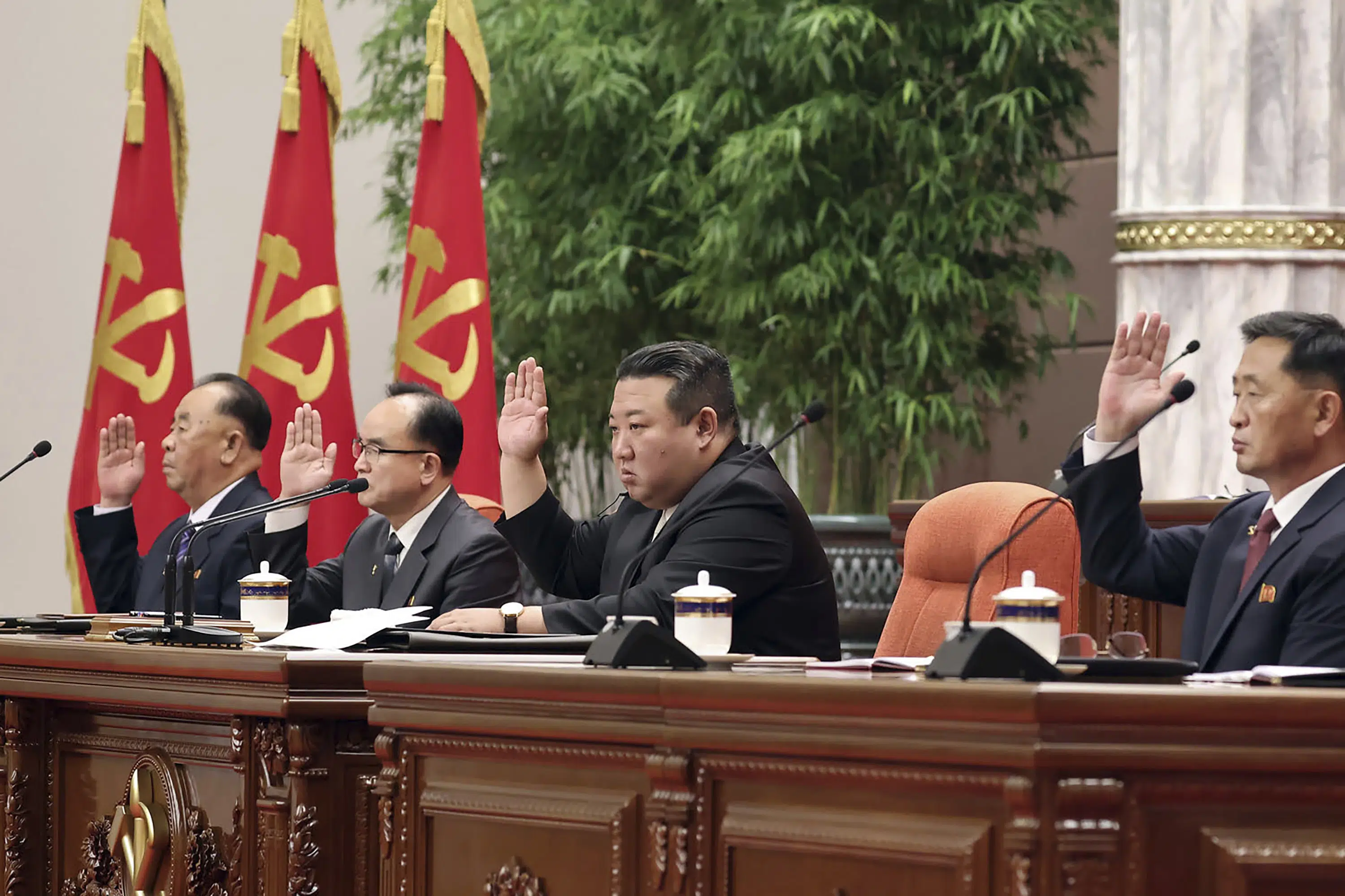 Senior North Korean officials have vowed to push for a second attempt at a spy satellite launch when they called their country's first, and failed, launch last month the year's "most serious flaw" and have lashed out at officials. State media reported Monday.
In late May, a North Korean missile carrying a military reconnaissance satellite crashed Soon after it took off, marking a setback for leader Kim Jong-un's efforts to acquire a space surveillance system to better monitor the United States and South Korea.
The failed launch and North Korea's efforts to modernize its arsenal were widely discussed at a three-day meeting of the ruling party that ended on Sunday, with Kim and other senior officials attending.
A lengthy KCNA message about the meeting did not clearly say who spoke, but said a report of the meeting "strongly criticized officials who irresponsibly made preparations for the satellite launch."
The agency said the report set tasks for officials and scientists to learn the lessons of the failed launch, find the cause of the missile crash, and make a successful launch in a short period of time.
He did not say exactly when North Korea might attempt a second missile launch. But South Korea's spy agency earlier told lawmakers that it would likely take "more than several weeks" for North Korea to determine what went wrong with the failed launch.
Monitoring groups in North Korea have not reported any purges or expulsions of scientists or others involved in the failed launch.
A spy satellite is among the many high-tech military assets Kim has publicly pledged to acquire to counter what he calls US-led hostility. Other weapons systems that Kim wants to possess include a multi-barreled missile, a nuclear submarine, a solid-fuel intercontinental ballistic missile and a hypersonic missile.
Since the beginning of 2022, North Korea has conducted more than 100 missile tests, some of them related to the development of a spy satellite and other powerful weapons on Kim's wish list.
During the meeting, members of the Politburo also analyzed the "extremely deteriorating security situation" in the region caused by the "reckless war moves" of North Korea's adversaries, the report said, apparently referring to expanded military exercises between the United States and South Korea.
The United States and South Korea have expanded their military exercises in response to North Korea's advanced nuclear arsenal and warn that any attempt to use nuclear weapons will spell the end of the Kim government.
The agency said that members of the Politburo set unspecified "important tasks" to strengthen solidarity with countries that "oppose the US bandit strategy for supremacy over the world."
North Korea has sought to strengthen relations with Russia, Including in defense of its military action in Ukraine. It says Russia is protecting itself from the "politics of hegemony" pursued by the West.
North Korea has also sought to build on its ties with China, its main ally and economic lifeline in an intense strategic competition with the United States over trade, technology and regional influence.
Russia and China, both permanent members of the United Nations Security Council with veto power, have repeatedly blocked attempts by the United States and others to toughen UN sanctions on North Korea over its missile tests.
The party meeting also discussed efforts to improve North Korea's ailing economy, which experts say has been further strained by pandemic-related border closures.
The agency said some progress had been made in efforts to boost agricultural production and revive production in the metallurgical and chemical industries, though it acknowledged unspecified shortcomings. The Korean Central News Agency announced progress in construction, citing a project to build tens of thousands of new homes in the capital, Pyongyang.
It is almost impossible to verify the claims of North Korea, which is one of the most secretive countries in the world. Experts say there are no signs of social unrest or famine in North Korea despite the hardships caused by the pandemic.
The KCNA did not say whether Kim spoke at the plenary meeting of the Workers' Party Central Committee.
Ko Pyongsam, a spokesman for South Korea's Unification Ministry, said it would be unusual for Kim to attend a high-level party meeting without giving a public address. Ko said the apparent shortcomings of Kim's speech may stem from the failed satellite launch and North Korea's lack of economic achievements.
"Travel specialist. Typical social media scholar. Friend of animals everywhere. Freelance zombie ninja. Twitter buff."