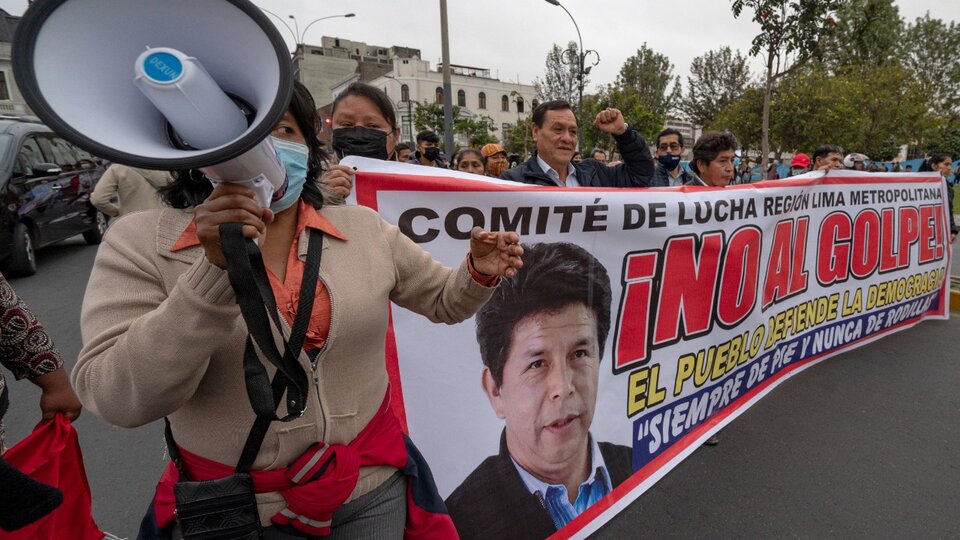 From Lima
A coup is underway, and the president has denounced Pedro Castillo In response to the corruption charge, he was impeached by Congress. An impeachment attempt to remove him from the presidency has been sought by the far-right since the beginning of the government. In a large file of more than 300 pages, The nation's attorney, Patricia Benavides, accused the head of state Their political and family environment Formed a "criminal organization" to benefit financially from rigged auctions. The prosecution's case is based on incriminating witnesses against the president, some of whom are former aides to the president. Condemned for corruption, they exchanged their incriminating testimony for Castillo's freedom and gains in the proceedings against him. They question its veracity from the government and demand evidence to substantiate these claims. The President has responded that the allegations are false.
"harassment"
"It's a chase. The execution of a form of conspiracy has begun. We're being accused of a crime we never committed. We are going to reject all allegations and continue to defend democracy", Castillo said in a conference with foreign journalists, in which he was accompanied by his ministers.
The government wants the tax complaint dismissed by Congress as "unsupported by evidence" and "unconstitutional." Under the Constitution, a sitting president can only be impeached for crimes such as treason, disrupting elections, illegally closing Congress, or obstructing its proceedings. None of these offenses were included in the indictment. It is criminal organization, influence peddling and collusion. It defies valid arguments to try to justify a constitutional violation that prevents Castillo from being charged with the crimes he is charged with.
State Attorney Benavides has denounced the Constitution by presenting this charge. He was accused of using his position to protect his judge sister in a trial for freeing drug traffickers in exchange for bribes and obstructing a tax investigation of the drug cartel. And another investigation into the judicial mafia with ties to Fujimori. Without responding to these serious accusations, Nation's lawyer accused those who remember his dark background of being part of the accused organization, which his office says is Castillo's leader.
A financial impeachment against the President is in the Constitutional Impeachment Subcommittee of Congress. If it is approved in this event, it goes to a permanent commission and then to a full session of Congress for a final decision. In all three cases, approval is by a simple majority. According to Congressmen, it could take three months. There are opposition legislators who did not join the coup team And the interaction of forces is adjusted, resulting in unpredictable results.
Plan B and Plan C
In exchange for an admission that the legality of a financial charge has been questioned, the right has pulled out of its shirt a constitutional law that, speaking in a general way, has never applied. "Temporary Suspension" of the President. It is understood that the temporary suspension could be related to a health issue or force preventing the presidency from holding office, but that was not specified and the opposition, which wants to impeach Castillo, is seeking to run this article. Including grounds that could be used to suspend Castillo. They will regulate that this requires only a simple majority. It was cynically argued that the suspension would last "only" until the prosecution was given time to deepen investigations, and that Castillo would be reinstated if proven innocent, but that process would take years, so the de facto suspension would be temporary. A dismissal in disguise
A third option being floated in Congress to remove Castillo is to reiterate that he should be removed due to his unclear image. "Permanent Moral Incapacity". It is an abstract process, which is limited to ten days. The problem for its promoters is that in this case two-thirds of the 130-seat unitary Congress would have to be ratified, a vote they don't have now. The far right has already failed twice in impeachment for this reason. But now they are hoping that the prosecutor's charge will give them a boost and they will be able to garner more votes.
Even the Vice President
If Castillo is removed from the presidency, he will be succeeded by the vice president Tina Polwarte. But the far right has already started the process of shutting it down. They allege that he signed the documents as the president of a social club It is argued that as a minister – while Polwarte is also the Minister of Development and Social Inclusion – he cannot hold a position in a private company due to potential conflicts of interest. But these are formal procedures required for change of post and have no connection with the government or conflict of interest with his ministerial post. An excuse to fire her. If Castillo and Bolvarde fall, the presidency will be assumed by the president of CongressJose Williams, retired general accused of human rights abuses. If so, the far-right regime would have fallen.
"The financial charge against Castillo lacks solid foundations, all are conditionally confirmed, it is part of a coup situation. The prosecution is part of the coup plot along with the right," he said. page/12 Sociologist and University Professor Synecio Lopez. Lopez says of the opening scenes: "The actions of the far right in Congress and the impeachment are reckless and will lead us to a very critical moment. If Castillo falls, there may be a fascist exodus. Another option is a massive mass mobilization so that everyone leaves, which means leaving the Congress too, and there are general elections, in which case that would be the best option. If he doesn't succeed in ousting Castillo, the far right will forever charge against him, and we will have a lopsided government with Castillo who has no vision or clear agenda for the country. That we will continue to grow plants in chaos."
Depending on the strength of the vote in a parliament with more than 80 percent of citizens rejecting it, the fate of this fiscal charge, and thus the fate of the government, will not depend on its solidity or its legitimacy. The far-right, which has wanted from day one to end the government of the rural professor who defeated them in the election, feels closer to its goal. This Saturday he organized a rally against Castillo in the center of Lima, which was poorly attended. Castillo is weakened and on the ropes, cornered by Congress, prosecution, and media harassment, but his administrative problems, the abandonment of his key proposals for change, and the characters in his environment who are the protagonists of corruption scandals. The scorn of many of his accusers from the right is closely linked to corruption, and people like Fujimori, who now present themselves as anti-corruption fighters, are cynical, but unconvincing, in his favour. The country is living in critical times.
"Introvert. Thinker. Problem solver. Evil beer specialist. Prone to fits of apathy. Social media expert. Award-winning food fanatic."