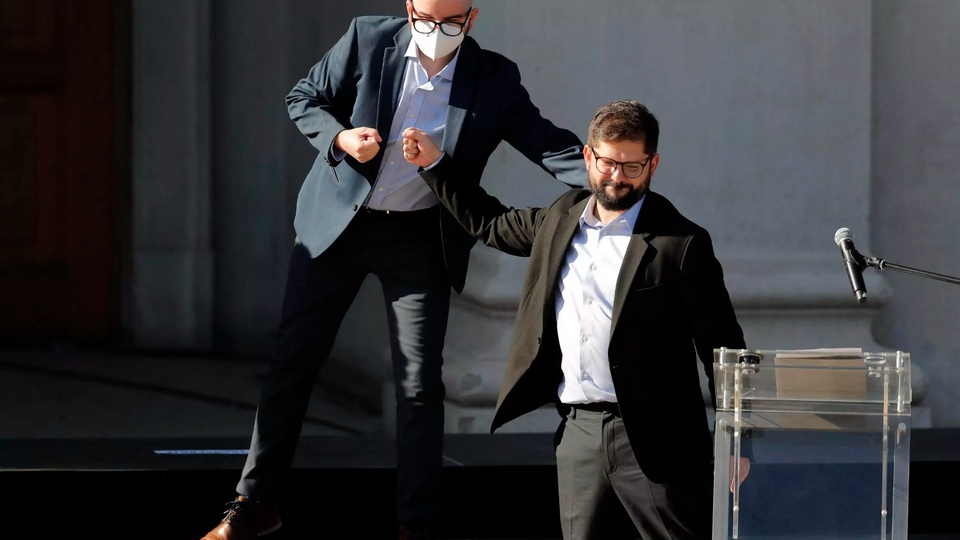 Chile's Minister of Social Development, Giorgio JacksonHe tendered his resignation after weeks of pressure from opposition parties and the threat of a political investigation against him. He will be involved in an alleged conspiracy to divert public grants to private foundations.
"After a meeting with the President, I would like to inform you that I have decided to tender my resignation indefinitely," Jackson said at a press conference. "I am stepping aside after verifying that the opposition has seized my presence in the cabinet as an excuse not to make progress on the agreements Chile needs," the current former minister insisted, referring to the blockade of key tax and health reforms. Pension, instituted by the opposition. There has been progress in negotiations over his resignation. Paula Poplade, who previously served as Under Secretary for Social Assessment, will replace him in the portfolio.
Jackson said his country is "tired of seeing us fight, there are excuses to make progress on pension reform, a maintenance system on needed reforms, can make progress on reducing waiting lists, safety issues". And he added: "I am going to take all necessary steps to expose those lies, slander and defamation, and they are exposed."
Alleged involvement
The resignation came on the brink of a political inquiry promoted by the far-right of the Republican Party, joined by other opposition parties. It's about calling "Contract Case" It involved militants and officers of the Revolutionary Democratic (RD) government coalition party founded by Jackson.
In June, in the northern region of Antofagasta, irregularities were revealed in million-dollar contracts signed between the Ministry of Housing's regional delegation and the Democratic Viva Foundation, which is affiliated with the DR. The conspiracy gradually spread to different officials and till date at least five senior officials have already resigned.Including former undersecretaries of housing and culture, Tatiana Rojas and Andrea Gutierrez, respectively.
Earlier this year, the far right also accused Jackson of underspending his portfolio on the Indian Land and Water Fund. Recently, he has been criticized for his management of hacked computers and a vault in his ministry, increasing opposition pressure for his resignation.
Support from your peers
Following Jackson's announcement, Chilean President Gabriel Boric said he accepted the former social development minister's resignation "as a gesture of generosity to help improve the political environment and advance reforms.". "As Giorgio himself said, people are tired of fighting. It's time to agree. The people of Chile and our homeland come first," the president added in a post on the X social network.
The departure was a hard blow for Boric, as the two had been close friends since the student protests in 2011.In favor of free and quality public education, they were founders of the Broad Front, a coalition that will rule the country from March 2022, along with the Communist Party and centre-left forces.
"For the war, Jackson was his main partner, and they were an inseparable pair. They loved each other very much and traveled this path together," explained Pep Auth, a former Chilean congressman and political analyst. "For President Boric, who thinks they are like brothers and that coming to La Moneda is a very collaborative project, it will be very strange not to have him in the government," said Sofia Donoso, a Chilean researcher at the Conflict Center. Studies and Social Integration (COES).
Justice Minister Luis Cordero was another government figure who supported Jackson.. In conversation with the channel Cilivision, pointed out that "the entire government appreciates the generosity." Regarding the opposition's approach of pressuring his ally, he explained, "It is beyond political criticism to maintain the speech on the basis of an allegation." He also stressed that "the country needs pending, pending contracts". Congress".
Jackson Course
Born in the coastal city of Viña del Mar in 1987, Giorgio Jackson rose to the political front as president of the Student Union of the Catholic University of Chile (FEUC) and spokesman for the Confederation of Chilean Students (CONFECH) during the marches. That put the former conservative president's first government on the ropes Sebastian Pinera.
In 2014, she entered the House of Representatives along with Boric and the current government spokesperson, former student leader Camila Vallejo. All three were re-elected in 2018, already members of the Broad Front, a coalition formed a year earlier.
Already in government, he has been in charge of the social development ministry since last September, when he was removed from the presidential secretariat in charge of relations with parliament, as part of a reshuffle by Boric after the defeat. A proposal for a new constitution in a referendum. Despite being conversational and a good negotiator, Jackson developed enemies on different benches – including on the center left – and failed to gather enough support in parliament to pass the government's priority reforms.
"Introvert. Thinker. Problem solver. Evil beer specialist. Prone to fits of apathy. Social media expert. Award-winning food fanatic."