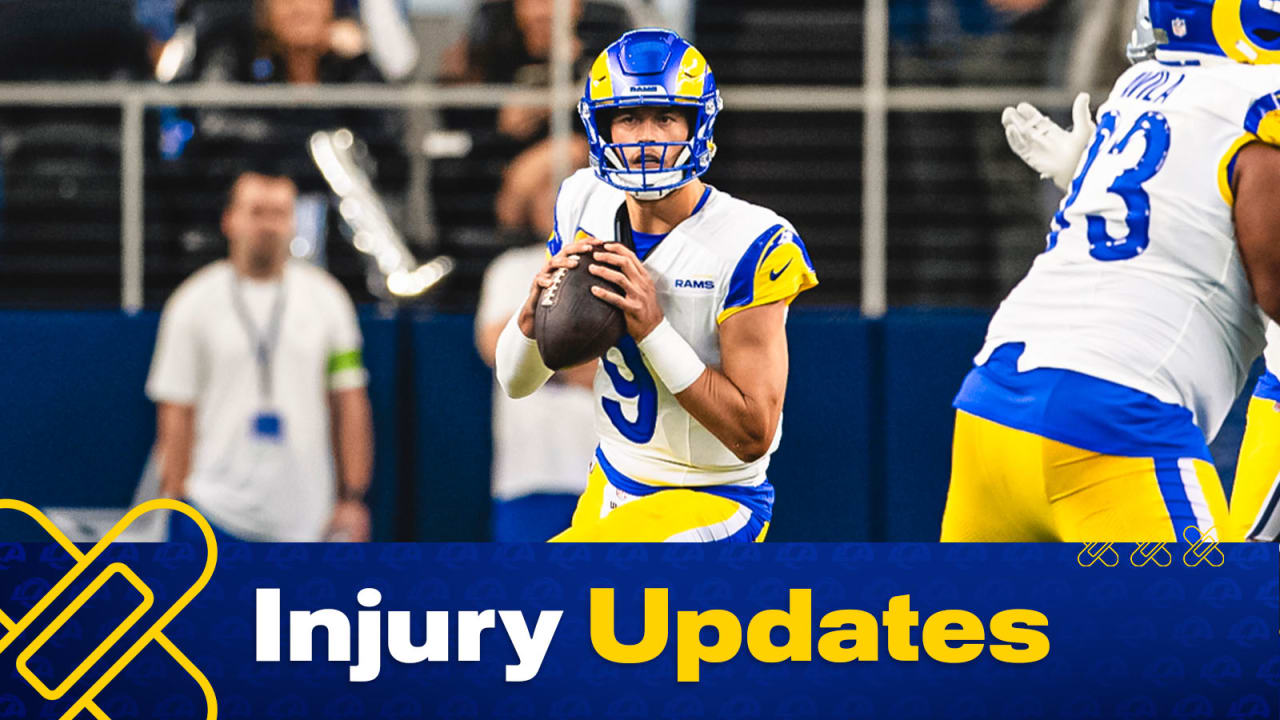 THOUSAND OAKS, Calif. — Rams coach Sean McVay said Monday that quarterback Matthew Stafford sprained his right thumb in the Cowboys game against the Cowboys and is day-to-day.
Given the Rams' concerns that Stafford's injury could have been worse, McVay said the sprain was encouraging news.
"I think we're taking it one day at a time," McVay said during a video conference with reporters Monday. "We definitely have to make some contingency plans. Obviously we have (backup quarterback) Brett (Rypien) on the roster, and there are some other possibilities that we'll explore that we're in the middle of working on once we go down with you guys today."
McVay said Stafford initially injured his right thumb on a throw to the corner route to wide receiver Pukka Nakoa in the red zone on a Rams drive near the end of the first half. After the Rams' two-point conversion failed at the end of that drive, TV replay showed Stafford's thumb hitting the helmet of a Cowboys defensive lineman. McVay said doctors examined Stafford's thumb after the two-point conversion failed, and that Stafford's thumb was stable. McVay said this wasn't something that limited Stafford's ability to play.
However, on the Rams' successful two-point conversion, Stafford's thumb got stuck on the turf as he made a jumper to make it. McVay said it was that play that caused Stafford to leave Sunday's game in Dallas and not return.
McVay said there is no concern about Stafford's previous thumb injury. However, McVay said there is some swelling, some bruising and some scar tissue, so the sprain "definitely" affects how Stafford grips the football.
Stafford was replaced by Rypien, who completed 5 of 10 pass attempts for 42 yards. While McVay said it was "hard to say" what happened with the way Rypien came into Sunday's game and took over, it was a celebration because it was a "really tough situation" in terms of running the offense. However, McVay praised Rypien for his work over the past few weeks leading the scout team's offense during practice.
"He did a great job," McVay said. "I think it's an improvement. He approaches each week with the intention of really being able to say, 'Okay, if this is the rep I'm getting, how can I get better?' How can I play with timing and rhythm?" "I think he did a great job of imitating the opposing quarterback, the rhythm, all those different things. But I just think the consistency with which he approached his skill and intent has allowed him to improve, and he's done a really good, beautiful job with that role."
McVay confirmed that the Rams are exploring signing another quarterback. The Rams carried two starting quarterbacks for most of the season, which McVay said was due to the unforeseen circumstances of rookie Stetson Bennett's situation.
Bennett remains on the reserve/NFI list, and McVay said there is no update regarding Bennett's return with the team.
"I'm not ready to say he won't be back with us at all this year, but it's probably less likely than not," McVay said.
Just like any injured veteran, McVay said Stafford's comments are "fundamental and critical" in determining whether or not he plays.
"I think in many cases a lot of it is about dialogue and discussion in terms of what does he feel?" McVay said. "What do they feel capable of doing? We like to be able to provide that for us, but not at the expense of pushing them and making sure you're not leaving them vulnerable to anything unnecessary. You want to make sure you're setting them up for success."
Updates on Havenstein, Durant, Trammell, Nacua and Ethan Evans
In terms of other injury updates, McVay said they are continuing to monitor offensive lineman Rob Havenstein (calf) and that Havenstein is day-to-day.
Defensive back Kobe Durant's shoulder injury in the first half of Sunday's game turned out to be a pain in the neck. McVay said Durant will likely be a limited participant in Wednesday's practice, "but he should be OK."
Wide receiver and punt returner Austin Trammell suffered a groin injury on a punt returner, but McVay said Trammell "should be fine."
Wide receiver Pukka Nakoa "had some swelling in the knee," and the Rams will be "smart" with him on Wednesday.
Additionally, punter Ethan Evans suffered a sprained ankle during one of the Cowboys' punts.
"We'll see how he does," McVay said of Evans.
"Devoted travel trailblazer. Freelance beer scholar. Passionate analyst. Hardcore twitter fanatic."