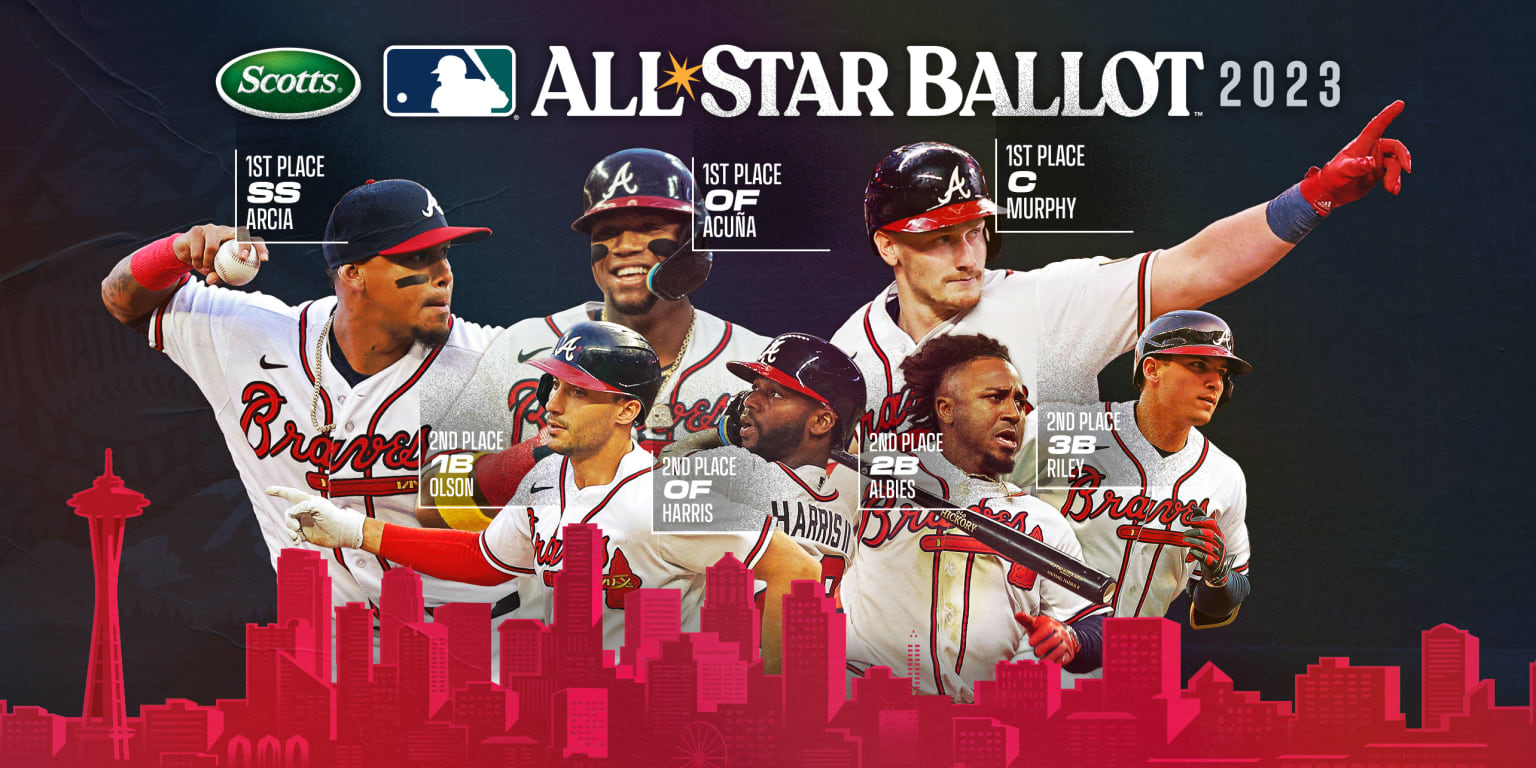 PHILADELPHIA – Ronald Acuna Jr. will not participate in this year's Phase 2 All-Star ballot because he has already been selected as one of the starting linebackers in the National League for this year's Midsummer Classic.
Acuña received more votes than any other MLB player during the first phase of the balloting process that ended Thursday afternoon. This is the third year in a row that the Braves outfielder has received more votes than any other player in the NL. He joins Hank Aaron (1970 and '71) and Dale Murphy ('85) as the only Braves with the most votes in the balloting.
Akunia ahead of American League polling leader Shohei Ohtani, 3,082,600-2,646,307. They are each guaranteed a place in the starting line-up as the top vote-getters in their respective tournaments.
This is the fourth time that the 25-year-old Acuña has been selected to start the All-Star Game. He was an NL starter in 2019 and 22 and was unable to make the '21 game because he tore his right ACL two days before the All-Star break.
Acuña likely won't be the Braves' only All-Star representative this year. Catcher Shaun Murphy, Orlando Arcia shortstop, first baseman Matt Olson, second baseman Ozzie Alpes, third baseman Austin Riley, and second baseman Michael Harris all advanced to the second ballot. Murphy and Archia were among the highest vote-getters in office during the first phase.
Starting Monday at noon ET, Phase Two voting will be available exclusively online and via mobile at MLB.com/vote and all 30 club websites, the MLB app, and the MLB Ballpark app. Fans will be given the opportunity to vote among the finalists in each position during a brief period that ends at noon on June 29th ET. The winners will be announced that night at 7 p.m. ET on ESPN.
Fans can vote once per day during this second phase, with daily voting limits resetting each day at midnight ET.
During Phase 2, voting totals will be reset (i.e. voting totals are not carried over from Phase 1) and the winner of each position (including three outfielders in the AL and two outfielders in the NL) will be named the starting position player for 2023 Midsummer Classic.
"Devoted travel trailblazer. Freelance beer scholar. Passionate analyst. Hardcore twitter fanatic."