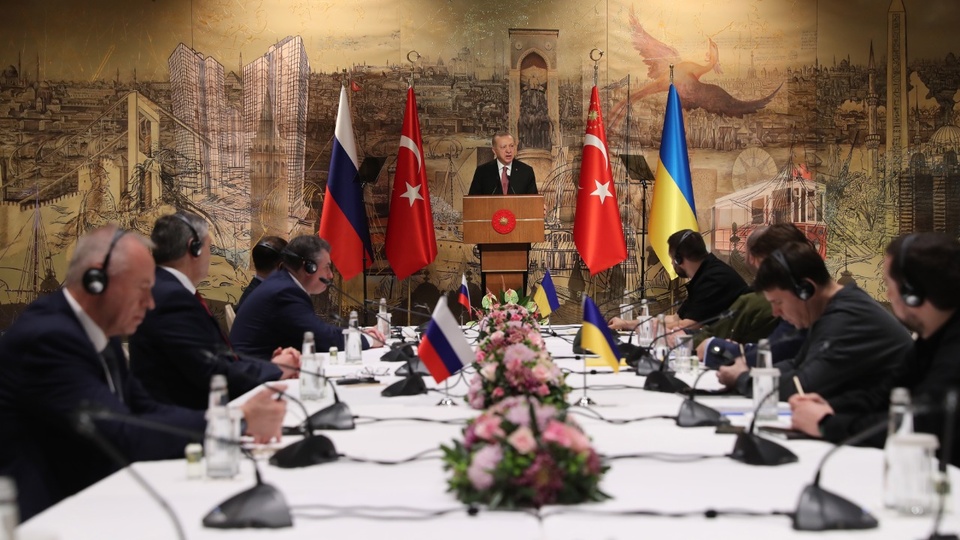 Russia on Tuesday vowed to reduce military operations around the country Following the "significant" talks with Ukraine in Istanbul, the United States and other Western powers questioned Moscow's "seriousness" in those talks. According to the Ukrainian delegation, Kyiv is ready to formally abandon NATO membershipIn return, it receives protection from all military aggression if it receives firm guarantees from a group of ten countries, including five members of the United Nations Security Council.
Fighting on Ukrainian soil has already forced more than ten million people to flee their homes, killing at least 20,000, according to President Volodymyr Zhelensky.. A Russian airstrike on Tuesday killed at least nine people and wounded 28 others when it partially destroyed a regional government headquarters in Mikoil.A town near Odessa, according to the balance of the office of the Ukrainian Attorney General.
Relieving hope
Chairman of the Russian Embassy, Vladimir MedinskyPromised that Negotiations are "meaningful" Even He made it clear that the Russian decision would not mean a ceasefire. "This is not a ceasefire, but at least our aim is to gradually reduce the conflict in these areas," he explained in a statement to the Russian news network RT.
Regarding the terms of the negotiations, Medinsky pointed out that Kyiv would abandon any attempt to recapture Crimea and the separatist Donbass by military means., Version has not yet been confirmed by Ukrainian sources. For his part, the Ukrainian negotiator David Arajami He put forward detailed plans aimed at signing a peace agreement Your country will drop joining NATO And be as neutral as Moscow demands.
Arajamiya reiterated that Ukraine wants several countries, including Russia, the United States, the United Kingdom, France, China, Turkey and Poland, to guarantee a final peace agreement, which would force Ukraine to provide military assistance in the event. A foreign attack, after a maximum of three days of consultation.
Talks between the long-awaited Russian and Ukrainian delegations began in Istanbul on Tuesday morning. Turkish President Recep Tayyip Erdogan's call for an "end to the tragedy". Despite the announcement of two days of talks, progress on Tuesday has paved the way for the talks to end on the first day. There will be no meeting on Wednesday.
Turkey, which shares the Black Sea coast with the two warring countries, has been trying to maintain fluid relations with both sides since the beginning of the crisis and has been trying to mediate the conflict.
Western suspicion
The announcements of the talks, especially those of the Russian side, were received with suspicion and suspicion by Western powers, which imposed an arsenal of sanctions on Moscow in the aftermath of the invasion. In a telephone conversation, the presidents and heads of state of the United Kingdom, the United States, France, Germany and Italy urged their allies not to reduce their security.
Boris Johnson, Joe Biden, Emmanuel Macron, Olaf Scholz and Mario Draghi reaffirmed their commitment to "continue to raise the costs of their brutal attacks on Russia in Ukraine.""We will continue to provide security assistance to Ukraine to defend itself." "We will see if the Russians agree," Biden told reporters.
The Pentagon has pointed out that some Russian groups "seem to be moving away from Kiev," without which it could not be called a "withdrawal or withdrawal".. "I do not see any progress being made effectively because we do not see any signs of real seriousness," US Secretary of State Anthony Blinken told a news conference in Morocco.
Military expansion in Kiev
Aside from announcing a roadmap towards a possible deal, the battlefield is a very definite decision Russian delegation announces that its troops will reduce military pressure on Kyiv and other cities in Ukraine. After talks at the annexation of the historic Dolmabahe Palace in Phosphorus, Moscow announced that it would greatly reduce its harassment of the Ukrainian capital and the besieged northern city of Chernikov.
However, the road may be longer because the ten countries mentioned by Ukrainian anarchists have not yet formally accepted the role of guarantors, and the agreements signed by Kiev must be submitted to a popular referendum so that they become part of the constitution. Ukraine's chief negotiator has insisted that such a consultation be possible only after the complete withdrawal of Russian troops, as the agreement signed under pressure is not valid under international law.
Nine people were killed in the Mykolive attack
In Ukraine, fighting continues in many areas. Government shells nine killed in Russian shelling of a regional government building in Mikoil, A southern port city. "According to the investigation, the Russian Armed Forces launched a missile attack on the building" and "currently nine people have been killed and 28 wounded," the news service of Attorney General Irina Venedikova reported.
No military motive was attacked, "Mikolaiv residents did not represent any threat to Russia. Yet, like all Ukrainians, they became the target of Russian troops," President Volodimir Zelenski denied in a speech to the Danish parliament. Meanwhile, the Ukrainian Air Force says it has shot down 17 "enemy" air targets, including eight planes and three helicopters, in the past 24 hours.
Humanitarian action in Putin and Mariupol
Ukrainian forces are attacking again in the north and fighting to control the port city of Mariupol in the south. Russian forces surrounded the city and continued to shell indiscriminately, leaving about 160,000 people without food, water and medicine.
At least 5,000 people have been killed so far in Mariupol, a senior Ukrainian official has said. President Volodymyr Zhelensky called the Russian siege a "crime against humanity" that was taking place directly before the eyes of the world.
Your Russian colleague, Vladimir Putin, The "solution" of the humanitarian situation in Mariupol was subordinated to the disarmament of Ukrainian "nationalist" groups., Reported in the Kremlin during a telephone conversation with his French envoy Emmanuel Macron. France, which announced last week that it was organizing a humanitarian operation to evacuate civilians along with Turkey and Greece, on Tuesday assessed that the conditions for its implementation were "not currently met".
Read on
"Introvert. Thinker. Problem solver. Evil beer specialist. Prone to fits of apathy. Social media expert. Award-winning food fanatic."