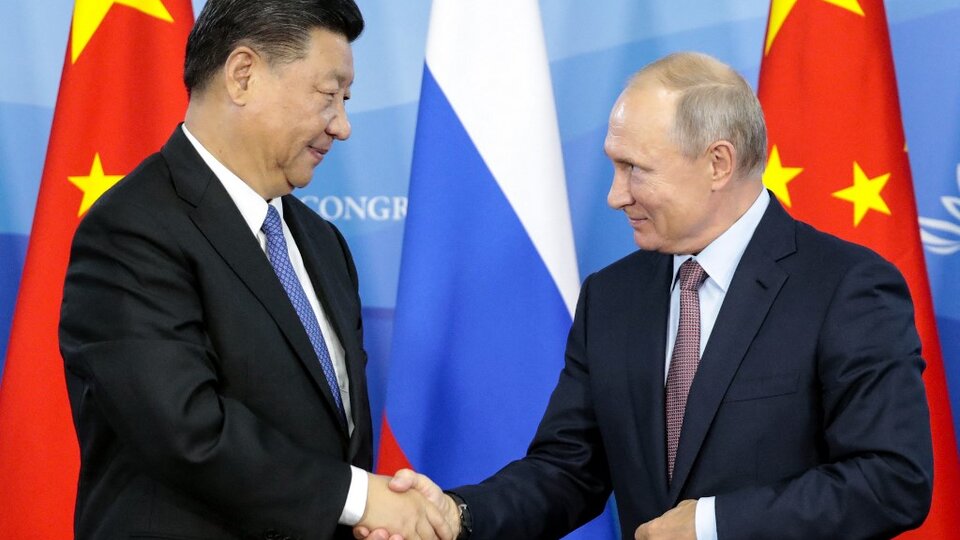 Ukraine has reported 700 casualties on Russia in the last 24 hours.
The Ukrainian army claimed seven hundred Russian casualties in the past 24 hours, during which it also destroyed 5 tanks and 16 armored fighting vehicles, according to a statement from the General Staff of the Ukrainian Armed Forces on Monday.
A note posted on the Facebook account of the Kyiv General Stab also explains that on March 19, the Ukrainian Armed Forces destroyed 9 Russian artillery systems and two anti-aircraft systems.
China has again denied supplying arms to Russia
After US media said Beijing was considering sending artillery and ammunition to Moscow, China again on Monday denied supplying arms to Russia, reiterating that "it is the United States that sends weapons to the battlefield".
Chinese Foreign Ministry spokesman Wang Wenbin declared that "it is not China" supplying the weapons and advised Washington to "stop adding fuel to the fire and stop pointing fingers at other countries and coercing them."
The reports came on a day when Chinese President Xi Jinping arrived in Moscow for a three-day visit to meet his Russian Foreign Ministry spokesman, Vladimir Putin.
Kyiv's conditions for China's peace plan
Oleksii Danilov, secretary of Ukraine's National Defense and Security Council, is convinced that Russia must surrender or withdraw its forces from Ukraine as a precondition for the implementation of the "peace plan" advocated by China.
Danilov made these statements on his Twitter account today as Chinese President Xi Jinping is on an official visit to Russia to meet his Russian counterpart Vladimir Putin to discuss the peace plan.
Kremlin confirms Putin will address conflict in Ukraine with Xi
Russian President Vladimir Putin and his Chinese counterpart Xi Jinping began a state visit to Russia today, where they will address "the situation in Ukraine and China's peace efforts to resolve the Ukrainian crisis," the Kremlin said.
"One way or another, during the exchange of views in Ukraine (between the two leaders) the issues dealt with by the project will definitely be resolved. Ukraine will definitely be on the agenda," Russian presidential spokesman Dmitry Peskov said. In his daily telephonic press conference.
He said that Xi would fully explain Moscow's position on the conflict to Putin so that the Chinese president "can directly get the view that the Russian side has at the moment."
Russia accused the US of provoking the conflict in Ukraine
The Kremlin accused the US of fomenting the conflict on Monday UkraineIt comes just hours before Chinese President Xi Jinping arrives in Moscow, where he is set to talk about China's proposal for peace talks.
"The United States is committed to de-escalating conflict, establishing sanctions to de-escalate hostilities, and continuing to provide arms. Ukraine"Among the planned issues between Xi and his Russian counterpart, Vladimir Putin, is the Chinese peace plan," Kremlin spokesman Dmitry Peskov said.
Xi Jinping arrives in Moscow
Chinese President Xi Jinping arrived in Moscow on Monday for an official visit to Russia, where he will meet with its President Vladimir Putin, CCTV public television announced.
This will be the first visit by a Chinese leader to Russia since the start of the war Ukraine And his first trip to Moscow for almost four years.
"Introvert. Thinker. Problem solver. Evil beer specialist. Prone to fits of apathy. Social media expert. Award-winning food fanatic."