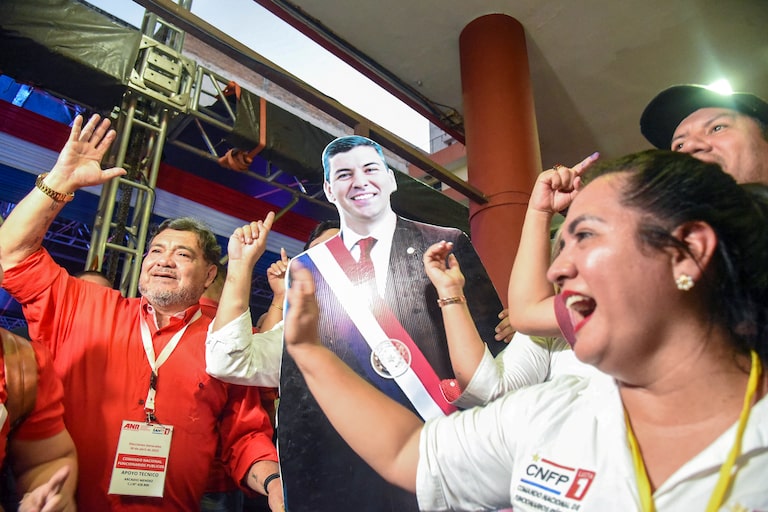 ASUNCIÓN.- After a hectic election day, due to cross-accusations and an overwhelming turnout of voters, which in some centers ended with hours of waiting in the scorching sun, punches, shoving and shouting, the polls closed at 4:00 pm (5 :00 pm in Argentina) and had already started as planned. Vote count to meet Paraguay's next president.
No reliable studies, The result is uncertain, but the uncertainty begins to dissipate with the first results. According to official data from the Preliminary Election Results Exchange (DREP), the pro-government candidate, Santiago "Peace" pen, marked a 45.18% votes are highWhen the President of the National Concert, Efrain Alegre followed with 28.02%. A third force, led by Paraguayo Cubas, rebounded and achieved 20.21% of the vote.
With more than 50% of the tables canvassed, the festivities have already begun at the National Republican Party (ANR) headquarters: drums are pounding to the tune of "Shanti Presidente". The candidate is expected to address the audience at 7:00pm (8:00pm in Argentina).
Meanwhile, senior Colorado party officials called for prudence, but told the media "There are fundamentals to let the public know, 'We're going to be better.'", referring to Pena's campaign slogan.
In addition to the president and vice president, Paraguayan voters elect 45 incumbent senators and 30 alternates through electronic voting; 80 named delegates and 80 alternates; 17 Governors, and 257 nominated members and 257 alternate members for departmental boards.
In the Senate, Colorados lead. With 27.87% of charts calculated, the national concert gets 46.61% against 24.76%.
There was much speculation about the ruling party's performance in these elections, mainly due to the financial and moral implications Corruption charges and US sanctions on Horacio CortésPresident and Patron of ANR.
Indeed, in 2022, Paraguay scored among the worst in the region on the Corruption Perceptions Index and Alegre focused his speech on attacking that weak coloradismo. In an interview nation He also called Cortés "the Paraguayan Pablo Escobar."
The intrigues and rifts within the ruling party have caused concern Outgoing President Mario Abdo Benitez's gestures of contemptAfter his defeat in December's hard-fought internal elections and on election day: he appeared in no action with Peña, except to mention him in his statements to the press after the vote, and yesterday he praised candidate Cubas. An interview with France24.
Despite all these setbacks, everything indicates that Coloradism will once again display its greatest strength: Its massive party apparatus, more than 2.5 million affiliatesIn seven decades he consolidated almost absolute supremacy at the head of the country.
In the region, expectations revolve around Paraguay's political future, One of the Mercosur partners, it is practically free from political change. At stake are other issues of an international nature, such as the continuation of relations with Taiwan and the recognition of Jerusalem as Israel's capital.
"Introvert. Thinker. Problem solver. Evil beer specialist. Prone to fits of apathy. Social media expert. Award-winning food fanatic."