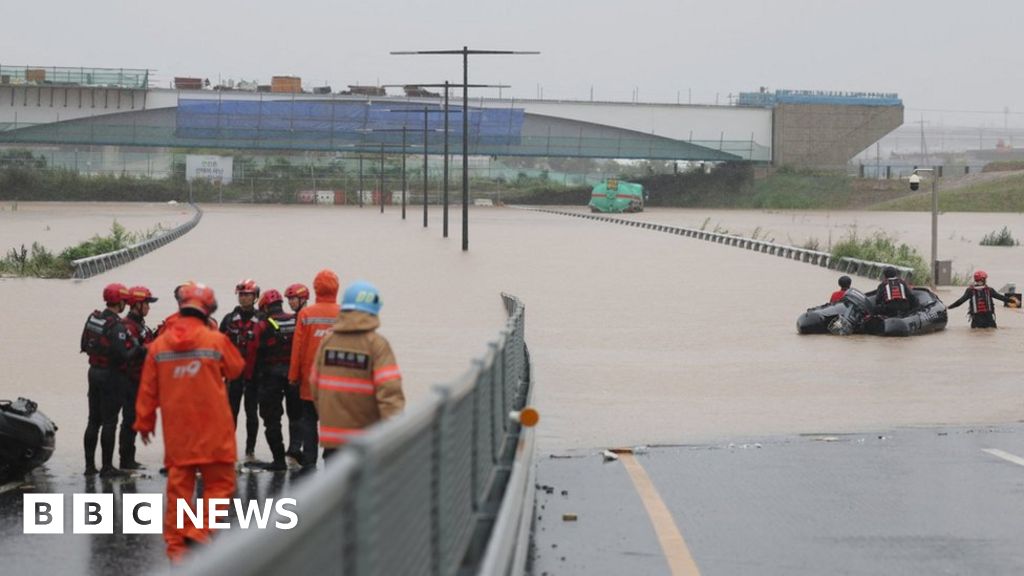 Written by Kristi Cooney and Yaroslav Lukiev
BBC News
Rescuers in South Korea are struggling to reach cars trapped in a flooded tunnel after days of torrential rain.
It is unclear how many people were trapped, but it was reported that there were about 19 vehicles in the tunnel in Cheongju, North Chungcheong Province.
Across the country, at least 22 people are now known to have been killed and another 14 are missing.
Most of the dead were in the mountainous North Gyeongsang region, where landslides swept away homes.
Aerial photos from flood-affected areas show brown mud and flood waters so deep, only the roof tops can be seen protruding.
Thousands of people have been affected by evacuation orders issued by various local governments, and Prime Minister Han Duk-soo asked the military to assist in rescue efforts.
South Korean news agency Yonhap reported that fire authorities said the tunnel in the Osung suburb of Cheongju was engulfed by a flash flood so quickly that drivers and passengers could not escape.
One person was confirmed dead, and nine others were rescued.
Early Saturday morning local time, about 6,400 residents were evacuated after the Goisan Dam began to overflow, the agency said.
A number of low-lying villages close to the dam and many of the roads connecting it to the water were submerged, leaving some residents trapped in their homes.
Late Friday, a landslide derailed a train in North Chungcheong. One of the engineers was injured, but fortunately the train was not carrying passengers at the time.
Corel, the country's national rail operator, announced the suspension of all slow and some express trains, and said other bullet services would be disrupted.
The Korea Meteorological Administration predicted more rain until Wednesday next week. He warned that the weather conditions posed a "serious" danger.
The warmer it gets, the more moisture the atmosphere can hold.
"Travel specialist. Typical social media scholar. Friend of animals everywhere. Freelance zombie ninja. Twitter buff."