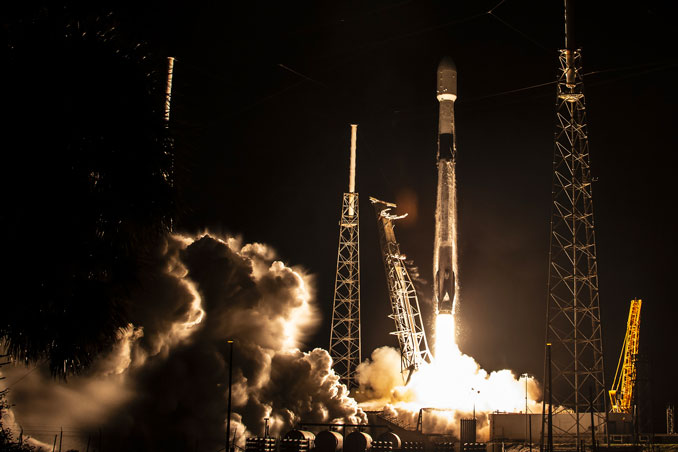 SpaceX launched its second Falcon 9 mission of the day, sending 22 second-generation Starlink satellites into orbit Saturday at 9:05 PM EST (0105 UTC). This followed the successful launch of a four-man crew to the International Space Station earlier in the day.
With Saturday's successful mission, more than 5,000 Starlink satellites have now entered orbit. Based on statistics compiled by Jonathan McDowell, an astronomer at the Harvard-Smithsonian Center for Astrophysics who maintains a database of spaceflight, SpaceX has now launched a total of 5,005 Starlinks since 2019.
After blasting off from Space Launch Complex 40, the Falcon 9 rocket flew southeast, aiming for an orbit inclined 43 degrees to the equator. After separating from the second stage about two and a half minutes into flight, the first stage booster continued its descent aboard the Just Read the Instructions drone ship stationed in the Atlantic Ocean east of the Bahamas.
Two second-stage afterburners put the satellites into the desired circular orbit. The 22 satellites were separated about an hour and five minutes after launch.
The first stage booster, rear number B1080, was on its third mission. The inaugural flight was the launch of the Axiom 2 private crew to the International Space Station earlier this year on May 21. Then it was launched on July 1 with the European Space Agency's Euclid Space Telescope.
This was the 14th launch of the so-called V2 microsatellites which are larger and have four times the bandwidth of previous models. The full-size V2 Starlink satellites are scheduled to be launched by SpaceX's fully reusable Starship, but the delay in the Starship's appearance has led to SpaceX creating a condensed version of the satellites so they can be launched on Falcon 9.
And in early May, SpaceX announced that it had more than 1.5 million Starlink subscribers. The company's Internet service is available in more than 60 countries.
"Web maven. Infuriatingly humble beer geek. Bacon fanatic. Typical creator. Music expert."