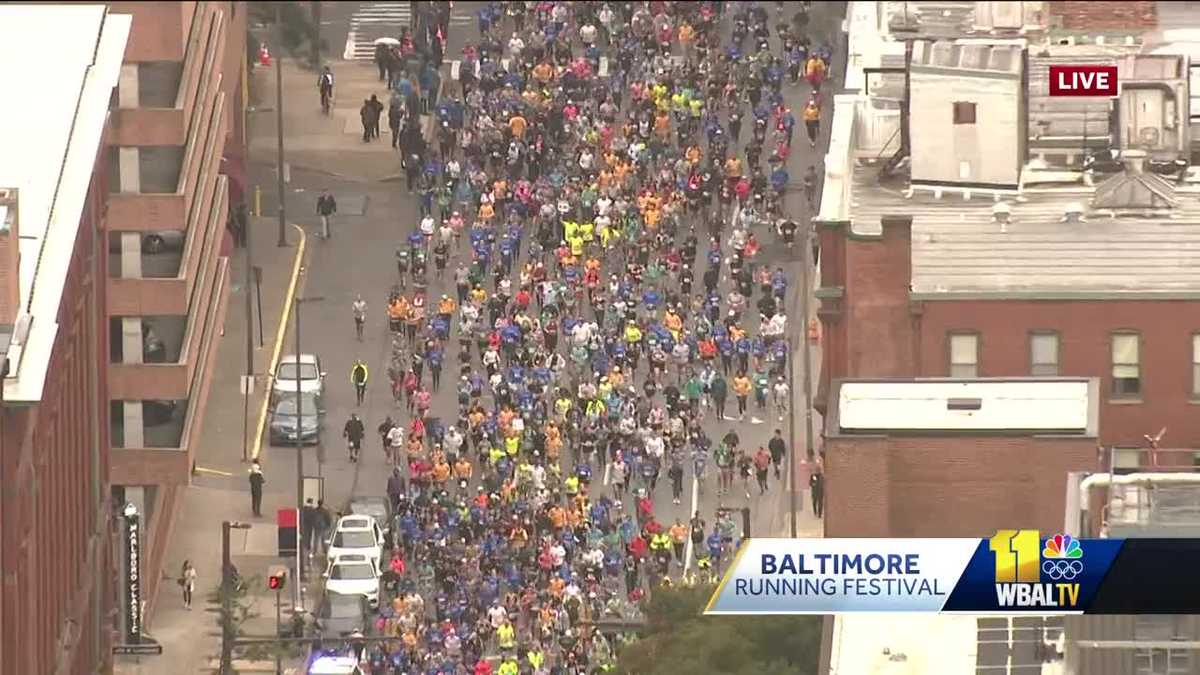 BALTIMORE —
Through intermittent light rain and temperatures only in the 50s, as many as 11,000 runners from all 50 states and as many as 15 countries competed Saturday at the 2023 Baltimore Running Festival.
>> Weather | Register for races | parking | volunteer | Track runner/results | common questions <
Both full marathon winners were visiting Baltimore for the first time. Zachary Ripley, 35, from Rockford, Michigan, won the men's race in two hours, 28 minutes and 17 seconds. Not far from the Ripley finish, Emily Royston, 25, of Madison, Wisconsin, won the women's race.
"It was very difficult," Ripley told 11 News. "It's really exciting, those kinds of things, there's a lot of energy with all the people out, you've got your work done and you know it could have been anyone on a day like this and I'm happy to be me. It's a blessing to be able to run and be able to do it at a high level."
Ripley was the sole leader of the men's race as he approached mile 22 after his driver withdrew in the previous mile. Ripley, making his first visit to Baltimore, has qualified for the Olympic Trials three times, including the 2024 Games.
Throughout the first half of the Baltimore Marathon, Robbie Cress, who won the men's race last year, maintained his position in the leader pack as Adam Fogg, Willie Fink and Ripley continued to advance through mile 15.
"The expectation was to try and compete," Ripley told 11 News. "My arms were freezing from the rain, but once the rain stopped again, it was fine."
Royston's win marked her first ever marathon.
"It definitely wasn't the easiest first marathon, but I think there's a better way to get through a marathon and climb some hills in a city I've never been to before, so it's been cool, and it's been tough. I hope I can carry that momentum," Royston told 11 News. forward and make others feel more comfortable."
"Devoted travel trailblazer. Freelance beer scholar. Passionate analyst. Hardcore twitter fanatic."