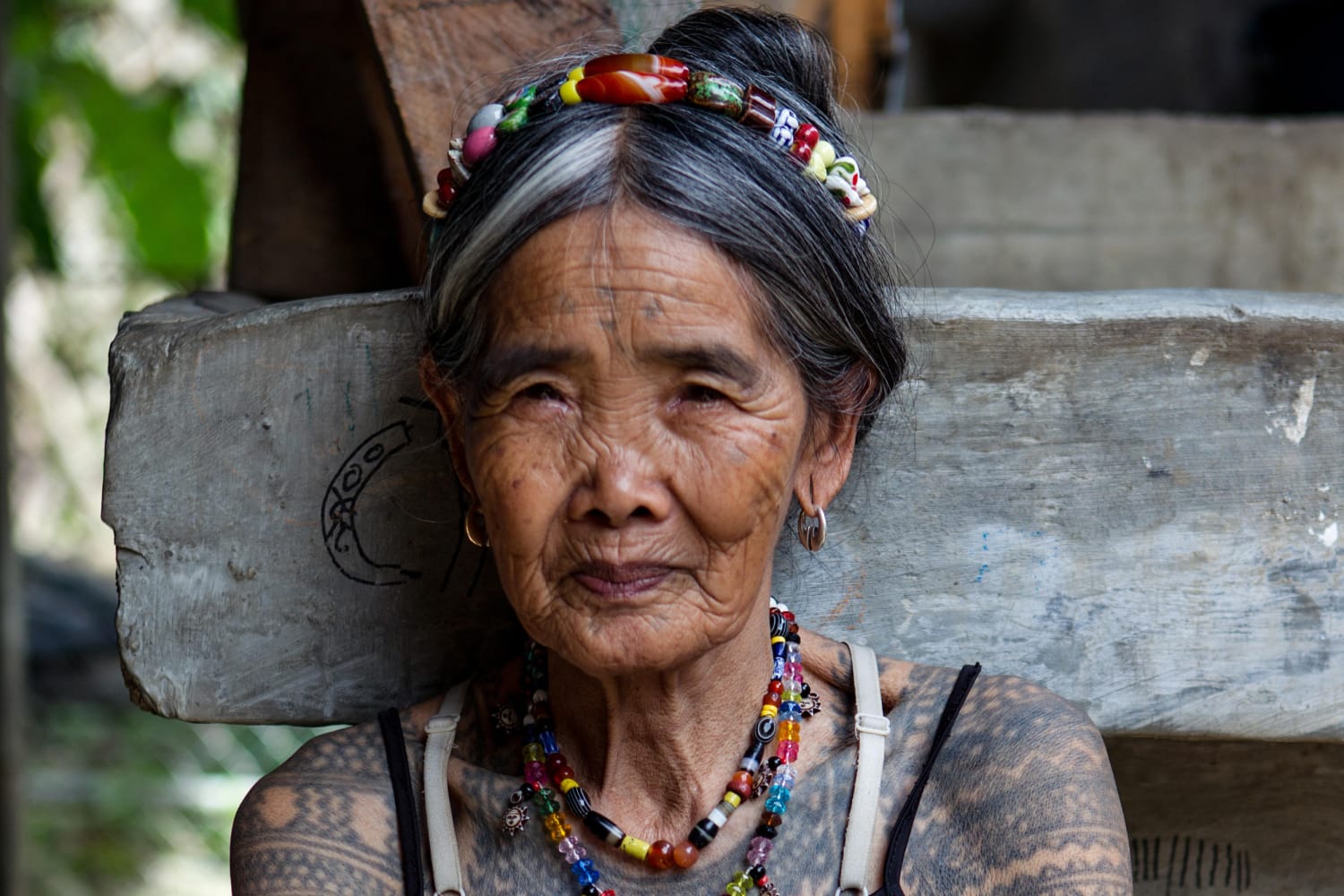 Vogue Philippines released its April issue on Friday, and its newest model is 106-year-old Kalinga indigenous woman Apo Whang-Od, also known as Maria Oggay.
Whang-Od, from the small mountain village of Buscalan in the Philippines, is the oldest mambabok (traditional tattoo) in the country. She's known for perfecting the 1,000-year-old 'batok' tattooing technique, which uses a traditional method of tapping with charcoal soot and a sharp stick. The magazine stated that she started learning the traditional method from her father at the age of 16.
"Apo Maria 'Whang-Od' Oggay symbolizes the strength and beauty of the Filipino spirit," Vogue Philippines books in a tweet. "Heralded as the last mambabok of her generation, she has imprinted Kalinga tribal symbols denoting strength, courage and beauty on the skin."
Her artwork has made waves tattoo tourism to the Philippines, where people from all over the world visit to receive one of her legendary designs, according to Vogue.
Whang-Od passed her knowledge on to her granddaughters, Elyang Wigan and Grace Palicas, whom she trained in the art of tattooing for several years, she told Vogue. The magazine stated that her work has inspired a new generation of batuke artists in the Philippines and the United States.
"When visitors come from far away, I'll give them away," Wang Oud told Vogue in potputt language Tatak Buscalan, tatak Kalinga for as long as my eyes can see."
Whang-Od is the face of Vogue Philippines' beauty issue, which "also highlights the female gaze," according to magazine.
"Freelance entrepreneur. Communicator. Gamer. Explorer. Pop culture practitioner."