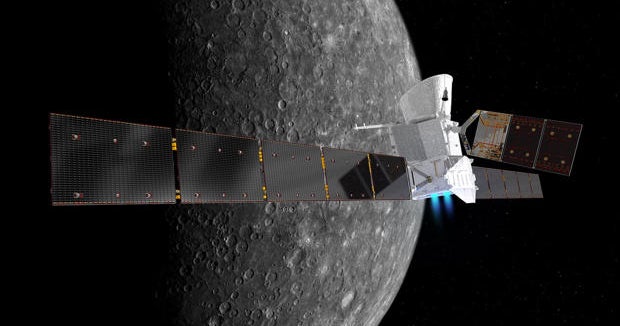 A series of images taken by two satellites flying over Mercury captured several "tectonic and volcanic curiosities" as well as a crater on the planet.
The satellite, dubbed the BepiColombo mission, is operated by the European Space Agency and the Japan Aerospace Exploration Agency.
The images were taken during the mission's third gravity-assisted flyby of the planet, The European Space Agency said in a press release. There will be six such flights in total. The images were taken from a distance of 236 kilometers, or about 146 miles, above the planet's surface.
Black and white photos released by the agencies show multiple features, including a crater. The crater, newly named for Jamaican artist Edna Manley, is about 218 kilometers (135 miles) wide. The scientists found the crater to be of particular interest because there appears to be "low-reflective 'dark' material" that the researchers said in a press release could be the remnants of the planet's early, carbon-rich crust.
The crater basin was flooded with smooth lava, which the researchers said was "evidence of Mercury's long history of volcanic activity."
BepiColombo will continue to monitor the crater from orbit, measuring carbon in the area and what minerals might be inside.
Two images taken near the planet show "one of the most exciting geological propulsion systems" on Mercury. The area is a "shelf lobate," a tectonic feature that researchers believe is formed by the planet's cooling and contraction. As a result, the area looks wrinkled. There are also features in the lava flooded area.
"This is a fascinating area for studying the tectonic history of Mercury," Valentina Galluzzi of the Italian National Institute of Astrophysics says in the press release announcing the images. "The complex interaction between these cliffs shows that as the planet cools and contracts, it causes the surface crust to slide and slide, creating a variety of strange features that we will pursue in more detail once it enters orbit."
Researchers said the mission will complete another flyby of Mercury in September 2024.
"Web maven. Infuriatingly humble beer geek. Bacon fanatic. Typical creator. Music expert."