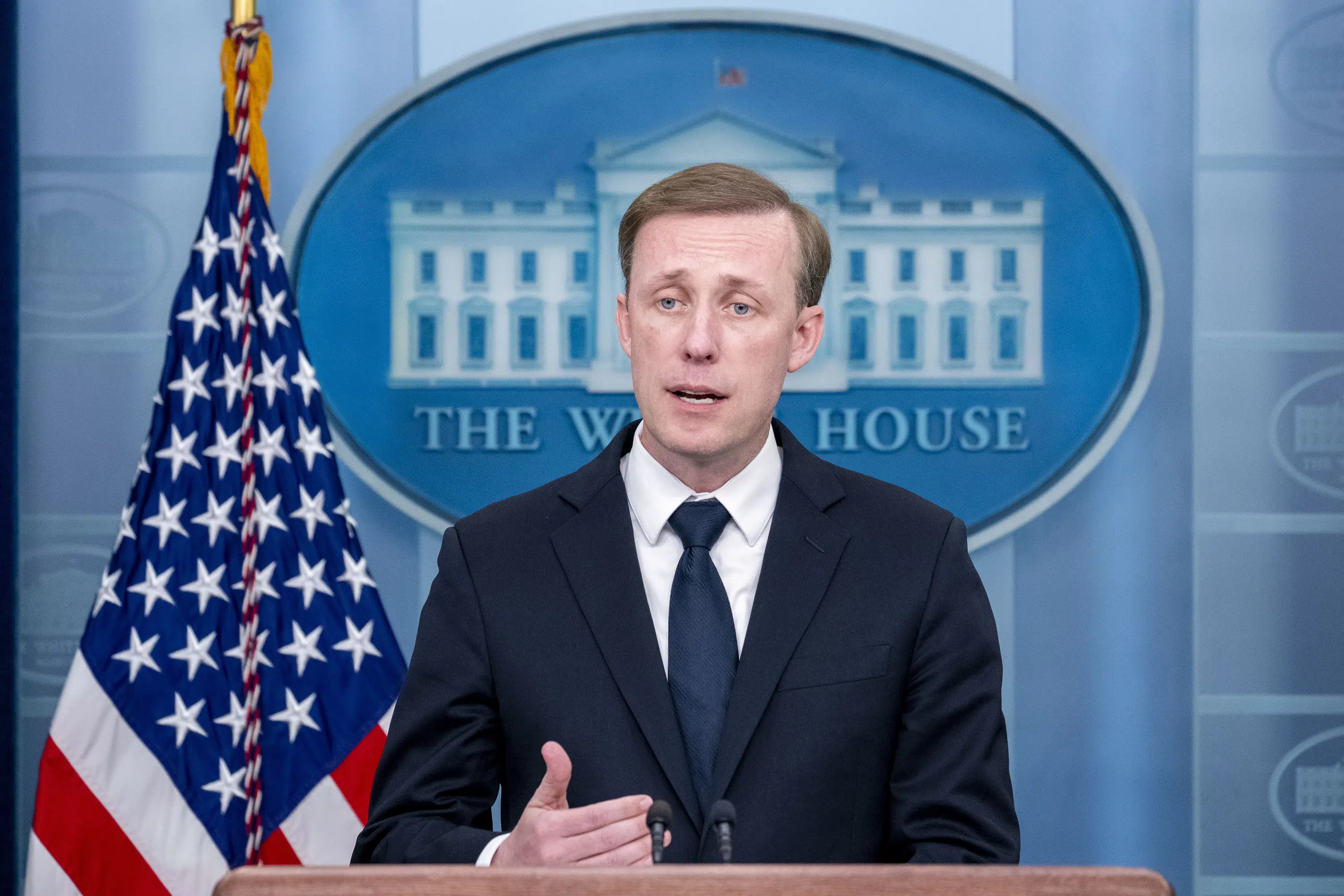 The White House said Monday that the United States is helping from afar as thousands of Americans left behind in Sudan seek to escape fighting in the East African country.After the US embassy evacuated all its diplomatic staff During the weekend and closing.
President Joe Biden's national security adviser, Jake Sullivan, defended the decision not to keep US troops or diplomats in Sudan to help its citizens evacuate as many US allies have done and as the US has often done in conflict zones in the past.
Instead, Sullivan told reporters, the United States is now remotely assisting Americans trying to flee the country by land.
This included helping the Americans link up with the caravans of foreigners now trying to reach by fighting for safety on Sudan's eastern border. He said the US is also placing intelligence, surveillance and reconnaissance tools on the road from the capital, Khartoum, to the country's main seaport, Port Sudan, to determine the scope of safety threats.
The fight between two rival leaders jostling for control of Sudan made the journey a terrifying journey for countless foreigners trying to escape.
US Secretary of State Antony Blinken said he helped broker a 72-hour cease-fire starting late Monday. It would extend a nominal truce, coinciding with a Muslim holiday, which resulted in almost no reduction in fighting but helped facilitate evacuations.
Sullivan said convoys carrying Americans inside have begun to arrive in Port of Sudan on the Red Sea, and the United States is working with neighboring countries to get them safely across the border.
The conflict involves two rival military leadersand the Commander of the Armed Forces, Lieutenant General Abdel Fattah Burhan, and the Commander of the Rapid Support Forces Group, Major General Mohamed Hamdan Dagalo, who joined forces 18 months ago to obstruct the hoped-for transition to democracy in the country.
The two began a battle among themselves for control of the country on April 15th. The evacuation left millions of Sudanese in the capital and elsewhere seeking safety in ever-changing clashes of explosions and gunfire and armed fighters looting shops and homes.
Foreign governments are flying hundreds of their diplomats and other citizens to safety as Sudan descends into chaos.
In dramatic evacuations, convoys of foreign diplomats, teachers, students, workers and their families from dozens of countries plow past combatants from Khartoum's frayed front lines to reach extraction points.
Others traveled hundreds of miles to the eastern coast of Sudan. A group of European, Middle Eastern, African and Asian military aircraft flew all day Sunday and Monday to transport them.
France, Germany, Italy, Japan, Jordan, the Netherlands, Saudi Arabia, South Korea, Spain and Turkey are among the countries that have diplomats or troops in the country to evacuate their citizens and citizens of other countries, In contrast to the Biden administration's decision that the situation was too serious to help ordinary American citizens out.
On Twitter over the weekend, some Saudis tweeted pictures of evacuees arriving in the Saudi port city of Jeddah and mocked the cautious US response.
US Special Operations Forces carried out a precarious evacuation of the US Embassy in Sudan on Sunday, sweeping the capital and beyond with helicopters on the ground for less than an hour. No shots were fired and no major injuries were reported.
U.S. officials said members of the Navy SEAL Team 6 were the lead force evacuating the embassy staff, using helicopters flown by the Army's 160th Special Operations Aviation Regiment.
In Sudan, there are an estimated 16,000 US citizens registered with the Embassy as being in Sudan. The number is approximate because not all Americans are registered with the embassy or notify the embassy when they leave.
Sullivan reiterated that the administration continues to consider "every conceivable option" to help the Americans get out of Sudan but is not considering sending troops.
"It is not usual for the United States to send in the American military 'to get American citizens out of war zones,'" Sullivan said. "We didn't do it in Libya. We didn't do it in Syria. We didn't do it in Yemen, nor did we do it in Ukraine. Afghanistan was a unique case." of its kind at the end of the 20-year war in which the United States was centrally involved."
However, Sullivan omitted several recent instances in which American forces were deployed to remove American citizens from danger in foreign wars.
In 2006, the State Department and Department of Defense collaborated on one of the largest evacuations of Americans in modern times, using helicopters, military warships, and US-contracted commercial shipping to get 15,000 Americans out of Lebanon when fighting broke out across the Lebanon border. Hezbollah and Israel.
Between 1991 and 2004, the US Marines evacuated US citizens from conflict zones at least 10 more times, including going deep into the bush in Liberia to extract US citizens in 2003; eviction in Haiti in 2004; and during many post-Cold War conflicts in Africa.
US diplomats in the past have also sometimes been credited with staying at US embassies to serve US citizens and seek to provide a stable existence. In Liberia in 2003, for example, then-U.S. Ambassador John Blaney stayed in Liberia's capital as mortars bombarded the city, crossed front lines and met with warlords to successfully broker an end to the deadly fighting. Blaney was awarded the State Department's highest honor, the Distinguished Service Award.
Sullivan said the United States will "do everything we can to support and facilitate" the Americans' departure, but he also noted that the State Department has been warning Americans in Sudan not to leave the country for years.
He added, "Americans are free. We cannot dictate where they travel, tell them they should go or not go to a certain place."
brig. The Pentagon press secretary, Gen. Pat Ryder, said a UN convoy arrived in Port Sudan on Monday with some evacuees.
When asked about other Americans seeking to leave Sudan, Ryder said, "Right now, as far as we know, we're not talking about large numbers of Americans looking to get out of Sudan, but again, in the coming days, we'll stay in close coordination with the Department of State." External They are in the lead and we will be ready to support them.
Ryder said two Navy ships, the combat ship USS Lewis B. Puller and the destroyer USS Truxton, are in the area. He said Truxtun is off the coast of Sudan and Puller is on its way, and both will be available to help transfer citizens if needed or provide medical support.
___
Author Lolita C. Baldur contributed to this report.
"Travel specialist. Typical social media scholar. Friend of animals everywhere. Freelance zombie ninja. Twitter buff."