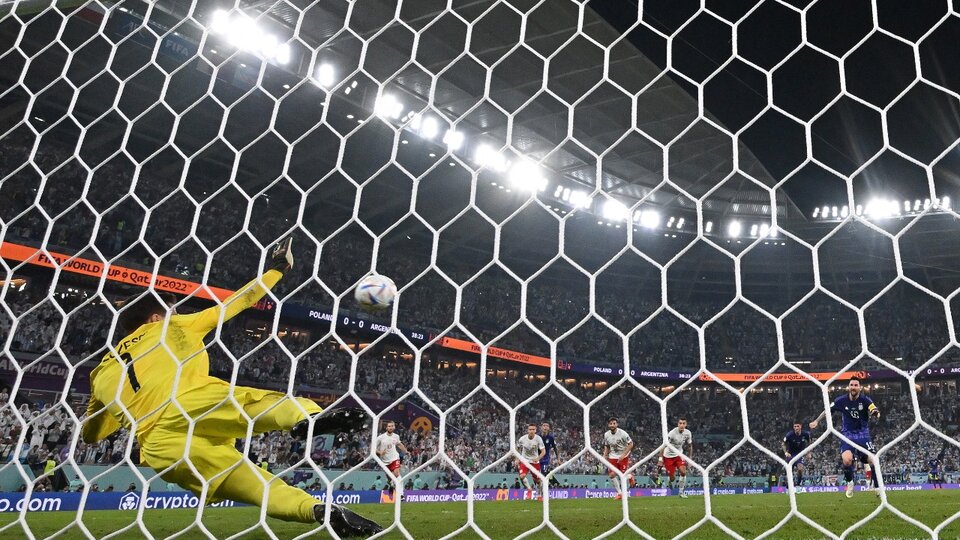 A proud farewell, Joan Manuel Serrat sang the essence of the festival and its state of entertainment and intermission like no one else. The slope goes up and when appropriate it goes down. Nothing changes forever, Revolution is another song. But people enjoy collective celebrations, wait for them, prepare for them… how well they do.
Of course, as Tangaso points out, first you have to know how to suffer. The national team and the fans suffered and recovered. From the unexpected and knockout defeat against Saudi Arabia in the series, Messi's penalty save in yesterday's game.
There is no merit meter or at least not defining the results. But it's true that Argentina deserved to qualify, come out first, learn from their failures, go to the bank, promote new stats and win a game where Messi wasn't great.
Lionel Scaloni remained silent in the face of accusatory media exposure. He defended his leadership and wanted to reduce the pressure on the stand. He chose a dignified, admirable style. Explain, don't get angry, give up arrogance and aggression.
Most social events are heterogeneous. Football confirms the rule. Luck isn't everything, but sometimes it matters. Lautaro Martinez was blamed for being half a micron ahead against Saudi Arabia. Orsay, like essential, is invisible to the eye. It may be more than a thousand years before the ancient Saudi culture of its hard-working boys scored two such great goals as they have given us. They connected that afternoon and then never again.
However, yesterday, Alexis MacAllister narrowly missed his target. The ball was cornered, described a billiard path, bounced off the post and beat the big Polish goalkeeper. A little luck at the right moment. Alchemy with a good drama, well-planned and well-executed back bass. Luck should help. When there was a commodity boom, tailwinds were capitalized only with good practice.
**
World Cups inspire silly comparisons, dizzying morals, impossible comparisons. "What if we all pull in the same direction? A crass idiocy that equates a complex society full of conflict and inequality with the binary logic of sports competition.
Another is to imagine that ordinary people are stupid (sorry) and forget the "square meter" they live in. Or he does not have the memory of a donkey that does not forget where it eats (Viscacha Dixit). Supply auctions continue and no one stops to wonder how much they will earn this month and next month. No one misses the cost of basic goods.
Discredited "politics" continues its course. To legitimate attacks against "social projects," the government responds with little force and contradictions. It even seems that the opposition and the mainstream media are "managing" it. The first weeks in Qatar are similar to previous weeks.
Political protagonists should be careful about publishing truths that resonate when the team takes the field. But by keeping track of the fitment, mistakes are avoided. The Federal Oral Court hearing the Roads case, which chose Tuesday the 6th to announce its verdict, will receive major coverage and headlines on Wednesday the 7th.. There will be a round of 16 on those days but Argentina will not be participating. Skillful dribbling of referees, football fans: they wear a Liverpool shirt. Perhaps they wear yellow underneath and are attached to the heart.
**
Nation and football are two inventions of modernity that are old and old. Passion transcends identity, homeland, symbols, state. It can derail chauvinism or violence. At the same time, the quadrennial party offers a chance to get a lot, morphing with family or friends, donning a piece, singing a chorus, hugging each other… to put some sorrows and burdens in parentheses. . Suspend disbelief for a few hours, a few weeks, like you did before a movie, drama, or series. Ordinary people live preparing for the party without giving up their existence, struggles, affections and possessions.
I hope he plays as well as he did yesterday and gets the win he deserves. For a loving and dedicated team, for Messi. Messi didn't sing the anthem to silence the prophets of bad vibes, who are always on the lookout to "condemn" Di Maria as a kicker.
Hopefully the election will continue and it won't affect the consumer price index or the 2023 elections, although those who say otherwise are naive. A collective joy is always welcome even when we know the party is about to end.
[email protected]
"Introvert. Thinker. Problem solver. Evil beer specialist. Prone to fits of apathy. Social media expert. Award-winning food fanatic."