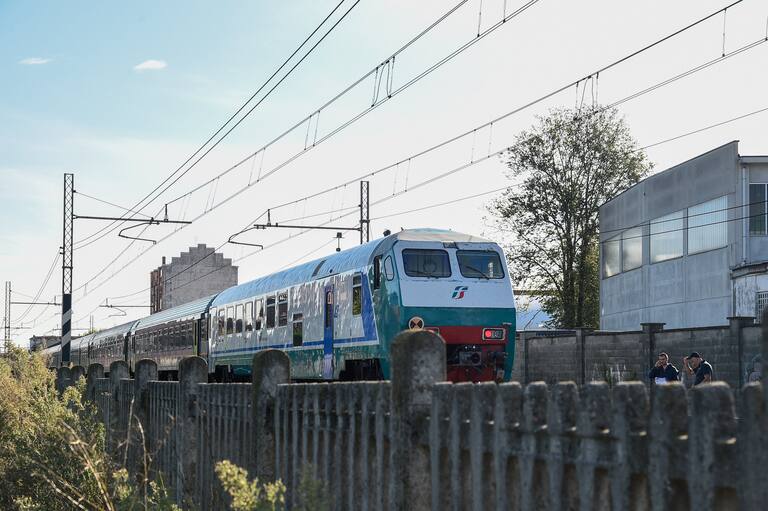 Rome.- An empty train traveling at a speed of 100 km per hour this morning killed 5 workers. Railway maintenance workers in the town of Brandiso, near Turin in northwest Italy. The tragic accident shocked the nation and reignited the debate about the lack of safety conditions at the workplace. Since the beginning of this year, in fact, 505 people have already died in work accidents. Recalled by the news broadcast TG24, it is precisely because of this issue that Italy has always been under scrutiny by the International Labor Organization (ILO), more than repeatedly.
The five victims worked for a company dedicated to train maintenance Between 22 and 52 years. Two other workers working near the impact site were unhurt, although they were initially feared to have been injured. Like the two train drivers, both were hospitalized with shock.
The Ivrea prosecutor's office, geographically competent, opened a brief Wrongful train accident and wrongful death. Judicial sources have explained Corrier della Sera "There are many aspects to clarify, which is clear at the time There was not a single tax break that should have been there And they should have checked that the work was not done the moment a train passed through it. The accident happened minutes before local midnight.
"Death at work is a disgrace to civic harmony", Italian President Sergio Mattarella cried as he traveled to the crash site of Piedmont to attend a deal. A minute's silence was observed in memory of the 5 people who lost their lives there.
Prime Minister Georgia Meloni also spoke about the tragedy "Pain and Sadness" He also expressed his deepest condolences to the families and friends of the deceased. "I am in contact with the head of the Piedmont region to follow all the updates on the case and I hope that what happened will be clarified soon," he added on X (formerly Twitter).
Five workersKevin Lagana (22), Michael Zanera (34), Giuseppe Saverio Lombardo (52), Giuseppe Sorbillo (43), Giuseppe Aversa (49)– They were carrying out maintenance work on the track. A locomotive carrying empty wagons traveling at 100 kilometers per hour crashed into them – at first it was said to be going 160. Workers were dragged hundreds of meters.
"A colleague from 118 (emergency service) told me that he saw a A chilling sight with 300 meters of human remains. It's a great tragedy," said the mayor of the city of Brandiso, Paolo Bodoni, a doctor. "We cannot rule out that it was a communication error, but we have to wait for the results of the investigations. There could have been human error, but I don't know if 100 miles per hour is a reasonable speed for a train passing through a railway station. This is what I ask myself as a citizen," he added, shocked.
when All unions have called for a strike People brought bouquets of flowers to the site of the accident to protest the lack of work safety.
Amid the great commotion, a very surprising thing came to light The last post on social media by one of the victims, Michael Janera, Apparently very religious, just before the cruel end, perhaps there was a premonition. "This is the first time this has happened to me, I got a cross when I was paving the road," he wrote, uploading a picture and adding: "God definitely wants to tell me something."
"Introvert. Thinker. Problem solver. Evil beer specialist. Prone to fits of apathy. Social media expert. Award-winning food fanatic."