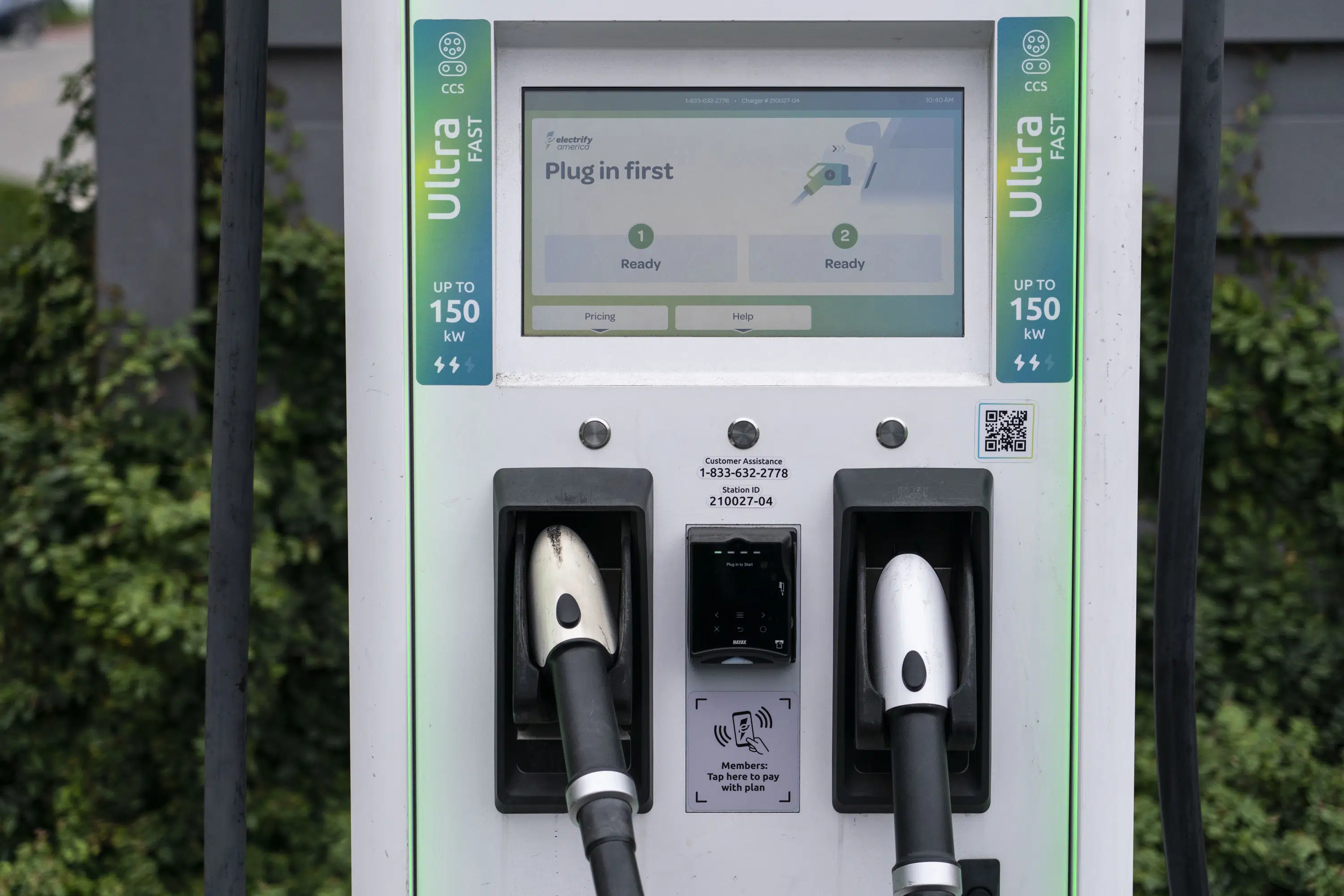 DETROIT (AP) — Starting next year, owners of electric vehicles made by General Motors and Ford will be able to charge their electric vehicles at Tesla's many charging stations, the largest network of its kind in the country.
As part of their move, both Detroit-area automakers decided to adopt Tesla's EV Charging Connector, the plug that connects an electric vehicle to a charging station.
With General Motors and Ford joining Tesla's charging systemThe rest of the auto industry may have to follow suit. If so, it would provide a huge victory for Tesla, which will ensure a fresh, guaranteed revenue stream for years to come.
Right now, there are two main types of electric vehicle charging sockets: Tesla's North American charging standard and CCS, which is used by nearly all other automakers. It is not yet clear which other automakers might join Ford and GM.
What will change?
With 17,000 charging sockets, Tesla controls the largest network in the United States. Their stations can charge faster than most others. They are often more reliable too, and are located in safer locations near major travel lanes. Under the new agreements with General Motors and Ford, electric vehicles from those companies will, starting next year, be able to charge 12,000 Tesla Supercharger sockets. Tesla is the best-selling electric vehicle in the United States, with General Motors No. 2 and Ford No. 3. Since these three companies control a large portion of the EV market, analysts say other automakers are likely to partner with Tesla to avoid being left behind. at a competitive disadvantage. "Do I want my customers not to have access to Superchargers, and I'm going to charge them $100,000 for the car?" said Gary Silberg, global president of automobiles for KPMG.
What happens if I own a non-Tesla electric car?
If it's made by GM or Ford, you'll likely need to purchase an adapter so you can connect it to Tesla chargers. It is unclear how much that will cost. You can also continue charging on networks with CCS connectors. If your car was made by another manufacturer, at this point you won't have access to Tesla chargers. But there is a growing network of public stations equipped with CCS connectors — nearly 54,000 locations, with nearly 139,000 sockets, the DOE says. However, only 7400 stations are DC fast chargers, which can deliver a large charge in just a few minutes.
What happens if I buy an electric car other than a Tesla in the future?
In 2025, General Motors and Ford say they will begin installing outlets in their new electric cars that will be compatible with Tesla chargers. To use a CCS charger instead, you'll need an adapter or find a charging station that can accommodate both technologies. Although other automakers will likely make the switch to Tesla's system as well, you'll likely need this adapter for at least a few years. "I think what we'll see is by 2027, there likely won't be any more new electric vehicles built for North America with CCS outlets," said Sam Abuelsamid, an analyst with Guidehouse Insights.
Who is the big winner here?
General Motors and Ford have not released many details about the financial arrangements. But it's clear that Tesla will enjoy an increase in revenue as Ford and GM vehicles charge more. GM said it is not spending anything on the deal; Tesla will be paid by its customers to charge it. GM and Ford EV owners also win because they'll get access to double the number of chargers they had before.
Who loses?
If other automakers go with Tesla, companies that develop their own charging networks, such as ChargePoint, EVgo, or Electrify America, will feel the pressure. They'll have to make sure all of their fast chargers can work with a Tesla plug — or become more competitive by, say, adding stations in better locations and making them more reliable. "Up until this point, they didn't have to compete with Tesla for owners of CCS-equipped vehicles," Abu Samid noted. Because the Tesla network is open to more vehicles, Silberg said, other companies may struggle to attract investors. However, as they adapt, consumers should get more shipping options. "You're going to light a fire under those companies," he said.
What do other automakers say about joining Tesla?
It varies. Kia, Nissan and Toyota declined to comment. Hyundai said it continues to evaluate its technology but has nothing to announce. Stellantis said he's working on a response. Volkswagen says it adheres to the CCS standard. Electrify America, which was founded with money from a VW emissions fraud settlement, plans to double the number of chargers by 2026. It now has 840 stations and about 4,000 sockets.
"Web maven. Infuriatingly humble beer geek. Bacon fanatic. Typical creator. Music expert."