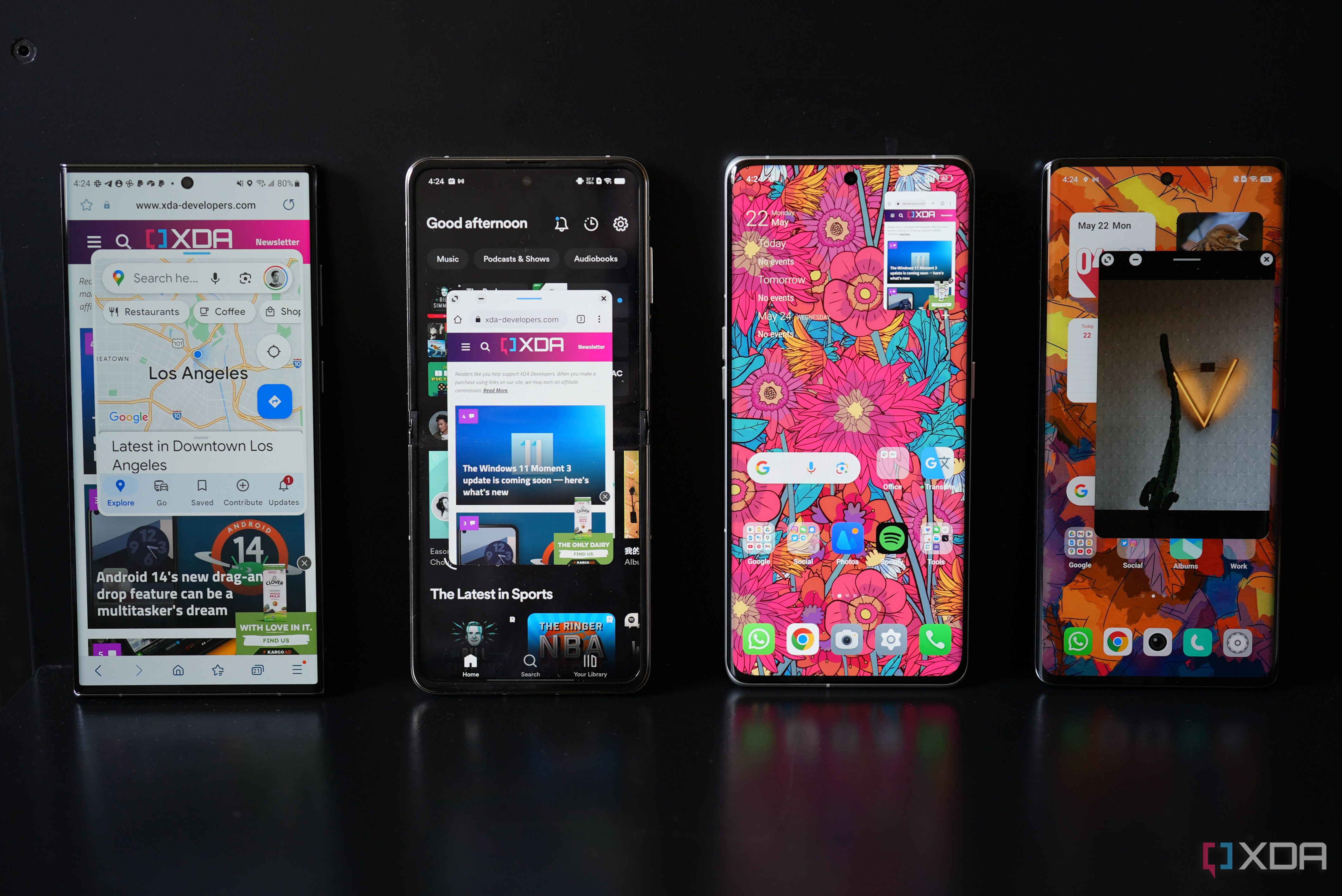 Smartphones have gotten more expensive over the years, and a flagship phone could cost more than $1,000 in 2023. One of the ways people are making smartphones more affordable is through carrier premiums, but they can come with strings attached and a long-term contract. . That's why people who prefer unlocked phones — that is, smartphones that aren't tied to a cellular carrier — should look to buying a new phone during the Amazon Prime Day sales. Some of the best new phones of the year are seeing huge discounts, and these prices are at or close to the lowest prices we've ever seen for these products.
Prime Day 2023 runs from July 11th to 12th, with millions of products seeing deep discounts during the event, many of which are exclusive to Prime members. With a free trial, new subscribers can take advantage of these deals without paying a subscription fee, provided they cancel before their free month ends. Given that unlocked phones don't often see discounts, Prime Day is the perfect time to upgrade and get a great deal.
The best Prime Day smartphone deals
Samsung Galaxy Z Fold 4

$1,100 $1,800 Save $700

Although the Galaxy Z Fold 5 is very close, the current generation Z Fold 4 is a great buy at this price point. It features two great screens, a powerful camera system, and good performance. If you're looking for a big foldable display, you can't find a better display than the Z Fold 4 right now.

Google Pixel 7 Pro

$650 $900 Save $250

The Pixel 7 Pro is Google's best phone ever, with an improved, premium design and second-generation Google silicon — plus great cameras, as always. Now, with the Prime Day sale, you can get this great phone for less than the regular price of the base Pixel 7.
Despite the recent launch of the Google Pixel Fold, the best foldable phone available right now is the Samsung Galaxy Z Fold 4 — at least in North American markets. There's an imminent launch of the Galaxy Z Fold 5, but that shouldn't steer potential buyers away from the Galaxy Z Fold 4. It folds nicely with two great screens, although the cover screen should be a bit wider. The cameras are also improved, although they are still not the best that Samsung has to offer. Most importantly, Prime Day deals bring the Galaxy Z Fold 4 down to nearly $1,000. This is an unheard of price for a large foldable screen with no barter or contract, and people looking to try one out won't find a better deal.
For traditional smartphones, the Google Pixel 7 Pro — a really cheap flagship — is available for less than the base model iPhone 14. Simply put, this deal is an absolute steal. The Google Pixel 7 Pro is the best phone Google has ever made, featuring a Tensor G2 chip, great screen, and great cameras. It also runs stock Android and will receive more updates than most other Android phone manufacturers offer. If you've been waiting to try a Pixel phone, this is the phone and deal that might get you to take the leap.
If you are looking to get a quality phone on a budget, the OnePlus 10T may suit your needs. It looks great thanks to its AMOLED display with a 120Hz refresh rate and is powered by the Snapdragon 8+ Gen 1 mobile platform. This means you get a fast operating system in OxygenOS that looks fluid. At the back, there is also a 50MP triple camera system for taking photos and videos. At $400, it's hard to find another phone that matches this level of quality and performance.
The best Prime Day deals on Samsung Galaxy phones
With Samsung's Galaxy Unpacked event approaching, the company's foldable devices are seeing deep discounts. Apart from the aforementioned Galaxy Z Fold 4, the Galaxy Z Flip 4 is also on sale. This phone can be folded horizontally, which means it will become more compact to fit in your pocket or small bag. There's also a small screen on the outside of the phone, so you can check notifications and see widgets at a glance. Unlike the Galaxy Z Fold 4, the Galaxy Z Flip 4 doesn't discount much. As such, you may want to wait and see what the Galaxy Z Flip 5 looks like before buying the current generation foldable.
If traditional phones are more your style, the entire Galaxy S23 lineup is on sale on Prime Day. The top-tier Galaxy S23 Ultra comes with a great camera that has optical and digital zoom powerful enough to take pictures of the moon. It also features a great screen and an S Pen, so it's the perfect choice for someone looking for the best that Samsung has to offer. A slight step up is the S23+, and the S23 is the base model that comes with a smaller screen size. You might confuse the Galaxy S23 with the Galaxy A54 5G just by looking at it, but the latter is Samsung's budget offering this year. If you are not trying to spend a lot of money on a smartphone, the Galaxy A54 5G is one of the best budget phones out there.
The best Prime Day deals on Google Pixel phones
Although the Pixel 7 Pro is excellent, it is safe to say that the Google Pixel 7a is the best smartphone that Google has to offer today. The Pixel 7a features the same Tensor G2 chip as other Google flagships, and it's a good deal even at its regular price. Google has raised the price of its A-series smartphone this year, but the Prime Day deals will lower that price again, so now is the best time to buy the Google Pixel 7a.
An even better deal might be last year's Google Pixel 6a, which has seen massive discounts since the Google Pixel 7a was unveiled. The Pixel 6a can be had for just $250 during Prime Day, and that's a price that can be very hard to beat. Just keep in mind that a pair of AirPods Pro also cost $250, and you'll realize how much of a deal the Pixel 6a really is. If you don't need the flagship specs in your smartphone, you can save hundreds of dollars by choosing the Pixel 6a instead.
The best Prime Day deals for Motorola phones
Motorola has made a name for itself making ultra-low-cost phones, and it's also growing its own flagship brands. The Motorola Edge+ (2022) is the company's latest generation, so if you can handle some of the older hardware, you're in for a nice discount. However, you might want to consider some of the other similarly priced phones on this list before settling on the Motorola Edge+ (2022).
Both the 2023 and 2022 Moto G Stylus phones are on sale on Prime Day, but the only phone you should consider is the 2023 model. That's because the two phones are only separated by a $10 price tag, and Motorola isn't the best when it comes to software support. With that in mind, that extra year of support will go a long way to the longevity of your phone. Other than that, the Moto G Stylus is a budget phone that features a built-in stylus. With a few custom UI tweaks, you can take notes and type in any text box in an instant. If the stylus is attractive, and you don't want to spend it on a flagship phone, this budget phone might be the perfect choice.
Instructions
Q: What is the difference between a locked and unlocked phone?
An unlocked phone can be used on any carrier's network or without a cellular plan. Locked phones are usually associated with a single carrier, and you may be contracted to keep an active phone line for a set period of time after you purchase the phone. Unlocked phones may also come with carrier-specific apps and software. All of the phones on this list are unlocked, so you can use them with whatever cellular carrier you use in the United States
Q: When is the best time to upgrade a smartphone?
Given that most smartphones see yearly updates, there's not necessarily a bad time to upgrade a phone. It's worth noting that Samsung will release the Galaxy Z Fold 5 and Galaxy Z Flip 5 in the coming weeks, but that might not be a reason to hold off on buying if you like the price. Otherwise, we won't see new updates for the phone until the fall, so we don't have to worry about getting a year-old product. In fact, some of these phones have appeared recently, such as the Google Pixel 7a.
Q: What features should I look for in a smartphone?
The features you appreciate depend on how you use your smartphone, but they generally come down to software, performance, cameras, and screen. Google offers a very simple and optimized experience in stock Android, but Samsung adds its own device-specific features in One UI. Most flagships have great performance, cameras, and displays, though Samsung and Google shine in terms of camera quality. Choose a smartphone based on the features that you use on a daily basis, and chances are that you will be satisfied with your purchase.
"Certified food guru. Internet maven. Bacon junkie. Tv enthusiast. Avid writer. Gamer. Beeraholic."