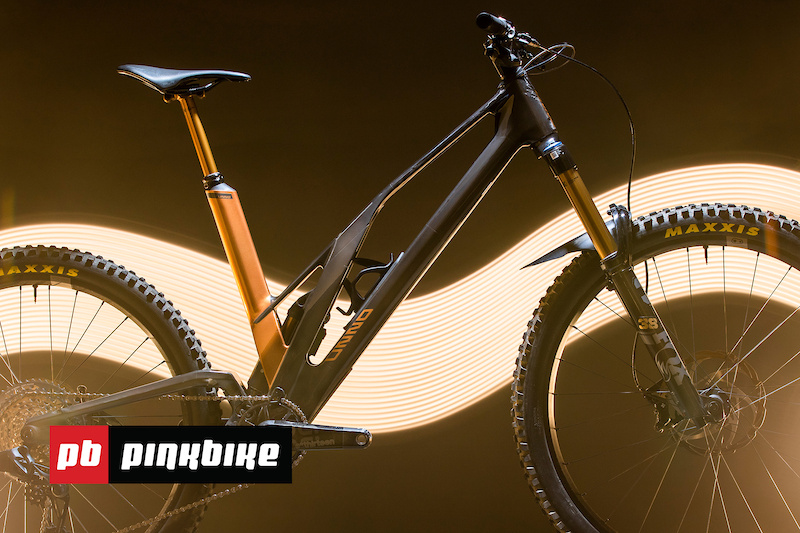 Pink Pike Field Test
Ono Burn
---
Lyrics by Henry Quinney. Photography by Tom Richards
Unno is a brand whose reputation precedes it. As a mountain biker myself, I seem to know a lot about the brand, whether it's its beginnings under designer Cesar Rojo, its initial forays into domestic carbon fiber production or its smaller bikes that seem to have little interest in tradition.
Quite frankly, riding one of these desirable machines was exciting. Unno says they're "starting again from scratch" to update their enduro platform, and spoilers are nothing if not outside. When looking at it, there seems to be elegance mixed with brutal features, and realism mixed with absurdity.
Cancel burn details
• Travel: 160mm rear, 170mm front
• Carbon frame
• Mixed wheels
• Head tube angle is 64 degrees
• Seat tube angle is 76.5 degrees
• Reach: 470mm (S2)
• Chain length: 445 mm
• Weight: 33.4 lbs / 15.1 kg
• $8,897
• More information: unno.com
The Burn features its new suspension design and it's not just radical in its looks – Unno suggests running it at around 30 to 40% sag. They can do this because the bike has a very progressive kinematic curve.
This level of progress will ensure that there is no hard bottom. Although a lot of progression occurs in the early part of the stroke (one reason for Burn's sensitive initial travel), kinematics like this can make it difficult to use full travel other than on very large impacts. This may not be a bad thing if you're demanding a lot of initial activity and want to save the rest of the ride for a rainy day, but there's a reason most bikes don't offer this level of change throughout the ride.
Our test bike, which was a size S2, was a Race model and retails for less than $9,000. There are frame-only options, as well as an Elite and Factory entry-point model to sit on either side of the race in their pricing. Our bike features a SRAM GX AXS drivetrain, Formula Cura 4 brakes, Fox Factory suspension, Crankbrothers Synthesis alloy e-bike wheels, and a one-piece Duex enduro cassette. The bar itself is an interesting prospect. Although it looks quite wild, dimensionally there is nothing too far-fetched. Its flat shape obscured its actual height, which is achieved by the stem sleeve extending a long way below the steering gear. The bike features in-frame storage, a universal hanger, and cable routing via the headset.
The S2's geometry impressed us with its tremendous balance. Its high range, medium to short 470mm reach and 445mm stays played their part in this. Although the reach may not be in the same vein as other bikes intended for those between 175-185cm tall, which might typically have a reach range of 480-485mm, it was a big hit with us. There was an important oddity – the seat post and seat tube.
At 460mm, the seat tube is quite long. This in itself is not the end of the world, and you can lower it enough to give adequate clearance. The plot thickens, however, because the seat tube is located directly above the shock—not only is it very high, but it also has a short insertion depth. This means that although the post is high, you also can't fit it in a long dropper post (our test bike had a 150mm post when it would have been better to use something over 200mm). With the saddle down, it was too high, and if you lowered the seat post itself to the proper length for landing, it would be too low to pedal at full extension. This is further compounded by the fact that it does not use a seat tube collar but rather a wedge to attach to the post.
climbing
Unno provides a great platform for climbing. Due to the fact that it is very happy to enter into its stroke, its tracking is very good, and even with anti-squat values ​​that range from approximately 120 to 90% depending on where you are in the 30 to 40% sag range, your grip is good and there is a great degree of composure. Uncertainty regarding how the rear wheel handles the terrain. It is a pleasure to follow the curves of the earth and also gives a decent degree of efficiency. It's also the lightest combined bike in the test.
However, when we go into more detail in descending order, it is not without its weaknesses. The suspension may take technological climbing in its stride but there are some outliers to the geometry and components that make climbing the Unno more complicated than it needs to be. One issue is the slow 76.5-degree seat tube angle, which puts the rider's weight further back. This in itself wouldn't be a problem, but the actual seat tube angle is still slow, and when combined with the high stack and short stem it means the bike sometimes feels a little too light up front.
The suspension offers a lot, but again I wonder if the seat tube angle is trying to negate inherent issues caused by the frame design.
Descending
Descending into the Unno must have been an attractive proposition but for some test riders, initial excitement quickly turned to confusion and then deflation. The squat links that connect the front triangle to the swingarm are elegant and provide a solid, taut platform for really riding the bike. Geometry plays a part in this too, as it's been made specifically for a bike where much of the rider's weight passes through their feet, and means you can focus on applying the weight with your hands when you want to start a lap or pump the bike, instead. Ever being pulled forward or having too much weight in your hands by default.
The geometry cuts a sensible balance, a balance that feels like it's been honed through real-world riding and years of thought. It's interesting to see something so balanced with such extreme suspension. There are other examples of virtues and vices juxtaposed. For example, there is a storage frame underneath a panel that holds the water bottle. It works well and is simple and effective. However, it leaves the bottle shaking on the underside of the top tube. The suspension gives a feel that thrives on slow-sleep technology, but the seat tube is quite long, with a short insertion depth, meaning you'll struggle to get the saddle out of the way on the same trails the bike was on. It means for.
It's a fantastic bike and it's clear they've compromised on some element or dimension to give the real estate to create their suspension platform, and it begs the question at the heart of the issue – is any suspension platform good enough for these compromises? Probably not. Is this suspension system a great game-changer? I won't say that.
It's okay in certain situations, like steeper technical trails, but it also struggles because even though you may never reach the bottom, you often hit that wall of support. At times, it looked like this bike had been converted to a tire that had much less travel than it actually did. During testing, I experienced between 140-210 psi, which is a big swing and didn't bottom out either. In fact, the 210 psi only felt better because it offered more initial support, and I've just learned to accept that I'll be using pretty much less than full travel.
All these problems, and the extreme oversteer, mean that this bike can be quite stressful on fast tracks. You're not bouncing from the bottom out, but you might as well be. It can also lead to suspension feel in some cases, which will not only punish mistakes but also your wheels. After the testing period, the rear section was in a sorry state.
Technical report
Two pegs are too many: Both the Duex bar and seatpost are mounted via wedges that can be operated with 4mm Allen keys. This seems gratuitous and unnecessary, and I think it will be unpopular with mountain bikers in general, just as it did with our test team.
Finishing kit: The bike isn't cheap, so it's frustrating that you want to immediately explore options for lower seatposts. Plus, if it were my bike, I would have removed the bars and handles as well. They're just too far-fetched for me. That's not to mention the E13 cassette and YBN chainring in a group that didn't offer as good shifting as I'd expect from a full set of SRAM parts.
Formula brake: The Foruma Cura 4 brakes provide good power, even if the feel isn't as great as I would personally like. However, there was plenty of tweaking on offer, although the latter was unfortunately not tool-free.
---
"Certified food guru. Internet maven. Bacon junkie. Tv enthusiast. Avid writer. Gamer. Beeraholic."