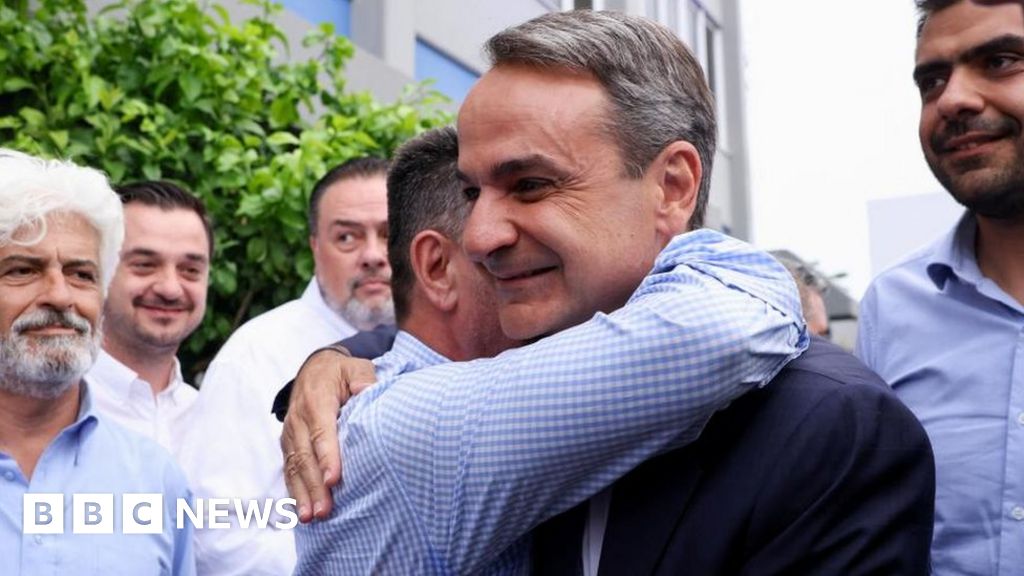 Preliminary results indicate that Greek conservative leader Kyriakos Mitsotakis is on his way to winning a second term as prime minister and a majority in Parliament.
He beat out centre-left rival Syriza in May, but called new elections in a bid to win enough seats to rule alone.
His New Democracy party won 40.3% of the vote, 20 points ahead of Syriza, with more than half of the votes counted.
The vote came 11 days after the tragedy of a migrant boat off Greece, in which 500 people are believed to have died.
Although three days of mourning were observed, the disaster had little effect on the campaign and the Greeks voted to maintain economic stability.
Under Greek election rules for a second election, conservatives are given an extra number of seats in parliament, but the exact number depends on the final outcome.
Syriza, led by former prime minister Alexis Tsipras, was unable to narrow the margin of defeat last month.
But there was success for the newly created far-right party Spartans, which seemed ready to cross the threshold of 3% of the vote to enter parliament.
The Spartans emerged as a political force only this month when Greece's Supreme Court banned another far-right party, the Greeks, and its jailed founder threw his weight behind them.
Greek commentators have spoken of an "excitement" involving a number of small parties trying to cross the threshold.
But the main story of the election seemed to be the increasing margin of victory for Kyriakos Mitsotakis, 55, whose conservatives had previously defeated Alexis Tsipras' Syriza by 20 points in the first election.
He is credited with successfully returning the Greek economy to stability and growth after a severe debt crisis and three international bailouts.
Although many Greeks are suffering from a cost-of-living crisis, voters have chosen to stick to the party that promises to cut taxes and improve public health.
While New Democracy was on course for a big win, the left-wing vote was fragmented, with the Socialist Party PASOK gaining over 11% and the KKE Communist Party around 7%.
The conservative leader has built a reputation as a Teflon-coated leader, fending off a series of devastating crises in the past year, including a rail disaster and a wiretapping scandal that brought down the intelligence chief and his nephew, who served as chief of the cabinet's office.
Greece was led by a transitional government when a migrant boat sank off the southwestern coast in the early hours of June 14.
"Travel specialist. Typical social media scholar. Friend of animals everywhere. Freelance zombie ninja. Twitter buff."