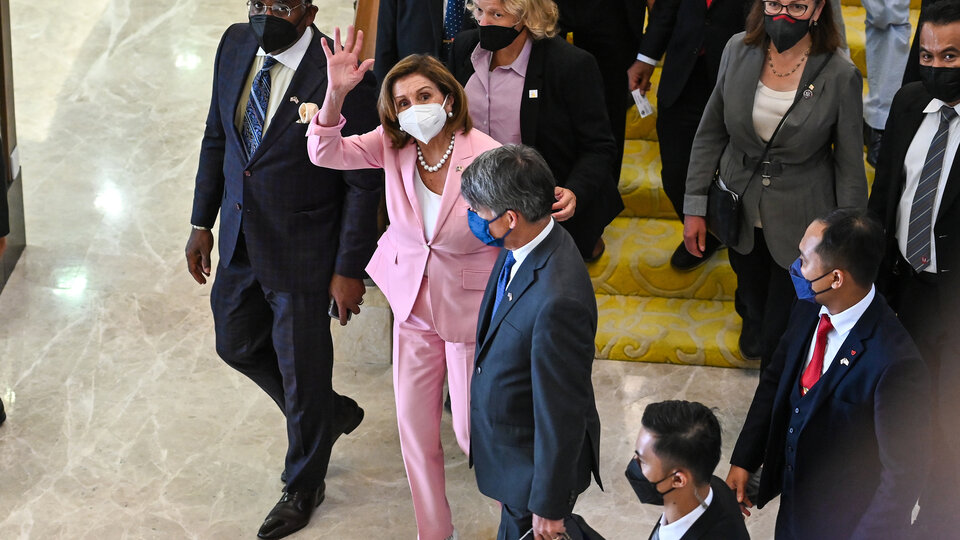 Pelosi: "We're on Taiwan's side"
Speaker of the US House of Representatives Nancy Pelosi issued a message in which she reiterated the US government's support for Taiwan authorities.
"Our visit reaffirms that the United States stands with Taiwan — a strong, vibrant democracy and our key partner in the Indo-Pacific," the Democratic official wrote.
China vows "selective military action" in response to Pelosi's visit to Taiwan
After US House Speaker Nancy Pelosi arrived in Taiwan on Tuesday, China slammed the US's "extremely dangerous" actions, raising tensions between the two superpowers.
"The United States … continues to distort, hide and empty the 'One China' policy," the Chinese Foreign Ministry said shortly after Pelosi's plane landed in Taipei. "These activities are like playing with fire, very dangerous. And those who play with fire will get burnt," he added.
The White House insists Pelosi's visit does not infringe on Chinese sovereignty
The White House assured this Tuesday that there were "no violations of sovereignty or problems" with US House Speaker Nancy Pelosi's visit to Taiwan.
John Kirby, communications coordinator for the White House National Security Council, told the CNN television network that his country does not support Taiwan independence and that Pelosi's visit "reaffirms the one-China policy" defended by Beijing.
US "unconditional support" for Taiwan
US House of Representatives Speaker Nancy Pelosi landed in Taiwan on Tuesday, defying Chinese threats of retaliation if she visited the island.
Television footage showed the 82-year-old lawmaker arriving at Taipei's Zhongshan Airport, where he was received by Taiwan's Foreign Minister Joseph Wu.
A statement from the committee by the Democratic leader, who belongs to the same party as President Joe Biden and is third in the US political hierarchy, indicated that the visit showed the US's "unconditional support" for the island. This is "not inconsistent" with Washington's policy towards China.
China slams US for "extremely dangerous" actions after Pelosi's visit to Taiwan
The Chinese government reiterated its rejection of the US House of Representatives president's visit to the island, which it claims as its own territory.
Pelosi landed in Taiwan
The plane carrying US House of Representatives Speaker Nancy Pelosi landed at Taipei's Changshan Airport at 10:43pm local time (2:43pm GMT) today.
Neither officials nor the Taiwanese government have confirmed whether Pelosi's Asia tour includes a visit to Taiwan.
Chinese military aircraft cross the Taiwan Strait
Chinese SU-35 military aircraft are crossing the Taiwan Strait, Chinese state media reported, in response to the flight carrying Pelosi to the area.
This Tuesday, the Chinese Foreign Ministry assured that it is "difficult to imagine a more reckless and provocative action" by the US than this visit, against which the Chinese military recently warned that it "will not stand idly by".
They confirm that Pelosi is traveling to Taiwan
US House of Representatives Speaker Nancy Pelosi's US Air Force flight (SPAR19) is en route to Taiwan, where it will land around 10:40pm local time, according to the portal specializing in tracking Flightradar24. .
Denounced by the Chinese government, Pelosi's visit has not been officially confirmed and her flight destination has remained empty since the senior official left Kuala Lumpur.
"US will pay price for undermining China's sovereignty and security"
In Beijing, The Chinese Foreign Ministry has insisted that the US will pay the price if the visit to Taiwan takes place.
China considers Taiwan a part of its territory Pelosi's visit to the island came at the provocation of President Joe Biden's administrationLast week he was warned by Chinese counterpart Xi Jinping that the US was "playing with fire".
"America will bear responsibility for undermining sovereignty and China's security," Chinese Foreign Ministry spokeswoman Hua Chunying told reporters in Beijing.
Yesterday, China's ambassador to the UN, Zhang Han, described Pelosi's visit as "very dangerous, very provocative" in a statement to reporters. "If the US insists on visiting (Taiwan), China will take firm and strong measures to protect our sovereignty and territorial integrity," he said.
Unconfirmed arrival
LThree major newspapers in Taiwan said Pelosi was expected tonight on the autonomous island after passing through Malaysia, despite China's warnings.
Taiwan Prime Minister Su Tseng-chang would not confirm the visit when asked by reporters today, but thanked Pelosi for her support. "Any foreign guests and any friendly lawmakers are very welcome," Su told reporters.
Russian support for China
The Chinese government has received strong support from Russia, which accuses the US of "destabilizing the world" and fomenting conflict.After blaming Washington for its decision to invade Ukraine for trying to join NATO.
"Washington is destabilizing the world. Not a single conflict has been resolved in recent decades, but many have been provoked," Russian Foreign Ministry spokeswoman Maria Zaharova said on the Telegram messaging app, AFP news agency reported.
The U.S. has imposed tough economic sanctions on Russia and supplied weapons to Ukraine to defend itself against a Russian invasion, each time calling it "unprovoked."
Russian President Vladimir Putin has said one reason for the attack was the United States' refusal to accede to Russia's demand that it stop NATO's advance toward its borders, including neighboring Ukraine.
Washington Defends Pelosi Tour
Spokesman for the White House National Security Council, Joan Kirby said Pelosi had every right to make the visit and accused China of being a "provocateur".
"You have the right to go to Taiwan," Kirby told reporters. "There is no reason to turn a potential visit into some kind of crisis, in line with Beijing's longstanding US policy," he added.
Kirby cited intelligence reports that China would prepare "possible military provocations." This includes firing missiles into the Taiwan Strait or "large-scale" incursions into Taiwan's airspace.
The official recalled that Pelosi was traveling on a military plane, and while Washington did not fear a direct attack, that "raised the risk of a miscalculation."
He also reiterated that US policy on Taiwan has not changed.
It represents support for Taiwan's autonomous government, while recognizing China over Taiwan and opposing Taiwan's formal declaration of independence or forced annexation by China.
Pelosi is the senior US official to visit Taiwan since her predecessor, Newt Gingrich, in 1997.
"Introvert. Thinker. Problem solver. Evil beer specialist. Prone to fits of apathy. Social media expert. Award-winning food fanatic."