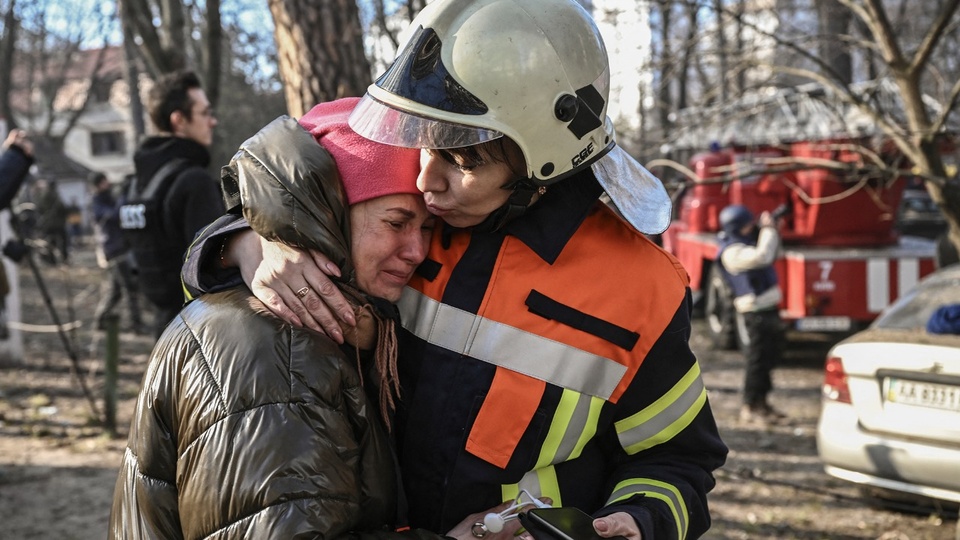 I am not going to justify myself in advance by saying, "Initially, I condemn Russia's invasion, because I take it for granted that any decent person will reject violence wherever it comes from. The need to make these preliminary clarifications in response to the implicit accusation floating in the air, in the press and collections, accordingly If you do not come close to NATO, you are in favor of PutinSo you are suspected of treason.
Polarity of the war between Russia and Ukraine
Victims of polarity, this prompts us to join one of the discussion pages, Anyone who wants to comment critically on the role played by Western governments or the media in the Ukraine war is obliged to make it clear and very clear in advance that they are not on the side of the "Russians". There are still those who speak of the Soviet Union or the "Communists"! – Under that generalized sect they have been demonized before.
Media and "Russophobia"
Polarity establishes a painful structure that feeds the warrior with intensity and a thirst for revenge; In the end, The ultimate goal of the aesthetics of heroism and sacrifice is to justify violence, to justify war. Because once that attitude is established, the demand to take an exclusive position takes on the compulsive nature of a patriot. The media, always in need of visuals – to increase the audience by economic logic – exaggerated this hostility drama, excessive personality and a Simplifying speech And lack of subtlety, which creates disgust and fear.
At this point, "Russophobia" can be spoken without exaggerated fear.; From our top companies, we were able to stabilize the population Hate on Russian, Towards the most beautiful expressions of other period culture. But do not fool ourselves, dual quality means that censorship will not be used for other fields. Purchase of Russian gas, For example. Therefore, the Ministry of Culture and Sports has called for the "suspension of ongoing projects and initiatives with the Russian Federation and the cancellation of planned and unplanned initiatives" that add to the European veto Russian culture. . It goes without saying that "veto" and "culture" create an uncompromising climax, the absurd syntax of which its union establishes war is only possible. The danger is that if this continues, the expression of "European culture" will end up as an oxymoron, as Maricel Savaria points out ("censorship of Russian culture").
Polarization is a very dangerous argument because it facilitates conflicts by holding you hostage to one side.. Needless to say this was a mistakeThe truth is more complicated.; For example, speaking against two poles does not have to be equivalent to being "equidistant": you are at some point in continuity, more or less far from a peak, or simply installed. Another plane. However today, Equal distance "warm" Or "Cowards ", Who will not dare to openly support both sides. In most cases, this obscures the suspicion of being one Traitor We are far from a clear and precise definition of what is "common cause". At other times, it will be equal naif, A calm person, with a good heart, but unaware of the deeper state of things. Someone, in short, should not be taken into account, because abandoned in the air of the yuppie worlds he can offer no harshness, no protection.
How did the conflict come about?
If polarity is a trap, It is a misnomer to reduce conflict as its consequences, Forgot the chain of actions that led to the final explosion. Ukraine and Russia have been at war since 2014; Nearly 20,000 people have been killed in the Donetsk and Lukansk republics during these painful and peaceful years. But no one remembers these deadHowever, thousands of innocent women and children, with flesh and blood, first names and their history, did not name or remember anyone.
The enormous circumstances of the abandonment of these states by Western democracies do not compare to the loneliness of the Second Spanish Republic, although it was precisely the bloody civil war that erupted as a result of a conspiracy against a legitimate government. Donbass in 2014. Eight years of peace and oblivion by all.
The audit emphasizes polarity
Polarization as slander is only emphasized from that moment on We receive information from one side, We find that the whole process is described in the essentially biased view of one of the poles. The war on global information under the pretext of preventing lies has joined the war, although it would be much easier to neutralize them with objective information, but not by attacking freedom of expression and information.
The various stages of this process are well known, beginning with the decision of the European Union to ban the broadcasts of Russia Today, a television channel, and Sputnik; Then came the Russian decree prohibiting the dissemination of "misinformation", which threatened to expel reporters from European networks from Russia … In addition to the unprecedented attack on censorship and freedom of expression in such a large-scale conflict, exposure is one of the most dangerous of all Western democracies. The truth cannot be hidden under the pretext of defending the truth: a new contradiction.
From Palestine to Ukraine, from Netanyahu to Putin
Another argument used as a pathetic source to achieve unbroken access with Ukraine is the huge disparity between the occupier and his victim. The truth is, one cannot imagine a greater disparity than there is between Israel and PalestineFor example. The brutal oppression that the Palestinian people have suffered for decades is no less cruel., Subject to the horrors of a war that did not stop at a large open-air concentration camp for the greed of soulless rulers. However, we have never witnessed that tragedy; No one remembers the dead; No documentary has been made about Netanyahu, for example, portraying him as a cold reptile, a criminal monster with no remorse and no humanity, and a madman.
This did not happen in Putin's quarrelThe one who does not escape from demonization, animalization, objectification …, in short, to the limits of his personal degradation. One of the most frightening strategies is to reduce conflict with a madman's extraordinary instinct.Because, along with provoked terrorism, it justifies the greatest cruelty against the enemy that has previously wiped out all of humanity.
In other cases when the crisis is obscured – described in a few seconds in the middle of entertaining news, or presented as a conflict in which "two and others" have the same responsibilities – the over-exposure and intensification of the matter makes it an even greater battle: "Come in and take part in the greatest scene of human destruction!". Who can believe that all this is the work of a madman? Many accept with relief this view that all suffering is eliminated at once by the fantasy of destroying the personal enemy..
Is there space outside the polarity?
However, there is that 8 year neglected civil war; Lack of respect and attention to the delicate lines that maintain balance between powers; The crisis of material resources, oil and gas …, and the United States has always opposed that gas pipeline project because it wants to be a global supplier.
None of the human beings who are caught in the middle of those interests of greed, greed for profit, power and control are small human beings who can play and use as a shield. Terrorism can be currency. Lives and deaths managed like stock market stocks … the enemy is always the same turbulent and criminal system that has the most loyal expression on both sides, and it uses media dialogue to draw an increasingly painful world and violence. It is urgent to position itself on another plane because there is no shadow, no death, nothing between the poles..
* Professor at the University of Seville. From the Spanish newspaper GeneralSpecial Page 12.
"Introvert. Thinker. Problem solver. Evil beer specialist. Prone to fits of apathy. Social media expert. Award-winning food fanatic."