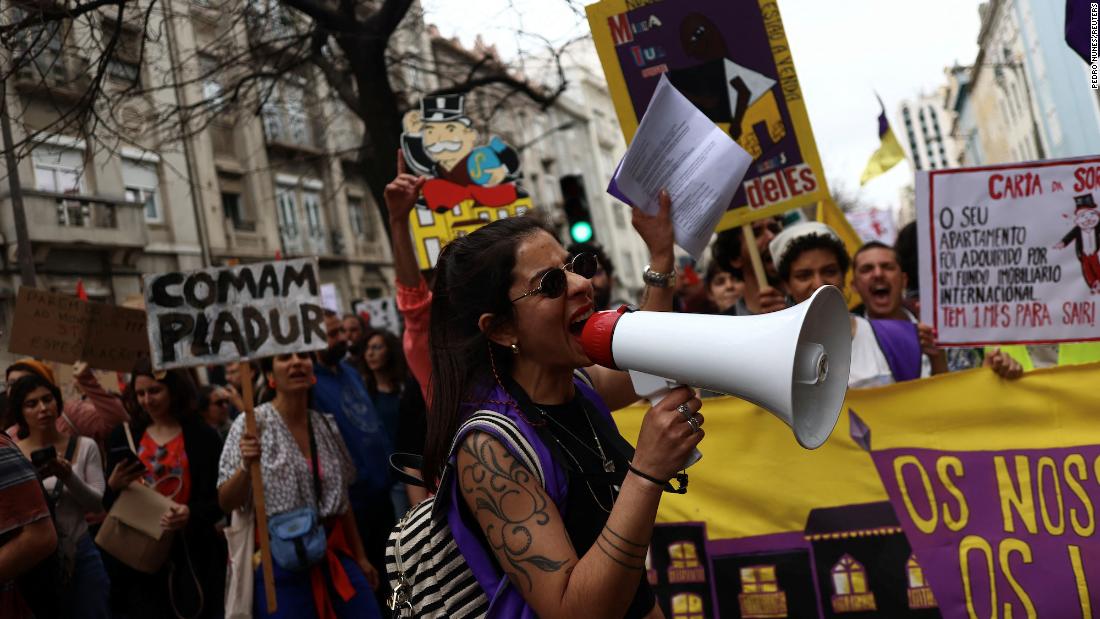 Lisbon (Reuters) Thousands of people took to the streets of Lisbon and other cities Portugal on Saturday to protest against rising rents and housing prices at a time when inflation is making it more difficult for people to make ends meet.
"There is a huge housing crisis today," said Rita Silva, of the Habita housing group, at the Lisbon protest. "This is a social emergency."
Portugal is one of the poorest countries in Western Europe, with government data showing more than 50% of workers earned less than 1,000 euros ($1,084) a month last year. The minimum monthly wage is 760 euros ($826).
Rents in Lisbon, a tourist hotspot, have jumped 65% since 2015 and sales prices have skyrocketed 137% in that period, according to figures from Confidencial Imobiliario, which collects data on housing. Rents increased 37% last year alone, more than Barcelona or Paris, according to another real estate data company, Casafari.
The situation is particularly difficult for young people.
A study by the housing portal Imovirtual showed that the average rent for a one-bedroom apartment in Lisbon is around €1,350.
Last month the socialist government announced a housing package that, among other measures, ended the controversial "golden visa" scheme and banned new licenses for Airbnb properties but critics say it is not enough to bring prices down in the short term.
At the protest, organized by the Home to Live movement and other groups, 35-year-old painter Diogo Guerra said he hears stories of people struggling for housing every day.
"People who work and the homeless are being evicted from their homes because their homes have been turned into short-term (tourist) accommodation," he said.
Low wages and high rents make Lisbon the third least viable city in the world to live in, according to a study by insurance brokers CIA Landlords. Portugal's current inflation rate of 8.2% exacerbated the problem.
"With my salary, which is higher than the average salary in Lisbon, I can't afford to rent an apartment because it's too expensive," said Nunzio Renzi, a sales manager from Italy who lives in the capital.
"Travel specialist. Typical social media scholar. Friend of animals everywhere. Freelance zombie ninja. Twitter buff."