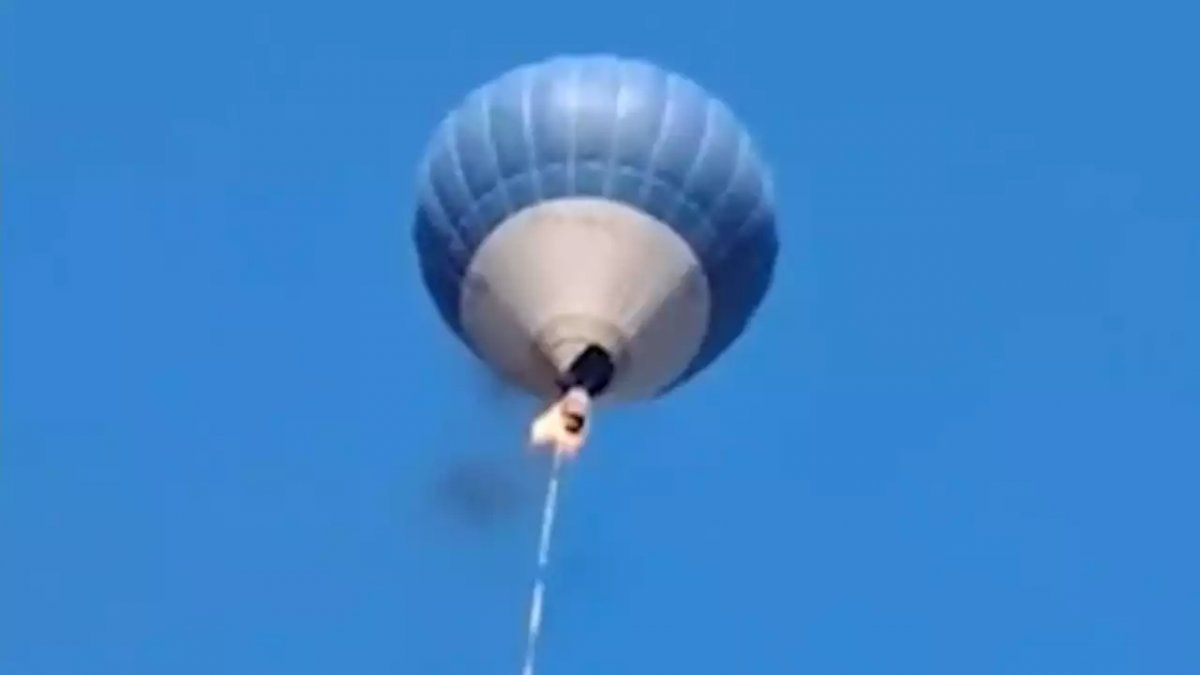 At the very least Two people died In fire formed in air, while traveling a Hot air balloon That one flew over The archaeological zone is 42 kilometers from the capital of MexicoSources said this Saturday Public Prosecutor of the country.
Mexico: Two killed in hot air balloon ride
This has been confirmed by the Department of Justice today "At least two people died and a thirteen-year-old girl was injured." After a hot air balloon caught fire in the entire flight this Saturday, in the archaeological zone Teotihuacan, State of MexicoAn hour from the capital, 42 kilometers away. "Victims jump from burning balloon"The official statement pointed out.
"A 50-year-old man and a 39-year-old woman have died so far. A minor was injured, with first and second degree burns and a fractured right leg," local newspaper El País reported in its online edition.
Likewise, in videos collected by viewers, the balloon's basket catches fire in the air. Due to the fire, the prosecutor's office has given an explanation. "Crew members" jump from the balloon into the void. Officials have not yet said whether there were more people on board, according to a statement from the Army and National Guard.
Witnesses of tragedy
"The pictures are terrible.. The basket of the flying balloon, while continuing to rise, suddenly burst into flames. In the videos, horrified screams can be heard from the tourists," the Europa Press news agency reported.
Municipal Civil Defense It received a notice at midnight this Saturday and dispatched state personnel Chalco Valley RegionAccording to the newspaper 'El Universal', it is one of the most circulated newspapers in the country.. Municipal Civil Defense Division "The balloon pilot has been transferred by relatives, so his whereabouts and condition are unknown," he pointed out. Eyewitnesses explained that the deceased are the parents of the injured minor, whose condition is currently unknown. The Municipal Civil Defense Division also said that an injured person has been shifted for treatment General Hospital of the Municipality of AxabuscoIn the extreme northeast, it borders the state of Hidalgo.
TeotihuacanOne of the most important archaeological zones in the country, it is best known "City of God"It receives balloon rides from many tourists every day, which are common and many companies offer service in the area. Accidents like this are not uncommon.
area Teotihuacan It is the metropolis of a mysterious Mesoamerican civilization that reached its peak around 100 AD and draws thousands of visitors to its towering pyramids and stone temples with elaborate statues and intricate murals.
Last September, The balloon carrying 12 people collapsed due to strong winds. The balloon pilot lost control of the device and it ended up on the ground. The civil defense of the municipality of Agolman, adjacent to the pyramids, reported a white balance. Passengers suffered only nervous breakdowns.
In In November 2021, another balloon fell from a height, injuring nine of its 15 passengers.
"Introvert. Thinker. Problem solver. Evil beer specialist. Prone to fits of apathy. Social media expert. Award-winning food fanatic."