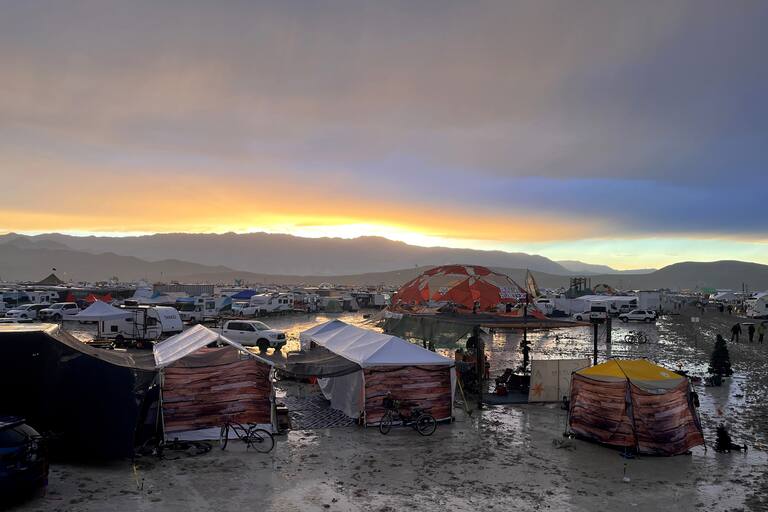 Yesterday, Sunday, one person died and tens of thousands were trapped In America, in the mud of the Nevada desert, after heavy rains, the festival turned into a burial ground burning man, It receives about 70 thousand participants every year.
In different video images you can see "Burners", the so-called festival participants were unable to wade through the mud, using garbage bags as improvised shoes and the thousands of vehicles they were traveling in got stuck in the mud.
Due to the death of one person and the condition of the venue, organizers closed the doors to the venue, Black Rock City, so attendees could not get in or out if they were already there. Officially, Police have announced that an investigation into the death of one of the participants in the event is underway, without releasing further details.
This weekend they fell in between Between 1.3 and 2.5 centimeters of rain Mark Deutschendorf, a meteorologist with the National Weather Service in Reno, in northwestern Nevada, where the Burning Man festival is located, said.
Nathan Carmichael, Pershing County Sergeant, explained to CNN Conditions are difficult. "The mud seems to stick to people, sticks to tires and makes it very difficult to move vehicles," he said. Most RVs get stranded.
Although the gates to and from the Black Rock City grounds were locked, some desperate attendees walked for hours to reach the nearest road and returned to their homes.
"It's a walk Unbelievably cruel 10 kilometers in the middle of the night in thick and slippery mud, But I did it safe and soundAdvocate Neil Katyal said on social media.
"It's very slippery and like cement sticking to muddy boots. These are dangerous conditions to walk in and are likely to worsen," he added.
"You can't walk or drive" A young woman named Christine Lee, a circus performer, said on TikTok.
"My boots were five inches, and they collected five inches of mud, so I was kind of on stilts," Lee said, adding that people may have been trapped until Tuesday. "We have enough tuna for a week, so we're good," he said.
A video posted on social media showed comedian Chris Rock in the back of a van with some people who agreed to drive him home after he managed to get out.
According to a White House official, the president Joe Biden Informed about the situation. "Event participants should listen to national and local officials and event organizers"The officer instructed.
Those responsible for the festival urged participants to "conserve food, water and fuel and take shelter in a warm and safe place" because the "beach" – the large open esplanade where the event takes place – was impassable. "Take care of your neighbors," they added.
Organizers said the burning of a large wooden effigy at the center of the "beach" that marks the end of the festival and bears its name has been postponed until Monday night.
Started in San Francisco in 1986, Burning Man aims to be an event somewhere between a countercultural celebration and a spiritual retreat.
Initially organized on the coast of San Francisco, it has become a structured festival, with almost 45 million dollars (2018 figures) and more than 75,000 participants in the last edition, less than in the previous 2019.
It has been held since the 1990s in the Black Rock Desert, a protected area in northwestern Nevada that organizers have vowed to protect.
With information from AP and AFP
Nation
"Introvert. Thinker. Problem solver. Evil beer specialist. Prone to fits of apathy. Social media expert. Award-winning food fanatic."