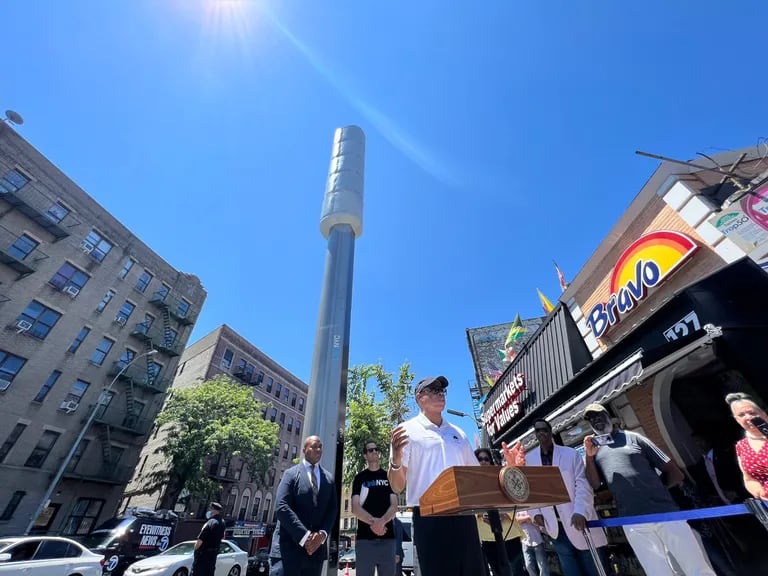 New York.- A curious futuristic-looking tower appeared a few days ago at the corner of Putman and Bedford avenues in the Brooklyn neighborhood: A 10-meter-high gray column is topped by a hollowed-out cylinder above the third floor of nearby buildings.
Marion Little, 60, owner of Stripper Stein & Supplies Hardware Store, which has operated on the corner for 17 years, says she and her neighbors have received no notice: One day the crew came and planted the tower.
"It was a shock to us because we didn't know what it was." Little says that ever since the strange gray tower appeared, everyone came into the store asking questions. "They send me emails, messages on Facebook, they call me on the weekend and think I know something, but I don't know anything."
The material in question is a New G5 antenna tower Company LinkNYCThe infrastructure is the latest in New York's deep tech makeover.
New York City has an agreement with CityBridge LinkNYCFor installation of 2,000 G5 towers over the next few years, an effort to rid the city of pockets without internet coverage. 90% of these towers will be allocated to areas of the city without coverage: Bourne, Brooklyn, Queens, Staten Island and the boroughs north of 96th Street in Manhattan.
When they are operational, Neighbors will have free access to high-speed Wi-Fi, digital calls and 5G service. Many other places have public telephones.
According to officials from the city's Office of Technology and Innovation, 40% of New York households lack both a home and mobile broadband connection, including 18%—more than 1.5 million people—who lack both.
5G towers, as well as underground fiber cables, are part of the infrastructure that carriers like AT&T and Verizon can use to better serve their customers. Most of the towers are yet to be activated.
However, usually every time something new appears in the city's urban landscape, New Yorkers are shocked by such large structures, with some expressing unfounded fears about 5G technology. They are concerned about the size of the towers and the view of the ruins from the third floor windows. Ironmonger Little questions the practicality of placing the tower on his corner, where the B26 bus stop is: "Buses return here. I wouldn't be surprised if they miscalculate and wear the column".
Another tower appeared at the corner of Vanderbilt and Myrtle avenues in Fort Greene, next to a bus stop: the B69. The tower faces a three-storey residential building with a liquor store on the ground floor.
Mark Malecki, 26, who moved to New York from Richmond, Virginia, in mid-October, has a close-up view of the tower from his third-floor bedroom window. "I don't understand what that is."He says.
But the gray towers aren't the only 5G antennas being built in New York. There are others that are installed directly into existing urban infrastructure, such as traffic lights and public lighting columns.
Chelsea Farmiga lives with her husband Joe and their young son in a six-story brick building on Manhattan's Upper East Side. In late September, while he was in New Jersey visiting his mother, he received a call from Joe: "You don't know what they stuffed into us in front of the window! I'm laying here on the couch and it's great!" Back home, Chelsea realizes her husband wasn't exaggerating.
ExteNet employees installed the roughly human-sized cylindrical object: a 5G antenna 1.60 meters tall and half a meter wide, with a box 1 meter tall, 16 inches wide and 14 inches deep, according to company data. , the size of a filing cabinet or nightstand.
Directly across from the Formicas' living room window, a heavy frame rests atop a slender column three stories high. And one step away from your 5-month-old's room. And it embarrasses them…
"People say it's safe, the Federal Communications Commission says it's safe and blah blah blah," says Chelsea. "But we're concerned it's too close to our son's bedroom."
Alex Wyklinski, associate dean for graduate studies and professor of electrical and computer engineering at Worcester Polytechnic Institute, Neighbors say not to worry and highlight that 5G is a non-ionizing radiationLocated at the opposite end of the spectrum from ionizing rays that are harmful to humans, such as UV and X-rays.
Formica and her neighbor, Virginie Glenzer, dominated the presence of the antenna from the window, so they went to the street with a tape measure and found that the newly installed pole was less than 3 meters from the building. According to the contract between ExteNet and the City of New York, the distance generally required by the community notification process.
Glaenzer and Formica contacted local council members and handed out flyers urging neighbors to do the same: They should remove the antenna or at least move it across the street, next to the asphalt green stadium, not next to a residential building.
New York City Councilwoman Julie Menin, who represents Formica, Cleanser and the rest of District 5, says on behalf of the neighbors. It asked the city to hire a third party to perform radiation emissions tests to ensure the antennas comply with federal regulations.And the city's Office of Technology and Innovation has committed to doing so.
The city has also asked ExteNet to move the antenna, but the company has no plans to do so. Chelsea says she won't be comfortable living near the antenna when it comes online. He didn't know if he would ever move, but he would weigh all his options. "I think I'll find a lawyer."
By Toda Stewart
Translation by Jaime Arrambide
"Introvert. Thinker. Problem solver. Evil beer specialist. Prone to fits of apathy. Social media expert. Award-winning food fanatic."