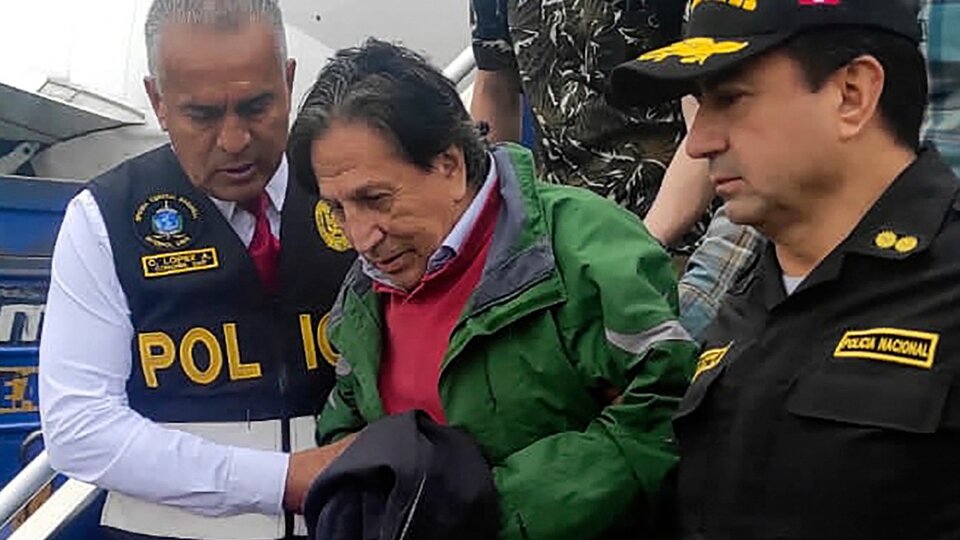 From Lima
The so-called "Prison of Presidents" is the third tenant. After a long process Handover, Former President Alejandro Toledo (2001 – 2006) was detained in Lima early Sunday morning. He did it on a commercial flight under the protection of police officers From San Francisco, USAs, he traveled in January 2017 to escape corruption charges. Shortly after his departure from Peru, a judge ordered him to serve 18 months in detention. The former president has charged For collusion and money laundering. The prosecution alleges that he took a $35 million bribe. He has three judicial proceedings, but he was extradited from only one of them on charges of bribery. Brazilian construction company Odebrecht. In this case, the prosecution has demanded a 20-year prison sentence for the former president. Before being detained in Lima, a depressed Toledo said he did not want to die in prison.
"I am asking the Peruvian judge not to kill me in prison, to allow me to fight my arguments. My health is very bad. I take fourteen pills a day, I have high blood pressure, I suffer from the remains of cancer. They have not proven anything, they already want to put me in prison. Given my health, the only thing I'm asking is that they put me under house arrest," the 77-year-old former president said hours ago after being approved to hand over to US justice officials on Friday.
Upon arrival in Lima, at seven o'clock in the morning, Toledo was escorted down the steps of the plane, guarded by American bailiffs and Peruvian police officers who were traveling with him, and taken to the air police directorate next to the airport. There, he stayed for more than five hours, undergoing medical tests and meeting with his lawyer, Roberto Siu, and National Prosecutor Patricia Benawitz. The former president wore a red sweater and green jacket, the color symbolizing his late political party. He covered his handcuffed hands with another jacket. At the San Francisco airport, he passed through immigration in a wheelchair, staring at the ground. A small group of supporters of the former president supported him on the outskirts of the airport. They waved flags of the defunct Perú Posible party and posters of past election campaigns with photos of Toledo in its best days.
From the facilities of the Air Police, the former president was taken by helicopter to a police station near the center of Lima, from where he traveled in a convoy of police vehicles to the High Court in the center of the capital. The control process of identity. After this legal proceeding, the police convoy took the prisoner back to the palace. After a long wait, He went back by helicopter to transfer to the prison in Toledo, Barbadoes, located in another police station on the outskirts of Lima. A special prison for former presidents. Twelve hours after landing at Lima he arrived at Barbadillo.
Toledo shares a prison with former dictators Alberto Fujimori and Pedro Castillo. Fujimori was sentenced to 25 years in prison in 2009 for crimes against humanity and has also been convicted of various corruption charges. Castillo is in pre-trial detention on charges of insurrection in a failed attempt to impeach Congress last December and pending corruption charges. All three are in the same prison, but do not share common quarters. The Toledo enclosure has a room, a visiting room, a bathroom and a garden.
Other former presidents may visit this prison. A case has been filed against Ollanda Humala The trial sought a 20-year prison sentence for Odebrecht's covert financing of his election campaign. Humala was already detained in Barbadillo between July 2017 and April 2018. Pedro Pablo Kuczynski is facing trial for receiving illegal payments from Odebrecht. He avoided pre-trial detention, citing his advanced age and poor health. Toledo asks for the same treatment. Martin Vizcarra was also charged with bribery. Alan García Barbadillo did not make it to prison because he committed suicide in April 2019 while he was about to be arrested for accepting bribes from Odebrecht.
The Otbrecht case
The Toledo extradition case began in November 2016. Jorge Barata, a senior official at the Brazilian company who headed Odebrecht in Peru between 2001 and 2016, said in a collusion agreement that the company paid $20 million in bribes to Toledo to win a tender to build two sections of the Interoceánica Sur highway linking Peru amid construction giant Odebrecht's international corruption scandal, in exchange for judicial benefits. In part, announced before the authorities. With Brazil. Later, Parada increased the bribe amount to $31 million.
According to Bharatha's testimony, the bribe was paid in several installments, and the money was deposited into foreign company accounts. Peruvian-Israeli businessman Joseph Maiman, a close friend of Toledo's, owns the sea from which these payments came. After reaching an agreement with the prosecutor, the businessman admitted to receiving bribes to Toledo. Before his death in October 2021 after a serious illness, he gave documents and details of the dates, accounts and payments he had promised to receive for the former president. His testimony was dangerous for Toledo.
The second proceeding against the former president is related to another Brazilian construction company, Camarco y Correa, which, according to the indictment, paid $4 million in bribes for work on a section of the inter-ocean highway to Toledo. Payments are also made through Maiman. The third investigation against Toledo is for Ecoteva, a foreign company created in Costa Rica in 2012 as owned by the former president's in-laws. According to the lawsuit, the ocean moved more than ten million dollars deposited from accounts managed by Maimon, which were used to launder a portion of the millions Toledo received in bribes. In both of these cases, the request to extend extradition must be approved in order to prosecute Toledo.
In jail on corruption charges, "Solo" was Toledo For a moment, this now seems impossible A standard bearer in the fight against corruption. He led a massive citizen mobilization against the corrupt Fujimori dictatorship and became a prominent political figure until his rise to the presidency. Now he shares a prison with the former dictator. In the 2000 elections, Toledo united the democratic sectors fighting the Fujimori dictatorship.. Fujimori won through fraud, but his autocracy collapsed months later. Transformed into a symbol of the fight against electoral fraud, dictatorship and corruption, Toledo won the 2001 elections, marking a return to democracy. His government democratized the country, but did not implement the changes many had hoped for and continued with a neoliberal economic policy. A series of scandals, such as the denial of paternity of a daughter he finally had to acknowledge, and his reputation as a constant consumer of whiskey, added to the problems of the government to sink his credibility and popularity.
In 2011, Toledo tried to regain power. It ranks fourth with 15.6 percent. In 2016, he tried to return to the presidency. The Ecoteva marine scandal has already erupted and it got just 1.3 percent. That was the end of his political career. But his worst problems were just beginning.
"Introvert. Thinker. Problem solver. Evil beer specialist. Prone to fits of apathy. Social media expert. Award-winning food fanatic."