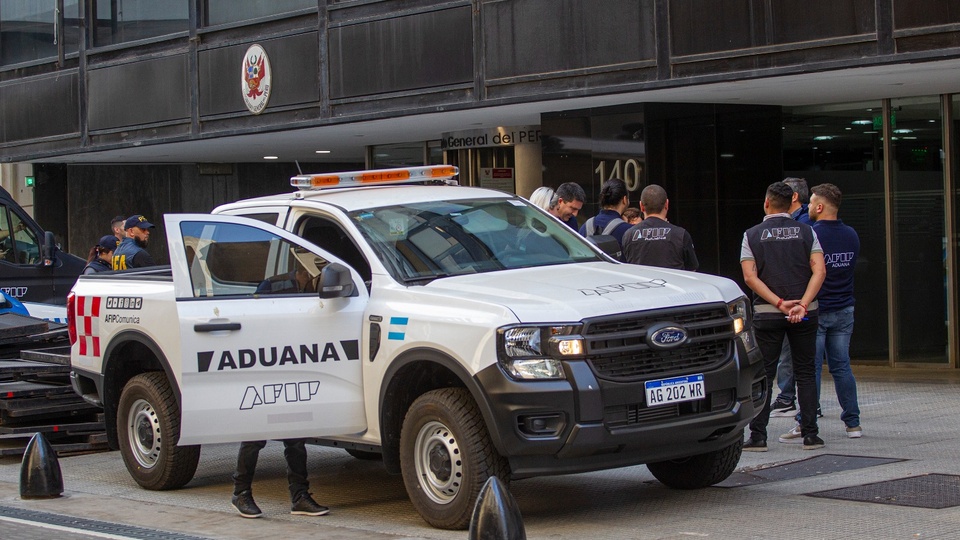 As a result of the raids conducted in the offices where illegal financial institutions with strong international ties operate – they are not simply called "caves" – are starting to shed light on the darkest and most harmful place of the Argentine informal economy: the market margin currency. Under the responsibility of Ivo Esteban Rojnica, the organization operating at San Martín 140, on the 19th floor of CABA, whose "mission" carried out until a week ago was to collect dollars from undeclared Argentine exports, over-invoiced imports. , and expenses with foreign resident cards paid by the central bank but false. Several "caves" of dollars were issued with the mountain, selling the coin to individuals who would pay two or even three times the value set by the government for the U.S. coin.
"It is very important to focus on incorporating companies abroad, opening accounts abroad, any information in this sense is relevant," suggests an experienced business expert during the consultation. Page 12. The investigation of the Nimbus case (Rojnica's "front" company) already showed some results in this regard, but this Saturday it was completed by naming fifteen companies linked to the businessman of Croatian origin, connected abroad. Two in Madrid, two in the Virgin Islands, four in Miami, four in San Pablo, two in Paraguay and one in Ireland. Details of their names, addresses and other properties already approved are as follows:
1) Lokrum Capital SL (CIF B06880447): Registered in the Commercial Register of Madrid, Spain on June 4, 2021. He declared his address at Calle General Díaz Polier 37, Ground Floor, Office 2, Madrid, Spain. In it, Rojnika appears as the sole administrator.
2) Peimento SL (CIF B10560043): Registered in the Commercial Register of Madrid, Spain on April 11, 2022. Address 11 Ayala Street, 3rd Floor, Madrid, Spain. In it, Rojnica co-executives with Jonathan Rivas Fuentes.
3) FAM Global Investments Ltd: Incorporated on February 10, 2011 in the jurisdiction of Virgin Islands. Register at Vocarska 34, Zagreb, Croatia.
4) Gorlay Holdings Ltd: Incorporated on January 4, 2016 in the jurisdiction of Virgin Islands.
5) Mudard Springs LLC: Incorporated in Florida, USA on April 5, 2019, address 1680 Michigan Avenue, Miami Beach, Florida, United States.
6) Honolulu Bayside LLC: Formed in Florida, USA on March 2, 2020, 2333 Brickell Avenue, Miami, Florida, United States. It will be represented by Mladen Rojnica.
7) 34 Grados Sur Investments LLC: Incorporated on July 14, 2021 in Florida, USA. Registered address at 791 Crandon Boulevard Key APT 202, Key Biscayne, Florida, Miami, United States.
8) Puentex Strategy Solutions LLC, based in Miami.
9) Leono Capital Securitizadora SA: Created on July 6, 2018. Registered address at Avenida Brigadeiro Faria Lima 2941, Sao Paulo, Brazil.
10) Admicorp Servicios Administrativos Ltda., registered by Rojnica with Juan Pablo Sarlanka in Sao Paulo, Brazil.
11) Digital Restaurant Club Intermediacao de Negocios Ltda: Created on October 28, 2021. It is located in the state of Sao Paulo, Brazil.
12) Sushi Um Comercio de Foods SA: Incorporated on September 20, 2018. Registered headquarters at Rua Bento Freitas 142, Sao Paulo, Brazil.
13) Negocios Bursátiles Casa de Bolsa SA (RUC 800864891): Incorporated on March 11, 2014, located at Aviadores del Saco 2050, World Trade Center Building, Paraguay.
14) NB Casa de Bolsa SA. Paraguay.
15) Jurgen Holding EAS, Ireland.
The mechanism adopted to divert the cash flow was, in one case, an exporter declaring a value lower than the value received in the process in Argentina, instead of entering the difference through the MULC (Official Exchange Market) converted by cable. In the account of one of the companies connected with Rojnica. Later, through stock market operations, that money was converted into cash to be exchanged in local caves at the value of the blue dollar. After receiving a commission from the facilitators (Rojnica and the entire financial system around), whoever invoiced under the export had the benefit of liquidating their surplus dollars at a higher price than the official one.
The same mechanism was followed by "trout" imports (over-invoiced or not made directly), the payment of which, along with dollars issued by the Central Bank, was transferred to an account abroad and from there returned, via cable, in favor of an account. From the financial universe of Rojnica, through the channels described above, the cavers can reach, for example, dollar bills.
What else is behind this financial emporium? Emerging linkages may provide additional elements of the financial cycle of "black" resources that are extracted from the real economy and feed speculation on a daily basis.
Another recent revelation arising from the customs investigation illustrates this sequence. Two weeks ago, the Directorate General of Customs and the Money Laundering Unit of the Central Police conducted 51 raids in the framework of a complaint of alleged illegal leakage of $400 million. The operation reportedly involved 176 ghost companies or "trouts" (not all, but at least) that simulated import payments, obtained foreign currency from the central bank at official prices through false SIMI certificates, and then transferred them to accounts abroad. Belongs to the same criminal group. Eighteen banks, eight accounting firms and 25 financial institutions were raided in Buenos Aires, Rosario, Córdoba and Bahia Blanca.
Lawyer and analyst Maria Eugenia Marano, expert in economic crime and member of the Financial Working Group for Equity (ETFE), warned of the need to identify the "true beneficiaries" of these events (in a soon-to-be-published work). These machinations frame the commission of these crimes and try to hide them from the prying eyes of the government, judiciary, etc. through various mechanisms and corporate engineering to hide the fraud and stolen money.
Marano noted the need to have a centralized public register of end-users, the creation of which is already included in the plan, with the approval of half of the representatives, to reform the law on the concealment and laundering of criminal assets.
Considering the identified vulnerabilities and risks, "the need also arises to strengthen the control of institutions and legal structures and the identification of end-users," warns Marano in his analysis. .
"The most direct and absolutely negative impact such concealment creates on society falls mainly on the most vulnerable sectors. This is because leaked, hidden, laundered money is money lost to the national government; money it could have used. To implement public policies that boost the nation's economy, improve health, education and security. " concludes the report of the lawyer and investigator.
"Introvert. Thinker. Problem solver. Evil beer specialist. Prone to fits of apathy. Social media expert. Award-winning food fanatic."