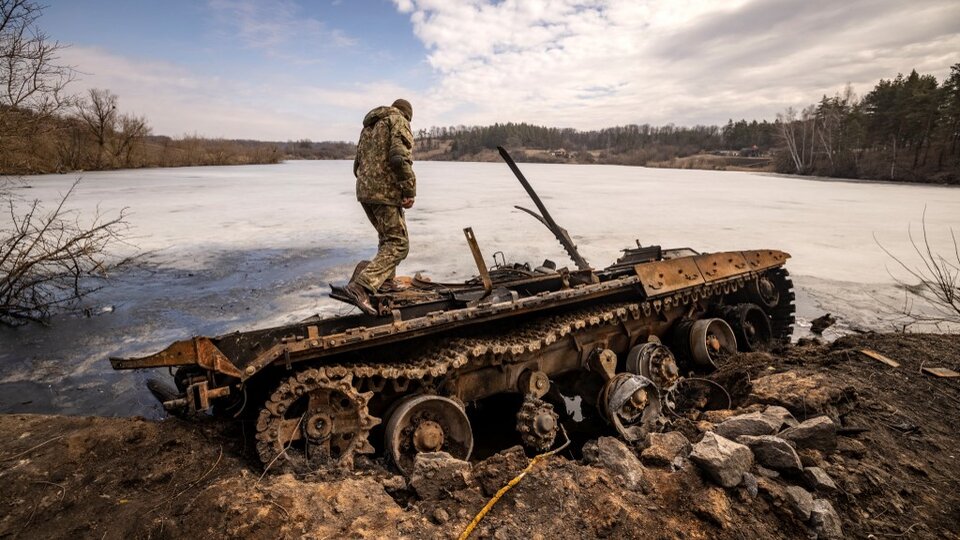 Germany provides Ukraine with state-of-the-art air defense system and radar
German Chancellor Olaf Scholes today pledged to provide Ukraine with an advanced Iris-T-type air defense system that would allow it to protect its cities from Russian airstrikes, as well as state-of-the-art surveillance radar that can detect artillery.
In a speech to the Bundestag on the structure of the budget debate, Scholz recalled that Germany, along with the Netherlands, would supply twelve Panzerhaubitze armored howitzers to Ukraine in the coming weeks.
He added that kyiv had already signed an agreement with the Arms Department to supply Kebart tanks, and stressed that both the equipment and the Panzerhaubitze fall into the "heavy weapons" category.
"We have continued to deliver since the beginning of the war. We have made this decision since the beginning of the war. We have broken government policy in Germany for many years. This is a wise decision, but it is a bold and new decision. This government has to defend itself against criticism," he said.
Russia conducts drills with mobile intercontinental ballistic missiles "Yars"
The Russian Defense Ministry said today that Russian strategic forces are conducting exercises with the mobile intercontinental ballistic missile system "Yars" in the Ivanovo region, about 200 kilometers northeast of Moscow.
Yars systems are "actively maneuvering" during training, according to a report compiled by the portfolio Interfax Agency, which includes about 1,000 soldiers and hundreds of vehicles of various types.
"Members of the strategic forces are deploying missile systems at field levels, relocating up to 100 kilometers, changing positions, mask and defense," the defense added.
The "Yars" missiles, which have mobile and silo versions, have a range of up to 12,000 kilometers and carry four nuclear weapons.
Denmark has voted to withdraw from the EU's general security and safety policy
In response to Russia's military intervention in Ukraine, Denmark is holding a referendum on Wednesday, excluding the three – decade – old EU (EU) general security and security policy.
Denmark rejected the Maastricht agreement in a referendum in 1992, but a year later approved it in a new consultation with four exceptions: monetary and economic union, security, police and legal cooperation and citizenship, the latter being considered inappropriate. After the Treaty of Amsterdam.
The security exception is that Denmark cannot participate in the EU's military operations – but not in civil – or negotiations or negotiations in that area, and is barred from belonging to the European Defense Agency and the Permanent Structured Cooperation (CEP).
Zhelensky says 60 to 100 Ukrainian soldiers are killed every day
Ukrainian President Volodímir Zelenski has acknowledged that the situation in his country, especially in the Donbass, is "extremely difficult" and that "60 to 100 soldiers are killed and 500 injured every day."
In a statement to Newsmax, an American website compiled by Ukrainian agencies, the Ukrainian president reiterated that his country was a "defensive perimeter" against Russia and that "this is a physical embargo created by our people." "We need to realize who the dark power is: it's Russia," Zhelensky declared. "Russia will not stand in Ukraine, of course."
In his speech this morning, the Ukrainian president said that the situation should be dealt with "in a comprehensive manner", "that the situation would be more difficult and not in the area of ​​greater attention, but in the entire front line."
"The situation in the direction of Donbass is very difficult. Severodonetsk, Lysychansk, Kurakhove are now at the center of the conflict. Due to the presence of a large-scale chemical plant in Severodonetsk, the Russian military attacks in the area, including aerial bombings, are just crazy," he said.
Russia has warned of a possible direct confrontation with the United States over military aid to Ukraine
Russia's Deputy Foreign Minister Sergei Rybkov said on Wednesday that growing supplies of weapons, including Ukraine's long-range weapons, increase the risk of direct conflict between Russia and the United States.
Ryapkov responded that "all weapons, which continue and increase, increase the risk of such a development", citing the RIA Novosti Agency, as asking whether Washington's decision to supply Kiev missile systems increases the risk of direct conflict. Between Russia and the United States.
The deputy minister criticized the new package of $ 700 million in US military aid to Ukraine, which, according to US government sources, includes high-mobility artillery rocket systems (HIMARS) and high-mobility artillery rocket systems.
"We value this in a completely negative way because attempts to present this decision as 'restrictive' are futile," he said, adding that it did not encourage or allow US President Joe Biden's words about his country. Ukraine will attack beyond its borders.
The United States will send more advanced missile systems to Ukraine
US President Joe Biden announced on Tuesday that the United States would send advanced missile systems to Ukraine to carry out attacks with greater precision. "I have decided to provide the Ukrainians with more advanced missile systems and ammunition that will enable them to hit more important targets on the battlefield," Biden wrote in The New York Times at midnight.
A government official explained in a press conference that the United States would provide a long-range missile system as part of a new $ 700 million weapons package.
According to the source, the new warship will include "High Mobility Artillery Rocket Systems" (HIMARS) High Mobility Artillery Rocket Systems, which will allow for more precise attacks on targets from greater distances.
In this sense, the official noted that this system will be used against Russian organizations and they will not be used within Russian territory.
Russian troops stationed in Chevroletonetsk
According to a recent report by civil servants of the Ukrainian Armed Forces, Russian troops are stationed in the Ukrainian city of Severdonetsk, east of Lukansk.
According to the report, in the direction of Donetsk, Russian units, with the support of the Air Force, are focusing their efforts on various offensive operations, including the use of MLRS rocket launchers.
According to a recent report by the Institute for the Study of War (US), Russia's decision to concentrate its forces in eastern Ukraine "creates conditions for the intensification of counter-offensive by Ukrainian forces in the Kherson region, increasingly" in order to seize new territories, such as Severdonetsk and Donbass. "
Pope Francis demanded that wheat not be used as a "weapon of war" and called for the release of grain in Ukraine.
Pope Francis today called for the lifting of the grain embargo on Ukraine and demanded that the electricity supply not be used as a "weapon of war".
"The suspension of grain exports from Ukraine, on which the lives of millions depend, is particularly troubling, especially in poorer countries," the pope said during a public meeting he presided over in St. Peter's Square.
In this framework, George Bergoglio made a "genuine call to resolve this and to make every effort to guarantee the universal human right to self-improvement."
"Please do not use grain, the staple food, as a weapon of war," he concluded. .
"Introvert. Thinker. Problem solver. Evil beer specialist. Prone to fits of apathy. Social media expert. Award-winning food fanatic."