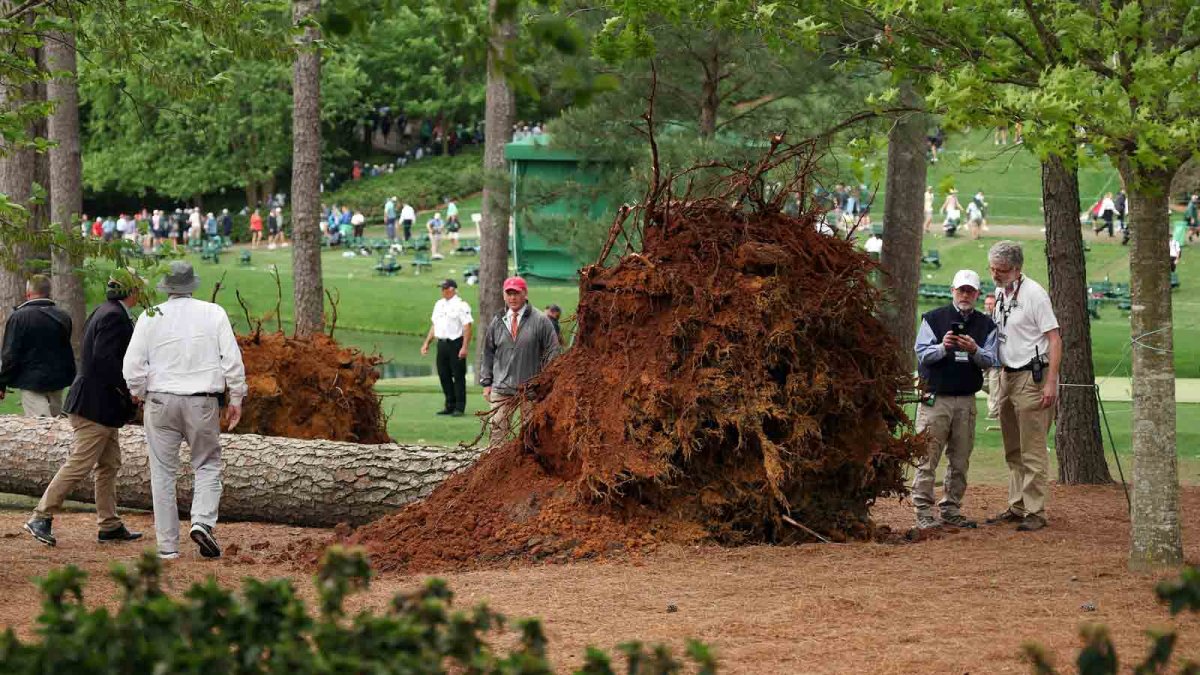 The Masters tournament was suspended for the second time on Friday after three pine trees fell at Augusta National Golf Club.
Trees fell near the 17th hole, apparently due to high winds, with video showing one of them falling into an area surrounded by spectators.
Shepherds were sent running, but no injuries were reported.
"I was talking to friends next to me and suddenly we heard a crack," Katie Waits, a pastor from Charleston, South Carolina, told the Associated Press. And there were three trees across the pond, and all of a sudden we saw them fall and everybody — it was just like ants. They were like, scattering just like ants from down there. All three fell at the same time. Then just I grabbed my friends' hands and we were like, 'Is everyone okay?' Silent."
Play was suspended at 3:07 PM ET earlier in the second round due to inclement weather. After a 21-minute delay, play resumed until the trees fell at 4:22 PM ET.
Workers immediately began clearing fallen trees with chainsaws.
The official Masters Twitter account later sent out a tournament update, saying there were no injuries and the second round has been postponed until Saturday at 8 a.m. ET.
"Augusta National Golf Club can confirm that there were no injuries reported from three trees that were blown over to the left of tee par 17 due to wind. The safety and well-being of everyone attending the Masters will always be a top priority for the Club who will continue to monitor the weather closely today and during the tournament." ".
The Associated Press contributed to this story
"Devoted travel trailblazer. Freelance beer scholar. Passionate analyst. Hardcore twitter fanatic."