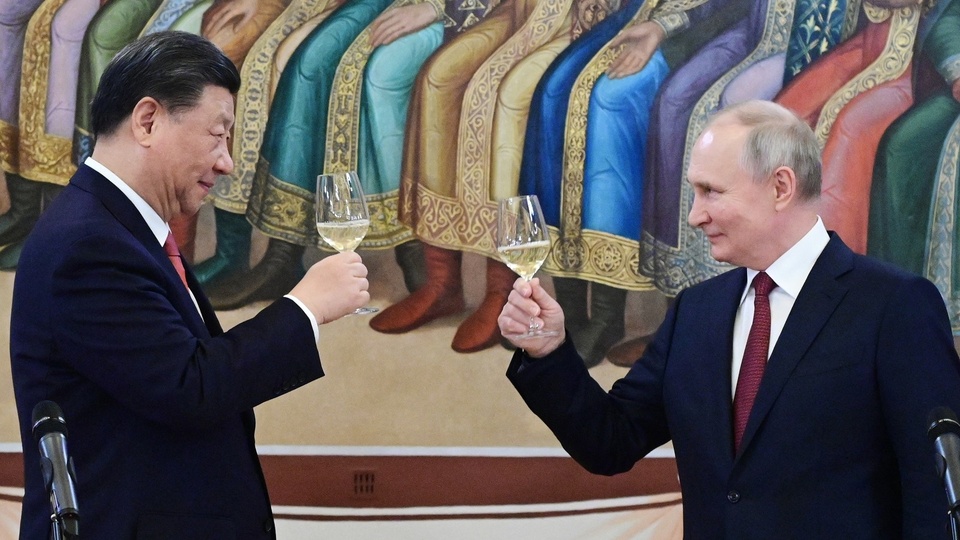 Russian President Vladimir Putin on Tuesday backed China's peace plan for Ukraine. As a basis for a future settlement of the conflict, but he sent the ball to Kyiv and the West, accusing him of being interested in spreading the conflict. Chinese President Xi JinpingHe addressed his Russian counterpart State visit to Moscow, His peace plan to end the war in Ukraine consisted of twelve points.
The document, presented on February 24, the first anniversary of the conflict Russia launched in Ukraine on Putin's orders, outlines China's position. "A Political Solution to the Ukraine Crisis". President of Ukraine Volodymyr ZelenskyHe promised that Invited China for talks and awaiting responseNATO pointed out that any peace plan, like the one put on the table by China, must take into account the "Ukrainian perspective".
"Responsible Conversation" and "The End of Promotion"
In a joint statement adopted at the end of the second day of talks, the presidents of Russia and China demanded "End of all activities that contribute to increasing tension and prolonging hostilities in order to prevent further deterioration until the crisis becomes unmanageable".
Putin He also expressed discreet support for Chinese proposals for a negotiated solution to the conflict in Ukraine, though he blamed Westerners and Ukraine for the lack of responses to those final proposals. "Several points in China's proposed peace plan could form the basis for a peaceful settlement when the West and Qi are ready for it.. But we don't see that arrangement now," the Russian president also said UK condemns sending missiles with depleted uranium to Ukraine.
In a joint statement, Putin and G Russia and China are not Cold War-style military-political allies And to prevent the conflict from entering an "uncontrollable phase", it urged the West to stop actions contributing to the escalation of hostilities. Additionally, in a clear concession to the Kremlin, the document asserts that "to resolve the Ukrainian crisis, it is necessary to respect the legitimate concerns of all countries in the field of security."
On the one hand, China defends Ukrainian sovereignty and territorial integrity, a cessation of hostilities and the resumption of negotiations, while on the other, it takes into account Russia's security concerns in the face of NATO's progress. . In turn, it calls for the lifting of economic sanctions adopted by the West against Russia.
After the meeting with Xi, Putin announced that the two countries had reached an agreement to build A giant pipeline carrying gas from Siberia to northwestern ChinaA project called Siberian Force 2. According to Putin, the pipeline can be channeled when it comes to service "50 billion cubic meters of gas" towards the Asian giant. Xi's visit is a boost for Putin after the International Criminal Court (ICC) on Friday issued an arrest warrant against him for "war crimes" in Ukraine.
Zelensky is waiting for China's response
Ukraine closely followed the talks in Moscow, although there was no change in its position that before any road map could be implemented, Russia would have to withdraw troops from its region, citing the annexed regions of Donetsk, Lugansk, Kherson and Zaporizhia. "Any attempt to freeze the conflict and present it as a ceasefire will mean one thing: an endless and simmering war in the heart of Europe and a permanent erosion of the foundations of global security," said Mykhailo Podoliak, adviser to the Ukrainian president. A statement. Your Twitter account.
For his part, the President of Ukraine, Volodymyr ZelenskyHe said he had not received confirmation or details about the planned talks with his Chinese counterpart Xi Jinping after China's trip to Moscow. "We proposed to China to join the search for a peace formula" And so far "we have only received some signals, but nothing concrete," Zelensky said in a joint appearance with Japanese Prime Minister Fumio Kishida, who met him in Kyiv on Tuesday.
In a post on his Telegram channel, Zelensky evaluated KishidaThe first Japanese minister to visit a conflict zone since World War II, of "A powerful defender of the international order and an old friend of Ukraine". The Ukrainian president added that Kishida traveled to Ukraine at a time when it was important to strengthen global leadership "in defense of the mission and principles of the United Nations Charter and international security in general."
The Japanese Prime Minister arrived in Kew in the morning and traveled to Bucha from there, north of the capital, is known for alleged massacres of civilians as Russian troops withdrew. He paid tribute to the victims of the conflict before meeting Zelensky. Kishida was scheduled to leave Ukraine to meet Polish Prime Minister Mateusz Morawiecki in Warsaw on Wednesday before returning to Japan.
NATO directive
The head of the North Atlantic Treaty Organization warned on Tuesday that a peace plan launched by China for the war in Ukraine must take into account the country's "perspective" (NATO), Jens Stoltenberg. For Stoltenberg, "It is up to Ukraine to decide what conditions are acceptable for any peaceful settlement.".
"China must begin to understand Ukraine's perspective and engage directly with President Zelensky if it wants to take peace seriously," the NATO leader said while presenting the organization's annual report. "Just and sustainable peace".
In his view, the Chinese plan has some positive elements, including nuclear security, civilian safety and territorial integrity. However, Stoltenberg warned that any proposal for a ceasefire that does not respect Ukraine's sovereignty is "only one way". Freeze the war and ensure that Russia can regroup, regroup and strike again.".
On the other hand, regarding doubts about Beijing's supply of weapons to Moscow, Stoltenberg assured that NATO "has not seen evidence of lethal weapons being brought to Russia", although he admitted that Russia has indeed requested the weapons and that this export "is an issue that the Chinese authorities are considering."
"Introvert. Thinker. Problem solver. Evil beer specialist. Prone to fits of apathy. Social media expert. Award-winning food fanatic."