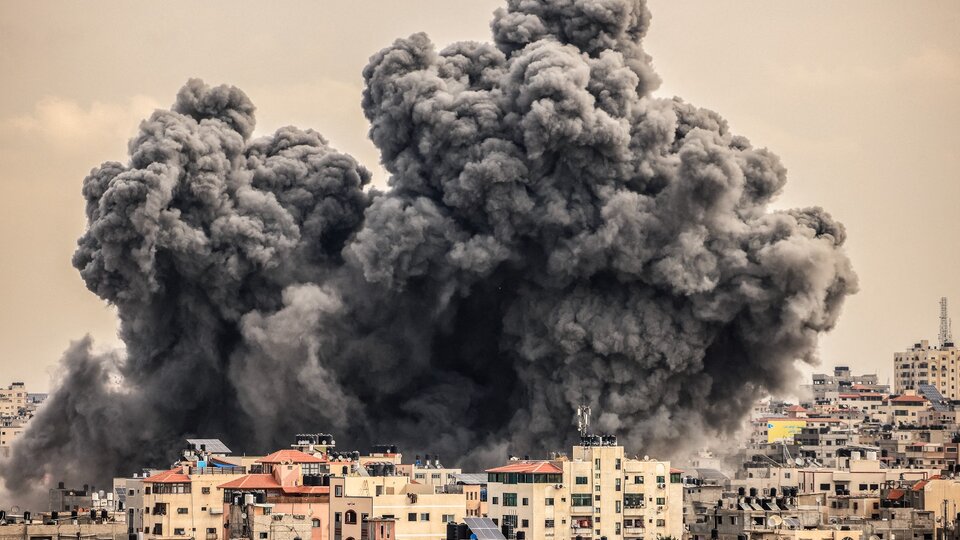 This Monday, Israel ordered a total blockade of the Gaza Strip, cutting off access to food, fuel and supplies for its 2.3 million people., redoubled its bombings in the Palestinian territories ruled by Hamas after the Islamist group's unprecedented attacks on Israeli territory. The United States, France, Germany, the United Kingdom and Italy pledged to support Tel Aviv in its "efforts to defend itself". The Palestinian Islamic Movement, for its part, threatened to execute the hostages captured on Saturday. If the Israelis continue to attack.
Hamas launched a surprise land, sea and air attack against Israel on Saturday, drawing comparisons to the September 11, 2001 attack on the United States. Since then Over 900 people were killed and over 2,600 wounded on the Israeli sideAccording to officials. On the Palestinian side, Israeli bombing killed around 700 people According to the latest figures from local authorities, 2,900 people were injured.
"Total Blockade" of Gaza
Tens of thousands of Israeli soldiers were stationed near the Gaza Strip. "We are imposing a total blockade on Gaza. No electricity, no food, no water, no gas, everything is closedIsrael's Defense Minister Yoav Galant said. In a video, he added: "We fight animals and act accordingly." More than 123,000 people have been forced to flee their homes in that small area, according to the United Nations Office for the Coordination of Humanitarian Affairs.
United Nations Secretary-General Antonio Guterres expressed concern over Israel's decision and recalled that "military operations must be carried out in accordance with international humanitarian law". Human Rights Watch (HRW) said Israel and Hamas had "failed to fulfill their legal obligations". According to HRW, Israel's blockade of the Gaza Strip and Hamas' attacks on civilians constitute "illegal collective punishment, a war crime".
Army forces reportedly struck dozens of Hamas and Palestinian Islamic Jihad bases across the Gaza Strip in recent hours. The sites include tunnel entrances, a mosque with a battle room, weapons storage areas and a meeting area. According to the Israeli military, Hamas used one of the tunnels in its initial attack on Israel on Saturday morning.
The Israeli army has regained control of towns in the south of its territory where Hamas militants were, although it has acknowledged that militants may still be in the area. The army is focused on rescuing hundreds of civilians abducted by Hamas.. Several citizens of other countries, some with dual Israeli citizenship, died in the attack, including 12 Thais, 11 Americans, 10 Nepalese and 7 Argentines.
Prime Minister of Israel Benjamin NetanyahuHe asked the people to prepare for a long war and called for the formation of a government of national unity. "What Hamas is going to experience is going to be difficult and terrible, and we are going to change the Middle East."Emphasizing that the scale of the terror attack was "unseen from the Islamic State," Netanyahu said Israel would eliminate it "just as the enlightened world eliminated the jihadist group."
"They do not understand the language of mankind"
Hamas's armed wing He warned in a statement "Every attack against our people without prior warning will be answered by the execution of one of the civilian hostages". "The enemies do not understand the language of humanity and ethics, so we will address them in the language they understand," Ezzeldin al Qassam Brigades added. About 150 people were abducted by Palestinian Islamist groups.
Hamas argues that it is tired of the blockade, military occupation, and Israeli colonization of the West Bank and East Jerusalem, territories Palestinians claim to have founded their country, and repeated military incursions and arrests of Palestinians in West Bank cities. Holy sites Jerusalem Muslims.
Sirens blared in Jerusalem and the center of the country on Monday as rockets continued to be fired from Gaza, mainly into southern Israel. Jonathan Panikoff, director of the Scowcroft Middle East Security Initiative, assessed that "Israel was caught off guard" by the attack and that "many Israelis don't understand how this could happen."
A member of the Hamas political leadership announced in Doha, Qatar that his movement is not currently ready to negotiate a prisoner exchange with Israel. "So military action continues At present there is no room for negotiation on the question of prisoners or anything else", said Hosam BadranAnd he added: "Our task now is to do everything possible to prevent the occupation from continuing its massacres against our people in Gaza, directly targeting civilian homes."
Israel now faces the threat of war on many fronts. The Lebanese Hezbollah movement hit at least two military targets of Israeli forces with guided missiles and mortars this Monday, after losing three members in a series of attacks by the Jewish state against southern Lebanon this afternoon.
Calls for peace will grow
Many Western countries condemned the Hamas attack The US began sending military aid to Israel on Sunday. Aircraft carrier Gerald R. US officials said a strike group led by Ford would arrive in the eastern Mediterranean "very soon". They made it clear that they would not send troops to the area.
President Joe Biden He asked his compatriots in Israel to "take reasonable precautions in the coming days and follow the instructions of local authorities." "In this heartbreaking moment, the American people stand shoulder to shoulder with the Israelis.; "We remember the pain of terrorist attacks on our country, and Americans across the country are united against these evil acts, which have yet again claimed the lives of innocent Americans," Biden said.
The United States, France, Germany, Italy and the United Kingdom pledged this Monday to "support Israel's efforts to defend itself." According to a statement released by the White House after the attack by the Palestinian Islamist movement Hamas. Those governments say they "recognize the legitimate aspirations of the Palestinian people," but Hamas "does not represent those aspirations and offers the Palestinian people nothing but more terror and bloodshed," German Chancellor Olaf Scholz wrote, and French President Emmanuel Macron wrote. His counterpart is Joe Biden, Italian Prime Minister Giorgia Meloni and his British counterpart Rishi Sunak.
China on Monday condemned any act of harming civilians and called for a ceasefire. And Russia and the Arab League, which rejected violence on "both sides" and announced an emergency meeting on Wednesday. The European Union convened a meeting of foreign ministers on Tuesday to announce a review of its financial aid programs for the Palestinians, after a dispute over the suspension of payments sparked reactions in the bloc's various capitals.
IranIt maintains close ties to Hamas and was one of the first countries to praise the Islamist group's offensive. He denied allegations of his role in the operation "They are based on political motives," he added. White House Security Council spokesman John Kirby acknowledged that there is no evidence that Tehran was involved in Hamas attacks against Israel.
Demonstrators supporting people on both sides of the conflict massed at iconic sites such as the Eiffel Tower in Paris; Downing Street in London; Puerta del Sol in Madrid or Manhattan in New York.
"Introvert. Thinker. Problem solver. Evil beer specialist. Prone to fits of apathy. Social media expert. Award-winning food fanatic."