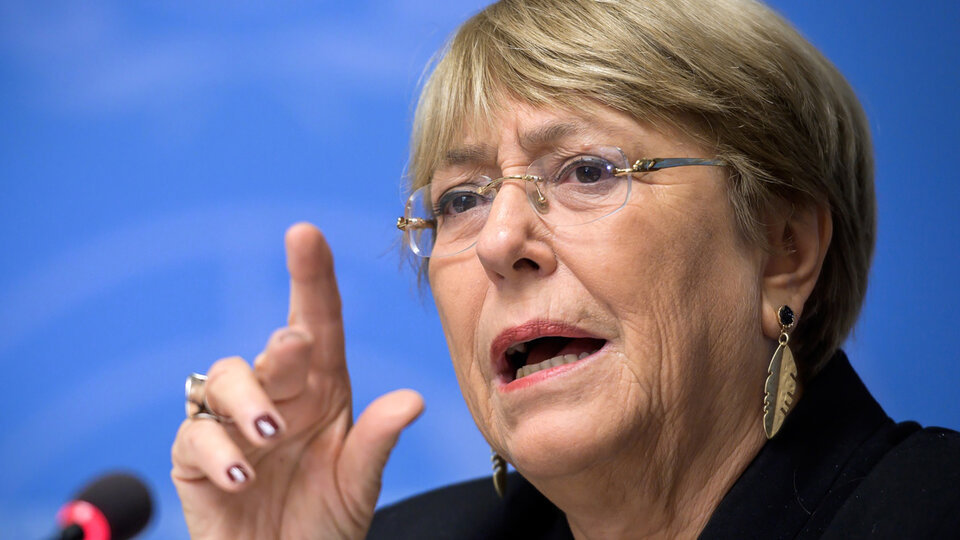 UN Human Rights Council, Chile Michael BacheletAdvertising In Geneva this Monday Will not compete for a second time And argued for "personal reasons". Chile's first female president to face torture during dictatorshipIn 2018, he was appointed by UN Secretary General Antonio Guterres. His term ends at the end of August and in recent days he has received some criticism for the way he made the historic visit to China.
"Having completed my mission as High Commissioner, this will be the last meeting I will express myself at this 50th Council meeting."The 70-year-old former president of Chile told the Human Rights Council in Geneva. During a press conference, Bachelet said he informed his "boss" Antonio Guterres of the decision two months ago. "He wanted me to stay, but I'm no longer a young woman, and after a long and rich life, I want to return to my country with my family," he explained.
The post of High Commissioner for Human Rights faces strong political pressure from many countries around the world. Although this can be done in two installments, almost all Bachelet's pioneers have avoided staying longer than one.
Bachelet's style, based on dialogue, marked a clear break with his predecessor, Jordanian Jait Ra'd al-Hussein. "Continue to seek dialogue," the former president told the UN General Assembly, adding: "You must be prepared to listen to what others have to say, to understand their views, and to take serious action to find common ground."
Chinese pin
Recently, Bachelet has come under heavy criticism from the United States and voluntary organizations such as Human Rights Watch or Amnesty International., Accused him of maintaining an excessive level of tolerance when confronted with human rights violations in China. They rebuke him for not yet firmly condemning these abuses This is his first visit to Asia as a High Commissioner since 2005.
"This has nothing to do with the decision not to run for office a second time," he assured, adding: "I always listen to criticism, but it does not make me accept certain positions."
Bachelet stressed that during his meetings with Chinese officials, including President Xi Jinping, he spoke of human rights abuses. "I have always underlined the importance of dialogue with all member statesEven on the most difficult issues, he announced an agreement with China to hold the annual summit dedicated to human rights.
Boric greetings
President of Chile, Gabriel BorickHe responded to Bachelet via his Twitter account: "come again!". During the campaign, The former president openly supported the social integration candidate. After announcing his return to Chile, Speculation is rife about its role in the campaign for a constitutional referendum in September.There are many that have not been decided according to recent polls.
"His presence, his role in both governments, the extent to which he has done, his ability to implement constitutional reform and his commitment to constitutional change are clear, so he will define how he is going to participate in this campaign," said Socialist Party leader Palina Vodanovic.
Prevention and torture
Born September 29, 1951 in SantiagoBachelet spent his childhood in various Chilean cities, where his father was stationed as a Chilean Air Force pilot. In 1970, he began studying medicine and entered the socialist youth.
He lived in his own flesh during the September 11, 1973 military coup And the bloody dictatorship of General Augusto Pinochet (1973-1990). His father, Alberto Bachelet, died in 1974 as a result of torture. For being loyal to the government of ousted Socialist President Salvador Allende.
The death of her father will forever mark the life of Michelle, who always strives to be at her height. In 1975, he was arrested along with his mother by the secret service. They were transferred to the Villa Grimaldi Center, a secret torture center in Santiago.
They were then deported first to Australia and then to the German Democratic Republic, where he continued his medical studies. He returned to Chile in 1979 and graduated three years later.
Professionally this pediatrician, mother of three, has twice been President of Chile. Then First installment (2006-2010)It ended with the celebrity's record size, and Bachelet could not run immediately because the Constitution did not allow him to serve twice in a row.
She was later appointed head of the UN Women's Organization in New York, from an international position where she promoted the value of women in politics. At the end of 2013, he ran again to lead his country and held the post for the second time (2014-2018).He encouraged many progressive reforms.
"Introvert. Thinker. Problem solver. Evil beer specialist. Prone to fits of apathy. Social media expert. Award-winning food fanatic."